Broncos Camp: Quarterback Competition is in Full Swing
Trevor Siemian is making a serious run at Mark Sanchez in the race to replace Peyton Manning. Plus five takeaways from Denver, including a tough injury and the team's backup plan for a potential player suspension
ENGLEWOOD, Colo. — At the beginning of August, T.J. Ward laid down one of the great missives of the preseason, a time of year brimming with confidence and wealth of expectations: "We don't care if George Bush is playing quarterback. If you can't score [against us], you can't win."
I asked third-year cornerback Bradley Roby about that proclamation at the onset of Broncos training camp. He smiled and tried to imagine the 43rd president, 70-year-old George W. Bush, driving 15-yard comeback routes through the thin air at Mile High and sprinting to make stretch run handoffs.
"I don't know about that," Roby chuckled. "George Bush would be throwing a whole bunch of pick-sixes."
• SCOUTING DENVER: Andy Benoit puts the defending champs under the microscope
Roby grew serious: "Because Peyton [Manning] didn't have his best year statistically, people think that we don't even need a QB to win. It's not like that. It was obvious Peyton struggled, but when it counted—late in the game, fourth quarter, Peyton made those checks and Peyton made those calls. It might not have been the best ball but it got there—it was the right play. That's just him knowing the game, playing chess. People don't have that level of expertise or mastery.
"I think that's something I want to see if Mark [Sanchez] has. That poise under pressure: fourth-quarter checks to the right plays. That's what we need."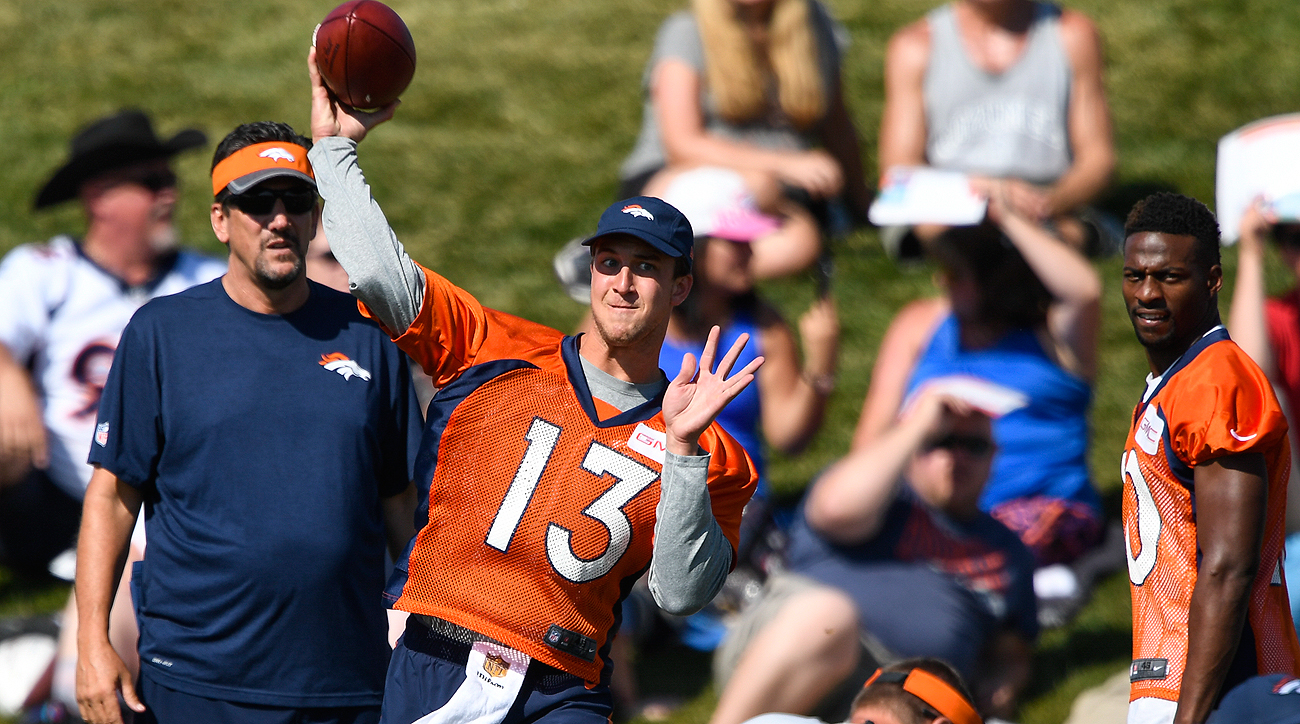 And that was the idea behind adding Mark Sanchez this offseason following the departure of ex-Manning backup Brock Osweiler in free agency. At 29, Sanchez theoretically has the experience to make the critical decisions that won't show up in August practices or preseason games. That's why the former New York Jets quarterback began this summer as the frontrunner in a QB race with Trevor Siemian, a seventh-round pick out of Northwestern in 2015, and rookie first-rounder Paxton Lynch. Siemian would have to do something tremendous to win the job.
Newsflash: The impossible is happening.
With every brilliant deep ball here on the sunny practice field in Englewood and each line drive throw in preseason competition (7-of-12 for 88 yards vs. Chicago in Week 1), Siemian is making the decision difficult for Broncos coaches. He has a real shot to play—if not in the opener then at some point in 2016.
The hardest work for Sanchez and Siemian in the QB race is still ahead: Each will be given chances to improve their standing in upcoming Saturday home games against the 49ers and then the Rams.
It's early, but optimism abounds.
• FANTASY FOOTBALL: You don't have to lift a finger to prepare for your draft. Here are your overall rankings and position-by-position cheat sheet
* * *
FIVE THINGS I THOUGHT ABOUT THE BRONCOS
1. Denver's biggest question mark outside of the quarterback competition just got bigger. Defensive end Vance Walker suffered a torn ACL on Monday and is expect to miss what might have been a breakout season for the eighth-year pro and veteran of four teams. Walker was having a strong camp and was expected to earn the starting role vacated by Malik Jackson's free agency departure to Jacksonville. Next man up for an increasingly thin defensive line: Jared Crick, the former Texans fourth-rounder in his fifth season. The expectation is that second-round rookie Adam Gotsis will take on a larger role and eventually supplant Crick, who earned a starting role in his final two seasons in Houston yet departed with little fanfare.
2. No knowledge advantage in quarterback room. Citing Mark Sanchez's experience under coaches Pete Carroll and Steve Sarkisian at USC, Denver offensive coordinator Rick Dennison downplayed whatever advantage Siemian might posses over Sanchez in the QB race from having operated in the offense for a season. Said Dennison: "Mark has been in schemes similar to ours, but not exact. He did it in Southern Cal and a little bit with the Jets so there's been a couple of guys who have done something and the terms definitely make sense to him, so he's definitely putting it all together. So, once we get that, then it's all part of leading the guys. That's a big thing for a quarterback. He doesn't have to be a rah-rah guy, he just has to get them moving in the right direction."
• CAM NEWTON ISN'T LOOKING BACK: Jenny Vrentas talks with the Panthers quarterback about 2016 and why he hasn't watched tape of Super Bowl 50
3. A backup plan if Talib gets suspended. There remains the possibility of a suspension for Aqib Talib as a result of an incident in which he suffered a gunshot wound during the offseason. That probably would thrust Kayvon Webster into the spotlight as the Broncos figure out a contingency. The fourth-year cornerback has taken a backseat to 2014 first-rounder Bradley Roby for nearly his entire career, but a Talib suspension would likely push Webster into a slot role in nickel and dime situations, with Chris Harris and Roby on the outside.
• ME VS. CHRIS HARRIS: The MMQB's Andy Benoit tried to run routes against the veteran Broncos DB. It wasn't pretty
4. The Broncos are excited about the maturation of Darian Stewart, the man who broke up two passes, forced a fumble and sacked Cam Newton once in Super Bowl 50. Toward the end of last season, Stewart and fellow safety T.J. Ward became interchangeable at the two safety positions, occasionally switching roles in an effort to confuse quarterbacks. Said Ward: "Our goal is to be the best safety combo in the league, bar none, and I know his goal is to be the best safety in the league, and that's mine. It's great when you have a player back there and you can say, 'Hey Stew, you play free, I'll play strong this time.' When you've got two safeties you don't know who is gonna run down or not. The quarterback says, 'Okay I've got two split safeties, they're in disguise. Who's gonna come down? I don't know.'"
5. Rookie quarterback Paxton Lynch has looked like your typical rookie first-rounder in camp—growing pains with flashes of brilliance—as he pulls up the rear in the QB discussion. His preseason performance (6 of 7 passes for 74 yards) was encouraging but should be taken with a grain of salt; Chicago's lack of defensive depth was on full display last week.
• Question or comment? Email us at talkback@themmqb.com.