How Stephen Curry, Klay Thompson became the best decoys in basketball
Pass Brothers: Stephen Curry and Klay Thompson are powering the Warriors' offense through a selfless approach. 
Your teams on the go or at home. Personalize SI with our new App. Install on iOS (iOS or Android).
Sometimes, the most powerful way to invalidate a defense is to give it exactly what it wants. In these Finals, Cleveland has engineered its entire scheme to take the ball out of the hands of Stephen Curry and Klay Thompson. Pick-and-roll traps were intended to make the Warriors guards pass out of pressure. Off-ball switches were arranged to better deny the two best shooters in the league. Golden State has accepted the premise, shifted its playmaking responsibilities, and obliterated Cleveland's best laid plans all the same through the first two games of the championship series.
​Curry and Thompson have, in the process, essentially become party to the plan to contain them. Every trap or switch is treated as an opportunity rather than some annoyance; neither is beyond the occasional turnover, but whichever guard handles the ball is engaging the defense for the purpose of finding the open man. That very act is made easier by the understanding that the ball will inevitably come back:
[youtube=https://youtu.be/1eOdvu16-2w]
So much was made possible in that sequence by Thompson drawing two defenders to the ball. The immediate pass to Draymond Green produced an enticing, wide-open look from beyond the arc. Green opted to fire the ball, instead, to Shaun Livingston lurking on the baseline. Livingston took one dribble into a potential post move against the undersized Iman Shumpert before sensing LeBron James crashing down to help. Again the offense found its way out of pressure—this time with Livingston's kick-out to Leandro Barbosa at the three-point line. Given that Barbosa's defender, Kyrie Irving, had left him to pick up Shumpert's man (Andre Iguodala) in rotation, the pass out drew J.R. Smith into a mad dash and left open the swing pass back to Thompson.
Draymond Green, Kevin Love and the summer that shaped the NBA Finals
To review, that's an open three-point look, a matchup advantage on the block that forced a double team, a three-pointer so open that it led a defender to desert Thompson, and a final open three for an all-time great shooter—all byproducts of that initial trap. Thompson made the simplest play out of a jam and produced a cascading stream of optimal scenarios.
Getting to that point demands patience of two players trained on instant gratification. A three-pointer from Curry or Thompson is a shot of dopamine—high thrills and peak rewards. Both have the means, through footwork and quick releases, to force up shots if they so choose. Instead they're largely investing in process, manifest in the very way the Cavs think they want. Cleveland's style of defense has largely taken away the specific instances of Curry dribbling around a high screen into an open pull-up three. What it encourages, instead, are sensible workarounds. Golden State is technically made to do more—passing, cutting, screening—as a result, though often only the initial action is actually contested. The rest comes free in the flow of the offense.
• MORE NBA: Is this LeBron's worst supporting cast? | Dray Day!
[youtube=https://youtu.be/f8pv_aJB0oY]
There's a certain helplessness in that. Cleveland has dedicated so much of its game plan and head space to stopping Curry and Thompson, and yet has succeeded only in the most superficial capacity. Between them, those two prolific scorers have registered just 55 total points over two games. That hasn't stopped the Warriors from rampaging through the series to date, their runs propelled still by the work of their two best scorers. No points will be allocated to Thompson on a possession like this one, no matter that he created the dynamic for Harrison Barnes to slip his screen:
[youtube=https://youtu.be/ANJlqV5Rmuk]
Curry will go uncredited for this play, where his small interaction with Iguodala (a faked screen and hard reverse) manages to bungle Cleveland's switch and get Iguodala an and-one:
[youtube=https://youtu.be/_DvubhwhhqY]
The best decoys in basketball aren't really decoys at all. If the Cavs don't sell out on Thompson as he comes off a pin-down or track Curry carefully when he works the baseline, they will eventually cede open looks to the two most dangerous opponents on the floor. If they do, their coverage will likely snap elsewhere—whether immediately by deserting another Warrior or through the gradual breakdown of consecutive rotations. That's a credit to Golden State's play design, in some cases, but largely to the chemistry of players who understand how to read the floor and one another.
100 Best NBA Finals Photos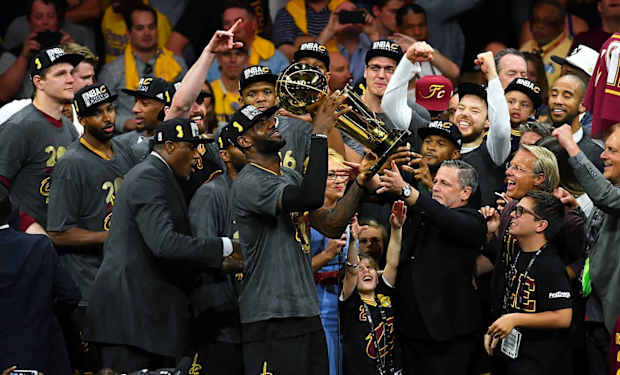 Green, Iguodala, and Shaun Livingston are the supporting playmakers who make it all possible. Not every team has the luxury of taking control of a possession away from its best ball handler. The Warriors can manage because their frontcourt passing is so exceptional that a player like Green can fulfill the functional responsibilities of a point guard. Their role goes beyond facilitation; Golden State's passing wings and bigs are creators in themselves who see the entire field of play for all its machinations. Sometimes that requires quickly reading through the progressions of a particular set. In others in boils down to sensing a defense's vulnerabilities and directing teammates to seek them out:
[youtube=https://youtu.be/whoESKaRPus]
For Iguodala to make that pass is a fulfillment of purpose. Thompson knows well that he seems to draw two defenders wherever he goes, whether by active doubling or poor communication. Rarely will he be left open. Still he makes his cuts at full speed and flies around screens as if he were deep into a hot streak and hunting for opportunities. In a sense, he is.