Matchups that will define the NBA Finals
SI covers NBA Finals matchups that could swing the series, with topics including Kevin Love's weaknesses, LeBron James's versatility and Stephen Curry's brilliance. 
No matchup is an island, entire of itself. Assigning any one basketball player to guard another has rippling implications for everything that happens on the floor. Game plans are formulated based on how the defense lines up and where it might be exploited. Actions are warped based on which players are involved on both sides of the ball. The work of a defensive stopper comes built-in with the opportunity cost of every alternative; assuming any specific responsibility foregoes another, making even the smallest lineup decisions an act of compromise. Basketball might not be a terribly complicated game, but it is complex in the way that all constantly evolving systems tend to be.
Keep this in mind when wading into this year's NBA Finals, a bout between two flexible teams with all kinds of options available to them. Both the Warriors and the Cavs will have the burden of stopping a near-unstoppable offense. How they'll go about doing so begins with a basic lineup structure which informs offensive feedback and then triggers defensive adjustment. Let's start with the basics:
• MORE NBA: Finals predictions, X-factors, more | Finals preview
Golden State's lineup balance
By the end of the 2015 Finals, Golden State had bounced Andrew Bogut from the rotation entirely and come to entrust Draymond Green as their default center. It was small ball that unlocked the series; Cleveland's frontcourt, undercut by Kevin Love's season-ending shoulder injury, didn't have the means to run with the Warriors or defend them in space. Kyrie Irving's absence further compromised the rotation to the point that it couldn't really adjust once Golden State broke loose.
Eye On The Prize: How Kyrie Irving got LeBron's Cavaliers back to the Finals
The dynamic refreshes with Love and Irving's return, the addition of Channing Frye, and Cleveland's newfound love of three-point bombing. Attacking and defending the Cavs now demands a different formula; starting Green at center simply doesn't offer the same jolt that it did when Timofey Mozgov was his positional counterpart, left to plod his way through awkward cross-matches. Starting Bogut makes sense now in a way it didn't then. Tristan Thompson is the closest thing Cleveland has to a traditional center in its rotation, which gives Bogut his best chance to play a role in this series by offering an anchor to the paint. Deny him that opportunity and he'll be pulled out of his game to guard the likes of Frye or Love at the three-point line.
Getting even limited minutes from a traditional center could do wonders in preserving Green for each game's most critical stretches. Keep in mind: Even in last year's small-ball dominated Finals, the Warriors played with one of their three centers (Bogut, Festus Ezeli, or Marreese Speights) on the floor for more than half the series. Bogut deserves a chance to see what he can offer as a starter and the Warriors, who just outlasted the Thunder in a series by spreading out their minutes and being the fresher team at the end of games, could use his rim protection opposite LeBron James. Of course, in doing so, Golden State would help to accommodate…
Kevin Love, in search of shelter
The last thing Cleveland should want is Love pulled out, 25 feet from the basket, to either hedge or switch on to Stephen Curry in the pick-and-roll. Love's solid defense this postseason hasn't gone unnoticed. That particular job, however, is beyond him—demanding better communication, quicker feet, and more productive instincts than he could reasonably claim. Golden State will go out of its way to put Love to the test at every opportunity. There's nowhere to hide completely, though certain matchups offer Love more cover than others.
Bogut is among the most preferable. At this stage in his career, Bogut is both rangeless and fairly slow—qualities that render him significantly less dangerous in pick-and-roll or dribble hand-off situations than, say, Green. Any Bogut screen would allow Love to focus on guard attainment for a few beats with relatively little risk; a smart, well-coordinated defense can generally handle Bogut's rumbles down the lane without compromising too much elsewhere on the floor.
Even if he doesn't take on Bogut, Love is best off avoiding a direct matchup with Green at all costs. It's not just the shooting; the pick-and-roll chemistry between Curry and Green allows them to toggle angles and re-screen to string out defenders, all with a healthy flexibility in terms of space and angle. The wider breadth of options available to a pick-and-roll duo, the greater the potential for bigs like Love to get lost in the shuffle. Even Harrison Barnes would be a better starting matchup for Love, if not…
NBA Finals Rematches
Andre Iguodala, potential starter
The Warriors didn't throw many deliberate double-teams at James in the 2015 Finals, but they applied pressure in their own way. Iguodala, one of the best denial defenders in the league, made LeBron work for every catch and then held his ground after claiming sound defensive position. The rest of Golden State's defenders took a step inward and extended their arms—showing James a wall to the weak side that simultaneously shrank the court and deterred long passes. One of the most dominant players in the league was reduced, in part by his team's injuries, to iso-post inefficiency.
Stephen Curry vs. LeBron James: How do Warriors and Cavs stars stack up?
James won't be used in quite the same way now that Irving and Love are healthy again, though Iguodala remains Golden State's top choice for contesting his post-ups and drives. Considering that Iguodala's minutes will largely be tethered to LeBron's, it would make sense for the Warriors to kick around the possibility of starting him at small forward—just as they did against Kevin Durant in Game 7 of the Western Conference finals. Barnes, who doesn't move quite well enough to keep up with James, would be out of his depth in the opening minutes. Even Green didn't fare well in the one-on-one matchup last time around, proof positive that LeBron can work over many of the best, most versatile defenders in the league.
Iguodala remains a rare exception. It's possible that Kerr might bring him off the bench to start the series as a way to artificially depress his minutes. Otherwise it can be difficult to get Iguodala out of the game at all, particularly when his primary assignment is a high-usage creator who can turn a game in a matter of minutes. That danger is real, though it exists in equal measure at the beginning of every game and in any instance when Iguodala isn't on the floor to fend off LeBron's drives. Starting Iguodala might be the easiest way to maximize the alignment of their rotations, while also moving Barnes to the bench to help handle…
The Kevin Love-Channing Frye space odyssey
Never is Cleveland's offense more fluid than when both of its bigs can stretch the floor. LeBron has buckled defenses throughout his career by making crisp passes from inside a swarm of opponents. Irving is so valuable because he can slice through consecutive layers of defense to finish at the basket. Remove those degrees of difficulty and the Cavs max out their scoring potential. Open space is rarely more than a pass away—facilitated by Frye's knockdown shooting and Love's pick-and-pop game.
• MORE NBA: Steph vs. LeBron: How the NBA Finals stars stack up
Golden State will need to be mindful of these lineups in the same way that opponents must batten down the hatches when Green slides over to center. In limited minutes throughout these playoffs, Cleveland has scored 121.7 points per 100 possessions with Love and Frye on the floor together, per NBA.com—a significant improvement on what was already the best offense of the postseason on balance. Their pairing leaves Bogut with no one to guard, Speights in way over his head, and Anderson Varejao out of his comfort zone. Ezeli might at least be able to scurry between contesting Frye and maintaining his other defensive responsibilities, though the best antidote is the most obvious one: Green and Barnes as the Warriors' functional, flexible bigs.
Their footspeed alone would be a big help in the scramble of containing drives while minding shooters at every other position. Both Green and Barnes are quite switchable, too, which can negate the value of floor-spacing bigs if an offense takes too long to initiate or doesn't execute its counters. Most important: Playing Barnes and Green opposite Love and Frye forces Cleveland's bigs into the same fundamental binds. Whether they survive them will depend in part on…
100 Best NBA Finals Photos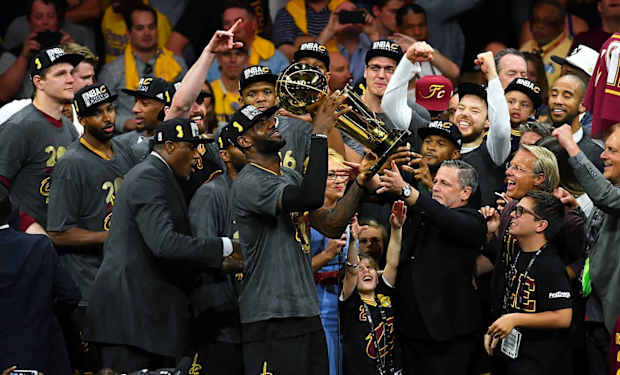 Who LeBron James defends
Cleveland's best all-around defender is also its most important offensive player. That's the kind of luxury a team has to couch in long-game thinking; asking too much of LeBron over the full term of a playoff series risks wearing him down, possession by possession, until compromising much of what makes him so good. A fresh, physical James could be more than the Warriors can handle. A sapped, overextended James wouldn't have access to the level of command the Cavs desperately need.
As such, James might be best off assuming a lesser defensive role—like guarding Iguodala or Barnes—for as long as possible. Churning in the background, however, is the distinct possibility that Cleveland's rotation might not allow it. J.R. Smith will walk a fine line in taking on Klay Thompson. Kyrie Irving will pick up Curry to start, though we'll see Iman Shumpert and Matthew Dellavedova share in that responsibility at times. Tristan Thompson will likely be tabbed to guard Green by process of elimination, though his minutes will be fairly modest.
Each of those matchups presents problems—some slightly concerning, others clearly alarming. James, in moderate doses, is the way to quiet them. Cleveland has no better option for defending Green when Thompson is off the floor, and perhaps no better option for defending Green (and, by extension, his pick-and-roll partners) period. James has no business burning energy trailing Thompson all around the floor if Smith comes up short, though Shumpert might be able to handle that assignment if James can check Curry in spots. There's a lot to untangle in deciding how to make best use of James's defense without demanding too much, most of which is rooted in…
Cleveland's defense against Curry
Irving is in line for the biggest challenge of his basketball career: a ringer of pick-and-rolls and pin-downs that has effectively neutralized some of the best defensive players and systems in the league. His knack for suboptimal positioning will be attacked, as will his chemistry with a number of defensive partners. Should the Cavs start switching in an effort to stall the Warriors' execution, then Irving will be all that stands between players like Green, Barnes, and Thompson as they work the post. Otherwise, he'll have be tasked with restricting Curry through any means possible and spending his most in a constant, desperate state of recovery.
Data Dimes: 2016 NBA playoffs are the most lopsided in league history
The only evidence that suggests he might be up for the challenge is part of one game in last year's Finals. Otherwise, most of the precedent on film points to this matchup being a problem—especially if the Warriors are able to knot up Irving and Love directly via two-man actions. Rarely are those two on the same page, which often either forces an additional rotation from elsewhere on the floor or yields an immediate opening. With Curry involved, there now exists the possibility that he might pull up for a three-pointer without really driving into the defense at all, should Irving and his pick-and-roll partner botch their defensive exchange.
Any kind of above-and-beyond defensive performance from Irving would go a long way in settling Cleveland's playing rotation. Otherwise, Tyronn Lue might have to toy around with leaning hard on Shumpert (a better Curry foil, but not a perfect one) at the expense of his offense, playing Dellavedova (who isn't as much a match for Curry as the narrative of the 2015 Finals would have you believe) more alongside Irving, or throwing LeBron into the mix for as many minutes as he can handle. None of these solutions is especially elegant, but this particular matchup leaves the Cavs in a pinch. Even the best, most aggressive defense possible from this group would still leave Curry the opportunity to cut backdoor—all without Mozgov around protect the basket. Irving might just have to make do, while using his positional alignment to attack…
Klay Thompson, crossed in transition
Kerr never really committed to one primary defender against Irving in the regular season matchups between these two teams, though Thompson is decidedly the best direct choice among those available. Few perimeter defenders in the league do a better job of angling a ball handler in the direction of the help before continuing in pursuit; point guards, in particular, can feel Thompson right on their heels even after they turn the corner, and tend to rush shots or dribble into trouble because of it. Irving would be a handful in his own right, but Thompson is up to the challenge of hanging with his deceptive dribble and recovering to contest Irving's mid-range jumpers.
The real trick will be if Thompson, should he get the job of defending Irving full-time, can fully make his way back into position when Cleveland transitions quickly into its offense. At the moment the Cavs collect a defensive rebound, Irving—who will essentially never defend Thompson in this series—might be on the opposite side of the court with a significant head start on the break. It's then that the Warriors will need to pick up as they can and survive a possession at relative disadvantage, even if the action slows to attack their potential mismatches.
Golden State will have some options in those scenarios and is better equipped to scramble in transition than most. What they might not have is time; if Irving and James are running the ball aggressively, even a frantic point or call to a teammate might not come soon enough. It's there that these kinds of cross-matches can fall flat. Whatever advantage there is to be gained by having Thompson defend Irving in half-court situations has to be protected in the chaos of a transition free-for-all. Even an isolated, dedicated matchup like this one can only succeed with the help of Thompson's teammates.