J.R. Smith vs. Klay Thompson: The battle within an epic NBA Finals
J.R. Smith will battle Klay Thompson in one of the pivotal matchups within the NBA Finals. 
On Thursday night, J.R. Smith steps into the fire. Smith has the distinct misfortune of being the Cavaliers starter most likely to match up with Klay Thompson—an assignment as taxing as any in the league. Its demands begin long before Thompson ever has the ball and do not cease until Thompson leaves the game entirely. Every minute in between is filled with sharp curls, hard cuts, run-outs in transition, and guard-to-guard screens, all blended together so seamlessly that it is essentially impossible to distinguish decoy action from the real thing. Not that such a distinction really matters against a team that reads and reacts as well as the Warriors, which may in itself be the problem.
Fall behind Thompson and he will spring free. Lose focus for a second and he'll likely catch fire. To guard him is to battle a twinned fatigue, the physical and the mental, until something inevitably gives way. Rarely, these days, is it Thompson.
The improbable magic of Steph Curry leaves us speechless again
This will be Smith's lot through significant stretches of the NBA Finals. He'll have help from Cleveland's reserves (Iman Shumpert, first and foremost) and the bigs who will try to contain Thompson as he darts around screens. Nevertheless, many possessions will boil down to Smith's attention and persistence in pursuit of one of the most deadly scorers of the postseason. More will be asked of him in this series than in any previous, in part because the Cavs are fully aware of all that they lose when Smith isn't on the floor.
Of all the players to attempt five three-pointers a game or more in this year's playoffs, Smith has posted the single highest three-point shooting percentage (46.2%). His attempts are a mix of open spot-ups and frantic, desperate leaners—a prescription expressive of what Cleveland needs of its supporting casts. There will always be possessions made easy by LeBron James or Kyrie Irving that Smith will only need to complete. Others will be cramped by lags in initiation or the looming shot clock, leaving players like Smith to manufacture a shot from a virtual standstill. He makes far more of those attempts than a role player should have any right to.
Cleveland has a few alternative rotation players capable of the former, but none comes even remotely close to matching Smith's faculty for more difficult offense. That kind of skill set will be essential as the Cavs encounter their best defensive opponent yet: a team that can run big or small, slow James with excellent individual defense, and cross-match Thompson to cover Irving and challenge Cleveland's offense at the point of attack. The Cavs will get theirs, but not without grinding down many possessions as they try to push past an agile, effective defense. Smith's handful of bailout possessions could be a lifeline.
The value of that kind of quaternary option can be compromised if Smith can't at least give the Cavs survivable defensive minutes on Thompson. It's an assignment best not handled by James or Irving and of no sense for any big. Smith would claim the job almost by default, though his defensive success previously in the postseason offers room for relative optimism. Diligence, awareness, and industry are not exactly Smith hallmarks; this is the same man, after all, who had the sense of the moment to punch one opponent, body check another, and elbow a third in the face—all in the raised stakes of playoff competition. His broader record suggests the minutes Smith spends guarding Thompson could prove painful to one of them, neither case much serving the Cavs.
Yet all hope for Cleveland in this matchup is not lost—not after Smith locked in to track Atlanta's Kyle Korver throughout the second round. Korver shot just 33.3% from the field (and 27.3% from the three-point line) while Smith was on the floor in their playoff series, per NBA.com. Even more powerful were all the shots that Smith took away by following Korver as closely as he could. Korver holstered shots that would have gone up against lesser coverage or, in some cases, didn't even receive a pass because Smith was in good defensive position. Just because this isn't what we had come to expect of Smith doesn't mean he isn't capable of it; the same kinds of weird misjudgements and inattention that make Smith a streaky offensive player can make him an up-and-down defender as well.
• MORE NBA: Thompson's historic night from deep | LeBron, King of the East
If the Cavs can get this version of Smith against Thompson, he might hold up respectably in their matchup—reducing the need for rotation changes and making things easier for every other Cavalier on the floor:
[youtube:https://youtu.be/uT2NVlooNrY]
If the Cavs get this version of Smith against Thompson, the Warriors' second-leading scorer will explode for streaks of easy scores in due time:
Remember that Thompson has just endured seven games of the off-ball blanketing of Andre Roberson, one of the better defensive wings in the league, and the collective length of the Thunder. Moving on to Smith and the Cavs should be like removing a weighted vest—even if both play to their absolute best. Thompson will find openings in this series he never could have dreamed of in his last. Considering all that he was able to accomplish without easy looks, the notion that Thompson might be able to sprint his way around a screen and into a clearing should worry Cleveland. Thompson, after all, is not Korver. It's one thing to chase a shooter over the top of every screen and look to take away the jumper. Do that to Thompson and he'll put the ball on the floor, compromising the perimeter and putting more pressure on the Cavs' interior defense.
Greatest Game 7s in NBA History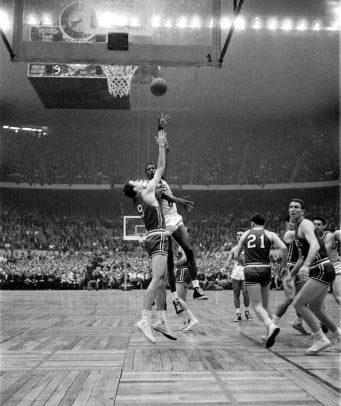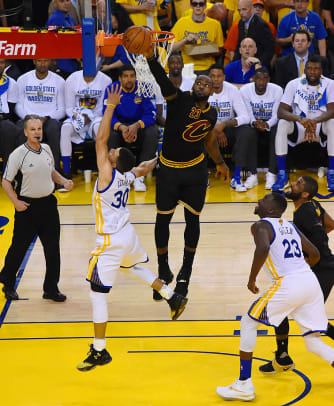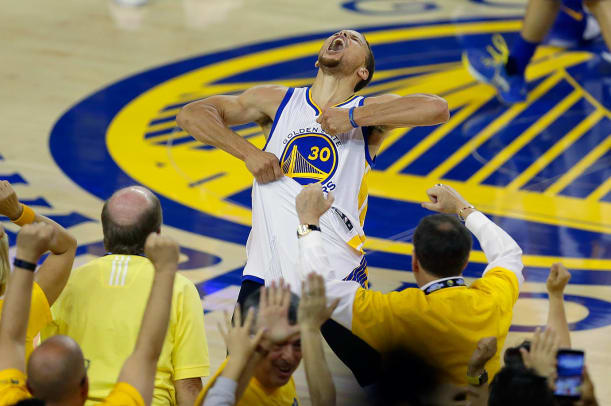 That was a feasible strategy for Smith (and Shumpert) in last year's Finals when Timofey Mozgov occupied the middle, though it's less so when Tristan Thompson, Channing Frye, or Kevin Love might be all that stands between Thompson and the rim. Those three will do fine in spots, but none is as intimidating around the rim as Mozgov; Klay will attempt shots and draw fouls that he might have talked himself out of last year or even in the last round, simply because there isn't as much to fear around the basket.
Cleveland could try switching on Thompson's off-ball screens, but doing so creates clear mismatches and additional strain in their defensive communications. Shumpert could conceivably steal some of Smith's minutes if things go south, but in doing so would cost the Cavs some offensive dynamism without greatly improving their ability to trail roving threats like Thompson. Irving will also log big minutes in this series as a matter of necessity, which will create more defensive issues that limit the Cavs' structural alternatives. There are no great answers for Cleveland, as is so often the case for Golden State opponents. It all starts with the leverage of a single, tilted matchup that feeds into another, which feeds into another. No playoff opponent in the past two years has yet escaped the spiral.