Andre Iguodala is everywhere—including LeBron James's head
Andre Iguodala's ability to defend LeBron James has been one of the biggest storylines for the last two NBA Finals. 
Any valuation of Andre Iguodala's Game 1 defense should begin with the great lengths to which the Cavaliers went to avoid him. LeBron James was never so eager as when Iguodala was stranded on the other side of the court in transition, forced to pick up another player on the break rather than stand in his way. When Cleveland's offense settled into the halfcourt, it ran screen after screen to first pry Iguodala off of James by triggering a switch and then tried to send the long, lithe defender as far from the action as possible.
It didn't always take. Golden State may be the team in the league most willing to switch, but Iguodala had no intention of surrendering his spot opposite LeBron if the circumstances didn't explicitly demand it. When Cleveland attempted to reposition Iguodala by having James screen for Matthew Dellavedova, Golden State's designated stopper feigned the exchange before scrambling back to pick up James. Iguodala—alongside Shaun Livingston, his pick-and-roll partner—could accomplish this cleanly because he left the unthreatening Dellavedova holding the bag.
• MORE NBA: Dellavedova hits Iguodala in groin | Warriors' Game 1 message
[youtube=https://youtu.be/oQ-1AYGlJ8A]
Iguodala never quite goes away. Even in those cases where James was able to isolate against some other Warrior, rarely was he left to his own devices. A LeBron post-up against Harrison Barnes or Klay Thompson would often find Iguodala lurking—appearing in James's periphery just often enough to give him pause. Don't underestimate the influence of that kind of cameo. A smart, handsy defender showing up at the right time can stall a play in progress. To regroup takes time, and taking time takes away options.
[youtube=https://youtu.be/fFqylx9o2JU]
This style of defense actively discourages cutting. Should the man Iguodala is guarding move anywhere in the vicinity of James, Iguodala will linger in the vicinity. Ditto for Draymond Green, who contributed another wave of interference when Kevin Love tried to rotate around the arc to the top of the floor. Even those possessions where the Cavs clear four players to the weak side of the floor feel somehow crowded, dense with the Warriors' attendant help. Screening Iguodala into a switch isn't enough to remove him from the action.
NBA Finals predictions: SI's picks and potential X-factors, battles and more
Troublesome as it is to shed Iguodala on the defensive end of the floor, the Cavs found it quite easy to lose him on the other. The every movement of Stephen Curry and Klay Thompson puts a defense on red alert. Sometimes that heightened state got the better of Cleveland, which collapsed overzealously in response to drives and sold out at multiple positions to prevent a jumper off a pin-down screen. Such extreme threat prioritization came at the expense of good sense. Most Warriors opponents will, on some level, sacrifice close defense on players like Iguodala for the sake of rotational help. The Cavaliers managed to do so in a few cases without any real means of recovery, having already committed what would have been the next defender in sequence to a hard collapse:
[youtube=https://youtu.be/6Dm0d8REiRs]
It honestly takes a lot of work to veer so far from two—note Green left free above the break—reasonably effective three-point shooters at once. Kudos to the Cavs for making it look easy, and in the process taking a bankable strategic element (making Iguodala beat you) to its counterproductive conclusion. So distorted is Golden State's gravity that Cleveland opted to cover Curry and Thompson at the three-point line in transition while surrendering an Iguodala dunk:
[youtube=https://youtu.be/AIvCnuf9iGE]
Cleveland's complete disregard for Iguodala's offense comes at its own risk. Weaker defenders are hidden on Iguodala or switched over to him willingly. On some nights that will work well enough; Iguodala averaged just 9.5 points per 36 minutes, second-fewest of all Warriors, for a reason. Yet those matchups can prove frustrating because Iguodala never seems to do one, predictable thing. Were he the type of wing who brings all smaller defenders into the post, the Cavs could prepare accordingly. Instead, Iguodala flows through possessions as a facilitator before settling in for scores out of the flow of the offense. Teams rightly sag off of Iguodala because he doesn't present an immediate scoring threat. Give him any angle, however, and he becomes a resourceful one—slicing into the lane, working over smaller defenders for rebounds, and lining up trebuchet jumpers with no reason to rush.
100 Best NBA Finals Photos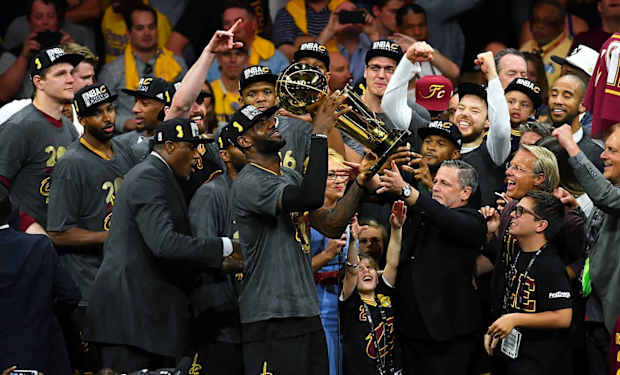 ​Iguodala doesn't just finish or facilitate those plays—he actively helps to create them. The very fact that Iguodala (and, in spots, Green) defends James so well makes it feasible for Golden State to go long stretches without a second traditional big on the floor. His work in denial and contest is a structure unto itself. Cleveland shot just 34.9% from the field in the 36 minutes while Iguodala was on the floor in Game 1, according to NBA.com, its offense caught between futile isolations and seamless switches. When the Cavaliers then looked to buckle down and defend as a means to survive, they encountered smaller, hyper-productive lineups that could space the floor, force awkward exchanges, and attack from all directions.
Those units (including a 'Death lineup' variant in which Shaun Livingston and Leandro Barbosa manned the backcourt) thrived with Iguodala's influence. Golden State's more conventional lineups stood strong, too, thanks to his poise in orchestrating offense and load-bearing role within the defense. Iguodala was everywhere—in the head of Cleveland's best player, not least of all.