Stephen Curry, Warriors go big to save season against Thunder
Stephen Curry was at it again as the Golden State Warriors stayed alive in a Game 5 win against the Oklahoma City Thunder.
Get all of Ben Golliver's columns as soon as they're published. Download the new Sports Illustrated app (iOS or Android) and personalize your experience by following your favorite teams and SI writers.
OAKLAND, Calif. — Pushed to the brink by back-to-back blowout losses he termed "embarrassing," Golden State's Steve Kerr faced one of coaching's most fundamental decisions: To go big, or to go small.
The Warriors had been run off the court by the Thunder's center-less lineup in the two previous games, as Billy Donovan turned to a seldom-used grouping that gave Golden State fits with its length, athleticism and defensive intensity.
Kerr had a familiar and enticing counter at his disposal: Golden State's own much-ballyhooed center-less lineup that turned the tide in the 2015 Finals against Cleveland. This look hadn't fared well so far against the Thunder, but there were still plenty of reasonable causes for hope. In Oklahoma City, Stephen Curry had played below his standard and Draymond Green had suffered through his worst two-game stretch in recent memory. The Thunder had received steady offensive contributions from the likes of Andre Roberson and Dion Waiters, contributions that might wane on the road for Game 5. What's more, the Warriors seemed due for a breakthrough night from outside after two ice-cold shooting performances.
• MORE NBA:Thunder Road: Kevin Durant, OKC mature into contenders
If the season was going to end on Thursday, why not put it in the hands of the five men—Curry, Green, Klay Thompson, Harrison Barnes and Andre Iguodala—who delivered the 2015 title and sent team after team looking to increase its lineup versatility last summer?
Why not? Because Kerr had a different plan, one that delivered a 120–111 home victory on Thursday to narrow the Thunder's series lead to 3–2.
Roundtable: Does Warriors' 73 wins matter without an NBA title?
Set on neutralizing Oklahoma City's rebounding advantage, as Golden State did during its Game 2 victory, Kerr elected to stay big for much of Game 5. Indeed, the Warriors' small lineup logged just two minutes together, late in the fourth quarter, as Kerr turned to starting center Andrew Bogut and backup center Marreese Speights for big minutes throughout.
After Kerr called for more from Bogut on Wednesday, lamenting the Australian big man's foul trouble, he resisted the temptation to shake up his starting lineup or cut down Bogut's role. Instead, Bogut logged 29 minutes, his most action since an overtime loss to Minnesota on April 5, and played a key role in Golden State's strong Game 5 start. With Steven Adams waylaid by early foul trouble, Bogut controlled the glass and found a surprising number of scoring opportunities.
Most importantly, he led Golden State's best interior defensive performance of the series. In the first four games, Oklahoma City's endless attacks had produced an average of 24 made shots in the basket area on 60% shooting. By contrast in Game 5, the Thunder went just 8-for-24 (33%) in the basket area, with Bogut registering two blocks and altering numerous others.
"It's probably the key [to the win]," Kerr said. "If you want to look for one thing, [Bogut's] play leading to better defense."
Although Speights only filled in small gaps off the bench, he too was critical in Golden State's season-extending win. As the game entered the fourth quarter with the Warriors up four, Kerr bought some rest for his three All-Stars with a bench-heavy lineup while Donovan opened the quarter with Kevin Durant on the court and then quickly brought back Westbrook.
What seemed like a recipe for an Oklahoma City push instead turned into a 10–0 Golden State run to open the quarter. Once the Thunder started to push back, Speights scored five points in less than a minute to open up a 13-point lead, restoring a level of comfort for the Warriors that had been missing since Game 2. When he exited the court, having scored 14 points (one more than the Thunder's entire bench) in just eight minutes, the Oracle Arena crowd saluted his effort with a standing ovation.
Photos of the nine 3–1 comebacks in NBA playoff history
NBA Playoff 3-1 Comebacks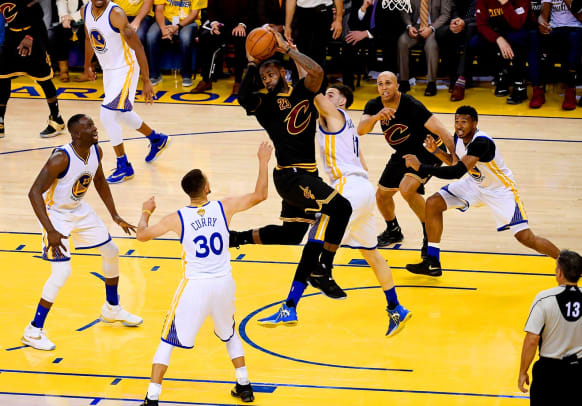 ​
"Mo is instant offense for us," Kerr said. "He gives us a totally different look. We don't have shooting from our five men. So he allows us to spread the floor and change the pace a little bit. … He was tremendous."
Golden State's centers helped expose some recognizable cracks in Oklahoma City's supporting cast members. Serge Ibaka shot well from outside, but he wasn't able to generate second-chance opportunities or do any damage on the interior. Roberson, fresh off a huge Game 4, was reduced to an afterthought as he missed both of his attempts inside the arc. Waiters, who is always extremely hot or extremely cold, was a total no-show, struggling with his control on drives and failing to get to the free-throw line.
"We've always been a pretty good deep paint-finishing team," Donovan said. "But I think our inability to finish plays around the basket when we had a chance to … was certainly the difference in the game."
The Warriors' control inside set the stage for Curry, who came on slowly but saved his best for last. After watching good chunks of the fourth quarter from the sideline during garbage time in Games 3 and 4, Curry scored 12 of his team-high 31 points in the final period.
#http://www.120sports.com/video/v180478642/warriors-keep-season-alive
Both Durant (40 points, seven rebounds) and Westbrook (31 points, eight assists) were clearly gunning for the closeout victory, and yet Curry was able to do little things and big things to keep them at bay. In the game's final five minutes, he played to his MVP billing, draining a three-pointer, securing three defensive rebounds in quick succession and icing the game from the free-throw line.
In the middle of that closing flourish, Curry plunged in a two-way dagger. Up eight with less than 90 seconds to play, he picked Durant's pocket at the top of the key and then darted to claim the loose ball. Moving up to the frontcourt to kill some clock, Curry then maneuvered past Steven Adams off the dribble to set up a running layup that saw him switch the ball from his left hand to his right hand before he kissed it in off the glass.
"We ain't going home!" Curry screamed at the fans as the Thunder called timeout, having made good on his post-Game 4 promise that the Warriors "wouldn't go out like this."
Curry's closing effort capped off a night in which the Warriors eliminated some of their sloppiest turnovers, moved the ball well, welcomed back a much-improved Green and reestablished control over the pace of play for the first time since Game 2.
"We played like we were really stressed in OKC and it showed," Curry said. "[Tonight, we] kind of let loose, be ourselves, have fun, enjoy what we were doing. It was a good feeling out there to perform at a high level. So [we] got to bottle up that joy and take it with us on the plane tomorrow to OKC and be ready on Saturday."
No doubt, the victory helped Golden State salvage its pride: watching a 73-win season crumble in the conference finals, at home, in five games, would have been a serious hit to the ego. But Game 5 didn't bring true relief for the Warriors nor did it produce a magic formula for toppling the Thunder.
Going big worked very well, but it didn't break Oklahoma City open. Curry and Green pulled out of slumps, but Durant and Westbrook continued to perform like MVP candidates on the court and remain eerily calm off of it. The Warriors were more energetic and precise than the Thunder for a night, but now they must return to Chesapeake Energy Arena with the memories of endless blunders still fresh.
"That's a tough, tough building to play in," Green said, after posting 11 points, 13 rebounds and four blocks. "We've got to make sure that we go in there and completely exceed their intensity level and try to take the crowd out the game. We've done it before [in Cleveland during the 2015 Finals]. We know what it takes to do it. We've just got to make sure that we use that experience. Obviously it's a different team, different challenge, but same formula."