Thunder close in on Finals by beating Warriors at their own game
Russell Westbrook outplayed Stephen Curry, Kevin Durant starred and the Oklahoma City Thunder continued their march over the Golden State Warriors in Game 4 to the NBA Finals.
Get all of Ben Golliver's columns as soon as they're published. Download the new Sports Illustrated app (iOS or Android) and personalize your experience by following your favorite teams and SI writers.
OKLAHOMA CITY — In the span of 72 hours, the Thunder have seized control of the Western Conference finals and pushed the Warriors to the brink of a stunning elimination by turning the Warriors completely inside out.
The league's flashiest passers are drowning in wingspan. The league's best shooters are catching rim instead of a rhythm. The league's best team in the clutch can't even take the game into the fourth quarter. And the league's most fearsome, versatile and balanced small-ball lineup, the one that sent seemingly half the league on a path to modernization last summer, has been blown off the court by an Oklahoma City quintet that is longer and more relentless.
Oklahoma City thrashed Golden State 118–94 at the Chesapeake Energy Arena on Tuesday, securing its second blowout victory in three days to take a 3–1 series lead. The Warriors' Game 3 loss should have been the ultimate wake-up call, but it turned out there was no waking up from a recurring nightmare of ferocious Russell Westbrook drives to the hoop and smooth Kevin Durant jumpers over helpless hands.
• MORE NBA:The Death Lineup is slain: Thunder topple Warriors again
Golden State admitted its faults after Game 3, caught a major break when Draymond Green wasn't suspended for kicking Steven Adams and entered Game 4 with the appropriate attitude, with Stephen Curry speaking for the group by saying that there was "no other option" besides a win. But the accountability, good fortune and optimistic pledges went out the window shortly after the opening tip. In their place came another long string of turnovers, as Curry and Green continued to force passes on the perimeter that never made it through the Thunder's aggressive ball-hawking.
"Way too many turnovers, careless passes," Warriors coach Steve Kerr said. "This is probably the longest team in the league that we're facing, and we are continuing to try to throw passes over the top of their outstretched arms. It's probably not a great idea."
There was a Michael Jordan/Scottie Pippen vibe to the unrelenting, synchronized pressure applied by Westbrook and Durant, who combined for eight steals on a night when Curry and Green committed six turnovers each. Rather than wait back and let Curry and Green work their magic, the Thunder brought extra attention to the stars, turning the Warriors into a frantic mess. On most nights this season, Golden State has been able to keep the ball moving to beat defensive rotations and find quality looks; during their nightmare two-game stretch in Oklahoma City, the Warriors have managed to find seams only rarely, more often squeezing off contested jumpers or hurried runners at the first available opportunity.
The decisive strategic move of the series has been Thunder coach Billy Donovan's decision to use a small lineup that shifts Serge Ibaka up to center, Durant up to power forward, Andre Roberson up to small forward and uses guards Westbrook and Dion Waiters. While that group logged just 46 minutes together during the regular season, posting middling numbers, it has thoroughly dominated the Warriors in this series.
"It's not necessarily about what is or is not going to work," Donovan said in explaining his decision to go small in this series. "It's more about you've got to put things out there sometimes based on teams. You've got to be willing, I think, to take some risks and do that."
The Thunder's new go-to quintet has accomplished many significant goals: Durant has neutralized Green's playmaking ability, Ibaka has protected the basket against drives, Westbrook has placed considerable and constant pressure on Curry with his offensive aggressiveness, and the Waiters/Roberson combination has stepped up admirably, ensuring the Thunder always have five sources of scoring on the court at the same time.
• MORE NBA:Thunder Road: Kevin Durant, OKC ready to make title jump
All told, the Thunder's small lineup has doubled up the Warriors 98–49 over 30 minutes in this series. Oklahoma City is simply slaughtering Golden State at its own game. Green, the NBA's plus-minus leader, followed up the worst plus-minus game of his career (-43 in Game 3) with the second-worst plus-minus game of his career (-30 in Game 4) and Curry, whose strong showing in Game 2 had seemed to put Golden State back in the driver's seat, managed just 19 points on 6-for-20 shooting.
Remarkably, a Warriors team that hadn't lost back-to-back games all season suffered a 28-point defeat and a 24-point defeat in succession. Kerr was forced to wave the white flag early in both games, as his defense was ripped apart by Westbrook, who tallied a sparkling 36/11/11 triple double, and Durant, who added 26 points and 11 rebounds.
As the game went deeper into the second half, the Thunder's stars simply outlasted their counterparts, pushing and pushing until the Warriors admitted with more than three minutes left that there wouldn't be a comeback.
Photos of the nine 3–1 comebacks in NBA playoff history
NBA Playoff 3-1 Comebacks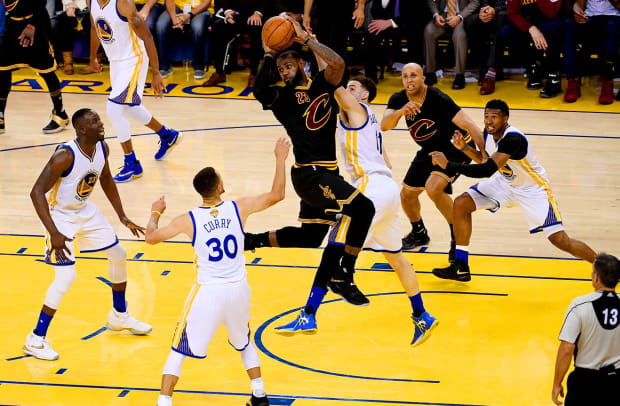 ​
Westbrook, in particular, was everywhere: on one sequence, he flew down the court and missed a layup, flew back up the court to play defense as one of his teammates forced a turnover, and then flew back down the court for another layup, getting it right the second time.
"I play every game like it's my last, regardless of who's in front of me," Westbrook said after outplaying Curry for the second straight game. "That's my job. My job is to worry about my team and guard and run my team, and that's all I do."
As the Warriors took a timeout, no doubt to recover from the flourish, Westbrook pounded the court three or four times, showing no sign of fatigue.
"I think the physical stamina, concentration, and ability of not only Russell but Kevin to play night after night and try to play at that incredible level is really, really remarkable," Donovan said. "You're never going to, with either one of those two guys, ever say anything about their effort because their effort's always phenomenal."
• MORE NBA:Kevin Durant is channeling his inner Draymond Green
Meanwhile, Curry managed just four points in the second half, looking fatigued as his signature jumpers missed and a step slow compared to Westbrook. While some wondered whether perhaps he was still recovering from the effects of an MCL sprain suffered earlier in the playoffs, Curry insisted he was "fine" and Kerr said his star simply suffered through a "lousy night." Curry's second straight ineffective performance raised the obvious question: If the back-to-back MVP isn't going to save the Warriors, who will?
Kerr has precious little time to get this right, with a potential season-ending Game 5 on Thursday, and the Thunder having the bloodthirsty look of a team that would have played a doubleheader on Monday night if such a thing there possible. Understandably so. The Warriors now find themselves in the same position they've pushed the Pelicans, Grizzlies, Rockets, Cavaliers and Blazers over the last two postseasons: backed into a corner with no magic adjustments at the ready.
Indeed, Kerr shortened his rotation in Game 4, gave his best small lineup a full look, lit into Curry during one dead ball, and repeatedly preached the importance of valuing possessions to no avail. Those were his best strategic moves and most obvious motivational moments, and yet his team was minus-16 on the glass, minus-11 on free throw attempts and minus-four on turnovers. The Warriors also managed just 15 assists, a fact that led Thompson to shake his head and mutter during a postgame examination of the box score.
Thompson's sense of disbelief was understandable. The Warriors' 73-win season, often referred to as a "joyride," has come to a screeching halt. Just nine of the 232 teams trailing 3-1 have won the series, and Golden State is now one loss away from making the dreaded move from the "Greatest team of alltime" conversation to a spot on the "Best teams that didn't win it" list.
"We're a special team," Curry said trying to muster some confidence before leaving the podium. "This isn't how we're going to go out."
It was tempting to believe him, except that the Warriors, so long in control of their own fate, have spent the last two games completely at the mercy of the Thunder.