NBA Summer League: Five standouts from the first weekend of Las Vegas
Devin Booker, Kris Dunn and D'Angelo Russell were standout performers during the opening weekend of NBA Summer League. 
Your teams. Your favorite writers. Wherever you want them. Personalize SI with our new App. Install on iOS or Android.​
LAS VEGAS — The opening weekend of Summer League started off with a bang thanks to multiple buzzer-beaters (D'Angelo Russell and Jonathon Simmons), one one of the best in-game dunks you'll see all year (Jerami Grant hurdling Ivica Zubac), and a record attendance number (16,000+ on Saturday).
Here's a rundown of five standout performers from an exciting first three days of competition.
Devin Booker, Suns
Phoenix's second-year guard has been the best player in Las Vegas, and he's carried himself like he knows it. Booker, 19, is younger than many of the first-year players at Summer League despite having a solid rookie season under his belt. Although he's 6-of-10 from deep in Phoenix's opening wins over Portland and Boston, he's used his second stint in Las Vegas to prove that he's more than just a shooter.
• SI's 10 best NBA free agents left | Rumors: Okafor hates 'sources'
[youtube:https://youtu.be/fpieX4pDzFE]
Booker has shown a little bit of everything offensively: rim attacks off the dribble and in transition, runners in traffic, the ability to get to the free throw line consistently, and smart passes to beat helping defenders. His playmaking instincts have been especially impressive, as his seven assists against the Blazers came in a variety of fashions: a pocket pass out of a pick-and-roll, drive-and-kick dishes to shooters, and one pretty alley-oop feed over the top.
[youtube:https://youtu.be/zeqLEHIQcVE]
Most impressive was Booker's motor and overall command over the action. He's looked to dictate the pace of the game, help out on the glass, reach in for deflections and engage in conversations along the way. In sum, he's looked mentally ready to take a real step forward next year for a Suns squad that needs him to develop into a star in the worst way.
• Dunn's haunting path to stardom | 10 questions with Kris Dunn
​Kris Dunn, Timberwolves
As a 22 year-old rookie who spent four seasons at Providence, Dunn is swimming upstream against conventional skepticism that suggests he should make a good first impression against Summer League competition that is often younger and less experienced. In his Las Vegas debut against Denver, for example, Dunn was older than 2015 lottery pick Emmanuel Mudiay and 2014 lottery pick Gary Harris, both of whom spent last season as full-time starters for the Nuggets.
Through two games, Dunn hasn't merely been "good for an old rookie"— he's been great, period. The 6'4" point guard has been everywhere at once, creating scoring chances for himself and others while also racking up the defensive stats thanks to his tenacious and relentless nature.
There's been a nice mix of fun and fundamentals: Dunn has leapt high to finish dunks, converted circus shots in traffic, found the open man and made the right reads in transition. Oh, and he dropped JaKarr Sampson to the court so hard that I needed an oxygen tank to recover my breath.
[youtube:https://youtu.be/dlrPJ_vXmPM]
Timberwolves coach Tom Thibodeau was reportedly high on Dunn during the pre-draft process, and everything about Dunn's opening weekends has suggested that Thibodeau has a good eye and that Dunn will make for an excellent fit alongside fellow promising youngsters Karl-Anthony Towns and Andrew Wiggins in Minnesota.
​
Ben Simmons, Sixers
It took exactly one Summer League game for Simmons to establish himself as one of the most polarizing talents in the NBA. His supporters see one of the sport's best and most gifted natural passers, a player who sees angles no one else sees and who feels the game's spacing and action/reaction sequences one step ahead of the other nine players on the court. Simmons's fans also see a sturdy body, strong handle and an inherent unselfishness that's helpful in a star player.
Simmons's detractors, on the other hand, see a player who not only lacks three-point range but who also turns down wide-open jumpers from the elbows and baselines. They see a flawed ball-dominator whose presence allows defenses to sag off of him completely and fearlessly pack the paint.
In his debut against the Lakers, Simmons passed up open shot after open shot, instead opting to squeeze passes through windows that were often too tight. In his second game against the Bulls, Simmons looked for his own shot a little more, scoring a game-high 18 points on a mix of jumpers, transition scorers and layups. As will likely be the case all season long, Simmons's teammates regularly failed to convert his passes into buckets.
• Ben Simmons's best NBA Summer League passes
[youtube:https://youtu.be/GlVpBOUb6eE]
The best short-term solution for Philadelphia next season is to push the tempo whenever possible, as a fast-paced approach puts Simmons in position to make plays with the pass against defenses that aren't set and keeps him away from settling for straight-on jumpers late in the clock or for forcing contested, off-balance runners over multiple paint defenders.
Despite the obvious concerns with his shot, Simmons's overall passing ability—finding cutters, using both hands, dishing behind his head or over his shoulder, etc.—is already elite and he consistently employs it to excellent effect. Neither of his first two games were all-around gems, but Simmons's passing has been the best single skill on display so far.
Norman Powell, Raptors
It's always a good sign when everyone asks, "Why is he even bothering to play here?" That's been the prevailing query about Powell, a 2015 second-round who was a surprise standout at last year's Summer League before he went on to earn major minutes in Toronto as a rookie.
At 23 and with experience playing in the Eastern Conference finals already under his belt, Powell really doesn't belong here. Nevertheless, he's enjoyed lighting up weak defenses with his high energy level and dependable catch-and-shoot ability. In two wins over the Kings and Timberwolves, he's hit seven three-pointers, attempted 14 free throws and stuffed the stat sheet.
Although this is looking ahead quite a bit, Powell should be in line for a big free agency payday once he completes his three-year rookie deal thanks to his solid three-and-D skillset and his ability to fit in around primary scoring options.
• Duncan retires without a whimper | Nash delivers Durant to Warriors
NBA Draft Fashion 2016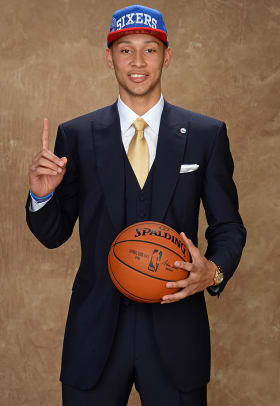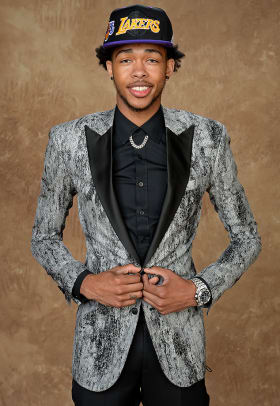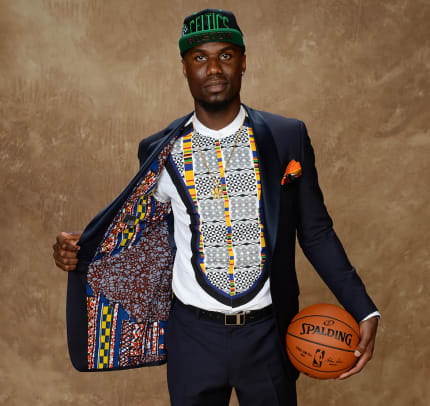 D'Angelo Russell, Lakers
Russell's opening weekend was about more than just his electrifying buzzer-beater that set off wild celebrations among thousands of Lakers fans at Thomas & Mack center. Last year, Russell was one of Las Vegas's biggest disappointments as he struggled with his jumper and never found much success running a half-court offense.
An extra year has certainly helped. Russell looks far more confident this time around—maybe a little too confident given his loose lips during a profane post-game interview. Russell has topped 20 points twice in wins over the Pelicans and Sixers, making better reads and showing improved pacing in pick-and-rolls. Rather than looking lost or hesitant, Russell has largely stayed in controlled attack mode, finding seams to the basket off the dribble, flicking cross-court passes to open shooters, and luring defenders towards him to set up catch-and-shoot looks for his teammates.
[youtube:https://youtu.be/6g9_mk7VJgA]
At 2015 Summer League, it was hard to determine why, exactly, Russell was worthy of the second overall pick. This year, it's been easy to see why so many Lakers fans are genuinely excited about the franchise's next era, which will be guided by Russell and Brandon Ingram, 2016 No. 2 overall pick.