Top 50 games of the 2016-17 NBA season
The Warriors and Cavaliers will face off on Christmas and Martin Luther King Day, headlining the NBA's must-see games of 2016-17.
The NBA's 2015–16 season saw the Cavaliers pull off an unprecedented Finals comeback and the Warriors win a record 73 games. But we're not here to talk about the past.
The league officially unveiled its 2016–17 schedule Thursday, thereby turning our collective attention to the next 12 months. Thanks to the aftershocks from the historic 2015–16 campaign and an off-season full of major moves, there are plenty of intriguing storylines now that training camps are roughly six weeks away. Will the Cavaliers and Warriors become the first pair of teams to square off in three consecutive Finals? Can Kevin Durant finally win his first ring? What will the Lakers and Spurs look like now that Kobe Bryant and Tim Duncan have retired? How weird will it be to see the likes of Derrick Rose, Dwyane Wade, Dwight Howard and Al Horford in new cities?
With those questions in mind, here's a full rundown of 50 games to circle on your calendar between opening night (Tuesday, Oct. 25) and the final day of the regular season (Wednesday, April 12). All 30 teams are included, with an eye toward rivalries, returns, marquee matchups, holiday games and more. To no one's great surprise, the defending champion Cavaliers, led by LeBron James, and the new-look Warriors, with MVPs Stephen Curry and Durant, make multiple appearances on this list.
​
1. Oct. 25: Knicks at Cavaliers on opening night
The 2016-17 season tips off in Cleveland with a matchup between the defending champions and the reimagined New York Knicks. Phil "Eleven Rings" Jackson and company will watch as LeBron James receives the third championship ring of his career. Former Bulls Derrick Rose and Joakim Noah will open a new chapter in their rivalry with James by making their debut for the Knicks. With any luck, Kristaps Porzingis will find a way to steal the show.
2. Oct. 25: Jazz at Blazers on opening night
Usually, NBA opening night consists of two stellar matchups on national television and one dud on League Pass. That's not the case this time around. The off-brand game pits two up-and-coming Northwest Division teams—the Jazz and Blazers—live from the always rowdy Moda Center in Portland. Both franchises spent the summer loading up, and both have reason to believe they can make some serious news come playoff time. The postseason runs start here.
3. Oct. 25: Spurs at Warriors on opening night
Adam Silver isn't exactly easing the Spurs into the post-Tim Duncan era, is he? Gregg Popovich's troops will have their hands full on opening night, traveling to Oracle Arena to face the Warriors for Kevin Durant's regular season debut. Is it too early for Pop to rest his stars? In all seriousness, this opener represents a potential Western Conference finals preview even without Duncan. One of these years, Golden State and San Antonio will finally square off in the NBA's final four.
• Duncan was the Spurs' answer to everything | Duncan leaves NBA like only he can
4. Oct. 26: Thunder at Sixers
The NBA's opening week continues with a jam-packed Day 2 filled with 10 games. From an intrigue standpoint, Oklahoma City vs. Philadelphia might be the highlight. What is Russell Westbrook capable of now that Durant abandoned him in Oklahoma City? What will No. 1 overall pick Ben Simmons look like in his pro debut? How much will promising (and previously unseen) prospects like Joel Embiid and Dario Saric help right off the bat?
5. Oct. 26: Rockets at Lakers
Welcome to life as an NBA head coach, Luke Walton. Your first task: Design a gameplan to stop James Harden in a Mike D'Antoni offense. The first game of the post-Kobe Bryant era will feature the young Lakers—led by D'Angelo Russell, Brandon Ingram and Julius Randle—doing their best to hang tight with a Rockets squad that reshaped itself around Harden this summer.
6. Oct. 27: Celtics at Bulls
The first Thursday of the NBA season will feature two traditional East powers who splurged this season. Boston, boasting big-time free-agent acquisition Al Horford, will visit Chicago, where ex-Celtic Rajon Rondo and former Heat guard Dwyane Wade will be waiting to welcome them. Wade, by the way, will be donning his Chicago No. 3 jersey for the first time.
7. Oct. 27: Clippers at Blazers
In the back-end of the TNT Thursday doubleheader, the Clippers will get their first shot at the Blazers since being upset in last year's first round. This one will have a "return to the scene of the crime" feel to it, as both Chris Paul and Blake Griffin suffered season-ending injuries during a Game 4 loss in the Moda Center. Damian Lillard and the Blazers, supplemented by the additions of Evan Turner and Festus Ezeli, will look to prove their 2015–16 success was no fluke.
8. Oct. 28: Hornets at Heat
Charlotte came oh–so close to advancing in the East playoffs, only to fall in seven games to Miami thanks to Dwyane Wade's heroics. Michael Jordan should feel pretty good about this opening week rematch: the Hornets re-signed starters Nicolas Batum and Marvin Williams in free agency, while the Heat bungled their negotiations with Wade and lost him to the Bulls. Erik Spoelsta will embark on the post-Wade era in earnest, hoping to get big production from new max man Hassan Whiteside, who put up five double-doubles against the Hornets in the playoffs.
• Pat Riley toes line between winning and misery | Jazz accelerate development
9. Oct. 28: Cavaliers at Raptors
Toronto fans have long felt that Canada's team get snubbed a bit when it comes to national television appearances. Look no further than the Christmas Day schedule: despite setting a franchise-record for wins and advancing to the East Finals, the Raptors are nowhere to be found. Meanwhile, the Knicks, Lakers and Bulls are penciled in yet again, regardless of their progress (or lack of progress) in the standings. Anyway, Raptors fans can console themselves with this nice opening week placement: Toronto will host Cleveland in an East finals rematch on ESPN.
10. Nov. 3: Celtics at Cavaliers
On paper, Boston represents perhaps the greatest threat to Cleveland in the East now that Al Horford has joined a top-flight defense coached up by Brad Stevens. Do the Celtics have enough firepower to get in the way of LeBron James's seventh consecutive trip to the Finals?
11. Nov. 3: Thunder at Warriors
Russell Westbrook vs. Kevin Durant I, live from Oracle Arena. Nothing more needs to be said.
12. Nov. 4: Warriors at Lakers
Steve Kerr vs. Luke Walton I, live from Staples Center. Admittedly, that doesn't quite have the same pop as Westbrook vs. Durant, but the ESPN broadcast should have a good time with Walton's move from Kerr's bench to his own dream job. Plus, Kevin Durant lathered Brandon Ingram with praise during USA Basketball's Las Vegas minicamp, and this will mark the first matchup of the two lanky wings.
13. Nov. 9: Nets at Knicks
Unfortunately, Brooklyn was not contracted or relegated this off-season. Fortunately, the Nets did sign Jeremy Lin this summer while also hiring Kenny Atkinson, a first-time head coach who should put his new point guard in a position to be successful. There won't be too many watchable Nets games this season, given the franchise's long-term rebuilding process, but Lin's return to Madison Square Garden with the crosstown Nets should be more fun than most.
14. Nov. 9: Mavericks at Warriors
Golden State's expendables—Harrison Barnes and Andrew Bogut—will return to Oracle Arena with the Mavericks to face the loaded Warriors. With Dallas on pace for another "Good, but not great" rinse-and-repeat season, the first matchup between Barnes and his more accomplished replacement, Kevin Durant, qualifies as needle-moving drama. After years of wanting more from Barnes, will Warriors fans find themselves on the wrong side of his delayed emergence?
Biggest off-season moves in NBA history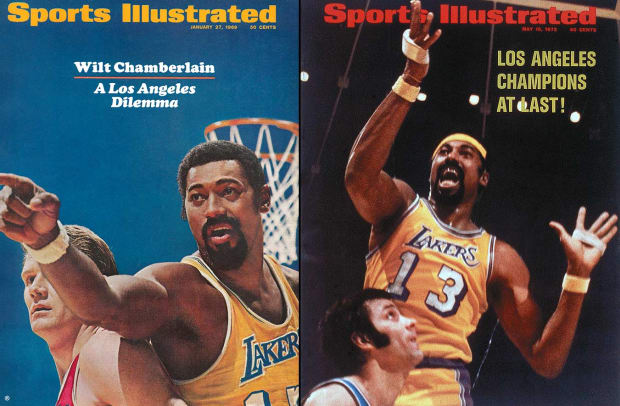 15. Nov. 10: Bulls at Heat
This is the "pinch yourself" game of the season. After 13 seasons on South Beach, Dwyane Wade will return to Miami for the first time as a visiting player, something that seemed virtually impossible just two months ago. The three-time champion will surely relish the opportunity to send a message to Heat president Pat Riley following their unsuccessful contract negotiations and abrupt split.
16. Nov. 11: Cavaliers at Wizards
It's not clear at all how seriously the Cavaliers will take the early games on their schedule. After winning the title, what incentive do they have to round into top form before, say, March? That could mean some ugly basketball and shaky defense, or it could mean that Kyrie Irving and John Wall decide to engage in a little mano-a-mano Rucker Park style. Let's hope for the latter.
• LeBron rightfully sets NBA salary record as 'Super Team' dream stays alive
17. Nov. 13: Magic at Thunder
Serge Ibaka's first game back in Oklahoma City will surely be dwarfed by Kevin Durant's return a few months later. Still, this early season contest will give the Thunder an opportunity to show that they can play competent defense without Ibaka, their longtime rim-protector, and it will give Ibaka the chance to prove to his former organization that he was worthy of an expanded role on offense. It sure is easy to envision Russell Westbrook turning the corner at full speed before rising up for an attempted throw-down over Ibaka, isn't it?
18. Nov. 16: Cavaliers at Pacers
Few players get up for the challenges presented by LeBron James like Paul George. In terms of head-to-head matchups, James vs. George is as good as the East gets. The two All-Star forwards will face off four times during the regular season, but they won't meet again until February.
19. Nov. 18: Grizzlies at Mavericks
Dallas owner Mark Cuban's brief but steamy employment of Chandler Parsons will provide the backdrop for this matchup of aspiring middle class West squads. Parsons could turn out to be exactly the shooter/playmaker that Memphis has coveted for so long, or he could be defined by his monster contract if his injury issues resurface. Meanwhile, Harrison Barnes will do his damnedest to help Mavericks fans move on.
20. Nov. 23: Timberwolves at Pelicans
Karl-Anthony Towns or Anthony Davis? Yes, that's a real debate. And, yes, that happened before our eyes. The two No. 1 overall picks out of Kentucky will enjoy three head-to-head matchups this season: Towns will look to show he can lift a team into the playoffs, much like the 2015 Pelicans, while Davis will look to calm observers who are concerned over his growing list of long-term injury absences. New Orleans's 2016 lottery pick Buddy Hield will look to show that he belongs on the undercard with Andrew Wiggins.
21. Nov. 30: Knicks at Timberwolves
Will New York's off–season focus on adding veterans—Derrick Rose, Joakim Noah, Brandon Jennings, and Courtney Lee—stunt Kristaps Porizingis's development? Or, will it put the Latvian prodigy in position to win now. The Knicks' first game against the Timberwolves should serve as a nice contrasting barometer game: after all, Porzingis missed out on Rookie of the Year honors thanks to Karl-Anthony Towns, who is expected to be featured heavily by new coach Tom Thibodeau on a younger roster.
• Andrew Wiggins Q&A: Wolves star on life with Tom Thibodeau and the future
22. Dec. 1: Rockets at Warriors
It's hard to know exactly what to make of the new-look Rockets. With offensive-minded Mike D'Antoni and a roster full of players who excel at both piling up and conceding points, it's unclear whether Houston plans to stop anybody. Golden State, meanwhile, is always ready for a shootout. This matchup of 2015 West finalists has another nice wrinkle, as it will pit former Thunder teammates Kevin Durant and James Harden against each other for the first time since Durant left Oklahoma City.
23. Dec. 2: Pistons at Hawks
Dwight Howard's return to the East sets up more regular meetings against his former Magic coach (Stan Van Gundy) and his supposed heir apparent (Andre Drummond). Although Howard is on the decline and Drummond has yet to peak, the two centers are both forceful dunkers, volume rebounders and terrible free throw shooters. Will there be room for both on the East's All-Star roster?
24. Dec. 9: Suns at Lakers
The Suns are, by and large, way, way too young for their own good. Even with perfect health, it takes a good amount of effort to get excited about the prospect of a Brandon Knight/Eric Bledsoe backcourt. But that's where promising sophomore Devin Booker comes in. One of the NBA's top rookies and best 2016 Summer League performers, Booker has the shooting, playmaking and upside to inspire envy from opposing fanbases. Given the expected state of the Lakers' defense this season, Booker should be in position to set off a few "#FutureLaker" trending topics during this Friday night ESPN broadcast for the diehards and goldminers.
25. Dec. 13: Timberwolves at Bulls
Most coaches don't make headlines when they return to face their former teams, but Tom Thibodeau isn't most coaches. So far, the post-Thibodeau era in Chicago saw the Bulls spiral into the 2016 lottery under Fred Hoiberg, blow up a longstanding core, and gamble on name free agents with questionable fits like Dwyane Wade and Rajon Rondo. Following a year off, Thibodeau returns to the Windy City with a roster that's stocked in young and hungry talent. Will he receive a hero's welcome?
26. Dec. 14: Clippers at Magic
Jeff Green: "Remember when you traded a first-round pick for me and I posted a PER of 12 in 27 games before leaving to sign with a perennial lottery team? That was crazy."
Doc Rivers: "…"
27. Dec. 16: Pelicans at Rockets
In a pair of questionable moves, Houston spent big bucks to snag Eric Gordon and Ryan Anderson from New Orleans, stripping Anthony Davis of two auxiliary scoring threats. By the time this mid-December game rolls around, Pelicans coach Alvin Gentry should have had time to rework his attack, while the Rockets should have had time to incorporate their new shooters into a James Harden-centric framework. This game has early (very early) referendum potential: Did Houston err in its spending or did New Orleans regret the departures?
• Simmons and Ingram headline SI's 2016 rookie draft class superlatives
28. Dec. 16: Lakers at Sixers
Christmas for draftniks comes early this year: 2016 No. 1 pick Ben Simmons and No. 2 pick Brandon Ingram will get some shine on ESPN. Both the Sixers and the Lakers might be well outside the playoff picture by this point, but this one is all about the future, anyway.
29. Dec. 25: Celtics at Knicks on Christmas Day
This year's Christmas Day slate is not the NBA's best work. The quintuple-header kicks off with the Celtics and Knicks in a game that is just praying for a random Carmelo Anthony or Derrick Rose explosion to save it. Hopefully the Madison Square Garden crowd can help lift the collective energy level for the noon ET tip.
30. Dec. 25: Warriors at Cavaliers on Christmas Day
Last December, LeBron James practically begged for a home game on Christmas, telling reporters that he had "no traditions" with his family because he was always traveling for the holiday. After visiting the Warriors for Christmas 2015, James and the Cavaliers will play host in 2016. The Christmas Day headliner will feature three MVPs—James, Stephen Curry and Kevin Durant—and it will mark the first meeting between the Cavaliers and Warriors since the Finals.
• SI exclusive: LeBron gives chase to the ghost of Chicago—Michael Jordan
31. Dec. 25: Bulls at Spurs on Christmas Day
There's no telling what Chicago will look like at this point in the season. Will Fred Hoiberg have everyone on the same page? Will Jimmy Butler, Dwyane Wade and Rajon Rondo have found the right balance? Who knows. If there are flaws or cracks, Kawhi Leonard and company are sure to expose them. This is a strange Christmas pairing of teams with no real history or rivalry, although it does pit new Spurs big man Pau Gasol against his former team. Honestly, this one might feel a little bit empty and surreal with Tim Duncan in retirement and Derrick Rose in New York.
32. Dec. 25: Timberwolves at Thunder on Christmas Day
Well, well, well, look what we have here: the long-forgotten Timberwolves are getting a genuine moment under the spotlight. There's plenty going on in Minnesota, where Tom Thibodeau is settling in as coach and the ultra-promising duo of Karl-Anthony Towns and Andrew Wiggins continues to bubble. Don't overlook a possible head-to-head, tenacious-on-tenacious matchup between Russell Westbrook and Minnesota lottery pick Kris Dunn.
33. Dec. 25: Clippers at Lakers on Christmas Day
Last Christmas, the Clippers beat the Lakers 94–84 in a game so unremarkable that Adam Silver forgot no one wanted a sequel. Honestly, this Christmas Day nightcap feels like a bit of a cop-out. It's as if the NBA league office concluded, "If we just let the two L.A. teams play each other that means one less team has to be on the road for the holiday." On the bright side, Blake Griffin will get a nice showcase after a rough 2015-16 season and No. 2 overall pick Brandon Ingram can introduce himself to his widest NBA audience yet.
34. Jan. 10: Pistons at Kings
Remember the golden rule when it comes to the Kings: circle every one of their games if you love random drama, and circle none of them if you crave order and logic. In all seriousness, highlighting a "must-see" Kings game really comes down to the most intriguing matchups for DeMarcus Cousins. Here, he'll get a head-to-head with newly-maxed Pistons center Andre Drummond, perhaps the closest thing he has to competition in the "Best young traditional center" conversation.
35. Jan. 12: Pacers at Nuggets in London
The NBA's annual "Global Games" series will treat British fans to a first-hand glimpse of Indiana's Paul George and Denver's numerous international players, including Danilo Gallinari, Nikola Jokic, Jusuf Nurkic and 2016 lottery pick Jamal Murray. Come to think of it, Denver's worldwide approach to talent acquisition makes it the perfect "Global Games" participant, even if the strategy has yet to pay major dividends stateside.
• Three players who could regress in 2016–17 | Players go abroad this summer
36. Jan. 13: Celtics at Hawks
As far as homecoming games go, Al Horford's return to Atlanta doesn't quite rate next to Kevin Durant's return to Oklahoma City or Dwyane Wade's return to Miami. Still, Horford spent nine years with the Hawks, including four All-Star worthy campaigns, and his first trip back is sure to merit headlines.
37. Jan. 16: Cavaliers at Warriors on MLK Day
Another holiday, another made-for-television showdown between the 2016 Finalists. Martin Luther King Day will feature LeBron James's first trip to Oracle Arena since walking off the court clutching the Larry O'Brien trophy and his Finals MVP trophy. Will James allow himself a Stephen Curry-like "locker room still smells like champagne" dig?
38. Jan. 16: Sixers at Bucks on MLK Day
The world will be without limits when the Sixers and Bucks square off on the holiday for their first of four meetings. The young talent with seemingly endless upside—Ben Simmons, Giannis Antetokounmpo, Jabari Parker, Dario Saric and, yes, Jahlil Okafor and Joel Embiid too—will be oozing. Who cares if they build a few brick houses from the perimeter along the way? The Simmons/Antetokounmpo matchup alone should produce a half-dozen "I can't believe my eyes" moments.
39. Jan. 17: Nuggets at Lakers
Denver pursued a three-prong off–season strategy: 1) Avoid major mistakes, 2) Accumulate foreign talent, and 3) Let the young players get older. As such, it's difficult to get too excited about these Nuggets, who are still too unrefined and mish-mashed to be taken seriously. Ultimately, Denver's timeline boils down to the development of point guard Emmanuel Mudiay, who will get his first head-to-head matchup of the season against fellow 2015 lottery pick D'Angelo Russell in mid-January.
40. Jan. 21: Spurs at Cavaliers
Fans of mutual respect and admiration will always enjoy seeing LeBron James and Gregg Popovich exchange pregame backslaps and postgame hugs. Fans of elite offense and elite defense will similarly enjoy James and Kawhi Leonard battling hard for 48 minutes. The first meeting between the Finals MVPs will get the Saturday night on ABC treatment.
41. Jan. 29: Warriors at Blazers
Even without an injured Stephen Curry at the outset, Golden State and Portland teamed up for one of the more entertaining playoff series in 2016. After an expensive summer, the Blazers seem eager to try their luck against the champs again, hoping that their dynamic and well-oiled offense plus some lineup versatility can keep up with the Warriors' top-shelf talent. This is the fourth and final regular season meeting between the two teams; predictably, three of the four games are slated for national television. You can't blame the NBA for stoking the budding Curry vs. Damian Lillard rivalry.
42. Feb. 2: Hawks at Rockets
Dwight Howard has finally reached the point in his career where his "First game against former team" no longer packs a Superman-esque power punch. Nevertheless, Howard and his hometown Hawks will face his former team, the Rockets, shortly before the All-Star break. With any luck, a little bad blood between Howard and James Harden will spill over on the TNT broadcast.
43. Feb. 6: Bulls at Kings
At times, Rajon Rondo was the best thing that happened to Kings fans last season. At other times, he clearly wasn't. Will the Kings actually miss their triple-double, highlight-reel machine, or did they make the right decision by letting the polarizing point guard move on without targeting a big-name replacement? That's impossible to predict now, given Sacramento's endless instability, but that question should have something resembling an answer by the time Rondo returns to California's capital for the first time.
44. Feb. 11: Warriors at Thunder
Ding, ding ding! Welcome to the single most anticipated game of the 2016-17 season. Kevin Durant won't make his first return to Oklahoma City until just before All-Star Weekend, but the charged return will surely be worth the wait. Burned jerseys? Signs? Tears? Everything is on the table.
• Inside story: The unlikely assist that brought Kevin Durant to Golden State
45. Feb. 13: Thunder at Wizards
With Kevin Durant out of the picture, all eyes can turn to Russell Westbrook and John Wall, perhaps the two most explosive and electric point guards in the NBA. Don't blink. Westbrook and Wall now find themselves in similar spots, needing to rely on developing supporting casts to help them make some playoff noise.
46. Feb. 23: Clippers at Warriors
Yes, yes, the Warriors are overloaded with rivals these days thanks to the Cavaliers, Spurs and Thunder. But let's not overlook the Clippers and the many years of animosity between these two Pacific Division rivals. This will mark the fourth and final regular-season meeting between the two teams, and it would hardly be surprising if they ran into each other in the playoffs. Chew on this: these two rosters could realistically combine for seven of the West's 12 All-Stars this year (Stephen Curry, Klay Thompson, Kevin Durant, Draymond Green, Chris Paul, Blake Griffin and DeAndre Jordan). If that sounds crazy, remember that four of those guys are currently in Rio competing for USA Basketball and the other three easily could have been there if not for injuries.
47. Feb. 24: Celtics at Raptors
There's a pretty decent chance that Boston and Toronto wind up engaging in a quality race for the Atlantic Division title. The fourth meeting between the teams is Toronto's first game after the All-Star break, which can either be a really good thing or a really bad thing from a quality of play standpoint. Either way, this is the type of game that should help clarify Cleveland's toughest potential paths through the playoffs.
48. March 11: Warriors at Spurs
San Antonio will play host to Golden State twice in March, by which point it should be clear whether or not the two teams have separated themselves from the rest of the West like last season. Even though the Spurs' frontcourt lost Tim Duncan, David West, Boris Diaw and Boban Marjanovic this summer, there are plenty of intriguing matchups to make this game juicy. Kevin Durant versus Kawhi Leonard? Top-shelf talent on top-shelf talent. LaMarcus Aldridge vs. Draymond Green? A fun study in physical and stylistic contrasts that always captures the eye.
• KG to Boston? KD to Dubs? The 15 biggest off-season moves in NBA history
49. March 20: Jazz at Pacers
Although it got swept under the rug by subsequent moves, the three-way deal that landed Jeff Teague in Indiana and George Hill in Utah has serious playoff implications for both the Jazz and Pacers. Hill won't make his first and only trip back to Indiana until March, by which point the verdict on the trade should be in. Did Teague succeed in pumping up the Pacers' offense? Did Hill's arrival into a gaping positional hole propel the Jazz into the playoff picture? Remember, those two things aren't mutually exclusive.
50. April 2: Jazz at Spurs
Nothing ever comes easy for West teams hoping to push into the playoff picture. Utah, after narrowly missing out last season, will hope that its in a strong position before entering a brutal April. During the final two weeks of the season, the Jazz will play the Warriors, the Spurs twice, and the Blazers twice. The "easiest" game on paper comes against the Timberwolves, who will also enter the season with hopes of cracking the West's top eight. The Jazz will stare down that gauntlet only after playing 12 road games in little over a month from late-February through late-March. Long story short: there better be plenty of hay in the barn by the All-Star break.