Stephen Curry, Warriors unravel as LeBron steps up to force Game 7
After going up 3–1 in the NBA Finals, the Golden State Warriors now must fend off the Cleveland Cavaliers and one of the biggest playoff collapses ever.
Your teams. Your favorite writers. Wherever you want them. Personalize SI with our new App. Install on iOS or Android.​
CLEVELAND — As Stephen Curry peeled his mouthguard from his lips in pure and profane frustration, chucking it toward the courtside seats as he processed his first foul-out since December 2013, the stakes for his wobbling Warriors were no longer in dispute: The best regular season the NBA has ever seen will conclude with the most dramatic collapse in Finals history, or with a truly great escape.
There's no middle ground, no hedging, no shades of gray any longer, not after another exceptional performance from LeBron James carried the Cavaliers to a 115–101 victory in Game 6 on Thursday, forcing a Game 7 in Oakland on Sunday. All of the pressure is suddenly upon the Warriors, who are stumbling to the finish line after showing fissures old and new in their latest defeat.
The familiar bugaboos—a bout of foul trouble for Curry, a rash of live-ball turnovers, a big early deficit on the road, a punchless Harrison Barnes—were all evident in Game 6. So too were new issues: No Andrew Bogut in the middle due to a knee injury, an ailing Andre Iguodala playing through back tightness and a developing sense that James, rather than wearing down as these Finals unfold, is picking up steam and playing perhaps the best basketball of his career.
• LeBron delivers classic performance | Watch best highlights from Game 6
If the Warriors lose Game 7, they will suffer their first three-game losing streak under coach Steve Kerr while becoming the first team ever to blow a 3–1 lead in the Finals. They will become the first of the four teams to win 69 or more games to fail to win the title. They will become just the second of six teams with a point differential of +10.7 or better to not win the title. The record 26–0 start, the record 73 wins, Curry's unanimous MVP, Kerr's Coach of the Year award, All-NBA selections for Curry, Draymond Green and Klay Thompson—all will be subjected to a gigantic "Yeah, but …" asterisk.
There are no outs here and the Warriors know it.
"100%," Thompson said, when asked if Golden State's season would be a failure without a title. "We expected to win the NBA championship coming into the season. It's either win the whole thing or bust for us."
Their comfortable lead in this series turned on Green's groin shot to James, a self-inflicted mistake that has snowballed into two straight Cavaliers victories loaded with mental breakdowns for the Warriors. Game 6 saw even the most serene Warriors, Curry and Kerr, crack.
At his wit's end after a night of quick whistles, Curry picked up his sixth foul by making awkward contact with James while attempting a steal in the backcourt. Realizing his night was over with more than four minutes left in what was a 12-point game, Curry whipped his mouthguard into the stands, where it hit a fan and confronted referee Jason Phillips. His gestures and language earned him a technical foul and a trip to the locker room, and the mouthguard toss will almost certainly result in a $25,000 fine from the league office, even though he apologized to the fan that was on the wrong end of his outburst.
•​ LeBron torches Warriors for 41 ... again | LeBron salutes Sager in interview
The usually even-keeled Kerr picked up where Curry left off as soon as he hit the podium, sticking up for his point guard while repeatedly bashing the officiating in comments that will surely earn him a fine.
"I'm happy he threw his mouthpiece. He should be upset," Kerr said. He's the MVP of the league. He gets six fouls called on him, three of them were absolutely ridiculous. He steals the ball from Kyrie [Irving] clean at one point. LeBron flops on the last one. Jason Phillips falls for that, for a flop. As the MVP of the league, we're talking about these touch fouls in the NBA Finals.
"Let me be clear, we did not lose because of the officiating. They totally outplayed us and Cleveland deserved to win. But those three of the six fouls were incredibly inappropriate calls for anybody, much less the MVP of the league."
With an eye toward Game 7, Kerr added that he felt his guards were being subjected to overly physical treatment during Golden State's offensive sets.
"I just think that Steph Curry and Klay Thompson, the way we run our offense, we're running, we're cutting through the lane, we're a rhythm offense," he said. "If they're going to let Cleveland grab and hold these guys constantly on their cuts and then you're going to call these ticky-tack fouls on the MVP of the league to foul him out, I don't agree with that."
Kerr's pointed comments, two games after Cavaliers coach Tyronn Lue earned a fine for criticizing the officials, made it perfectly clear the shoot was on the other foot in this series. After Game 4, Cleveland found itself pulling out every stop as it stared at elimination, advocating for a suspension for Green and better treatment for James. After Game 6, the Warriors wore all of the desperation.
"This is absolutely rigged for money or ratings, I'm not sure which," Ayesha Curry, Stephen's wife, wrote on her Twitter account. "I won't be silent."
She later deleted the message, and chalked it up to "the heat of the moment."
• Lee Jenkins on the game that saved the Warriors' season | Finals schedule
#http://www.120sports.com/video/v184460158/cavaliers-force-game-7
Both Curry's got burned by that same heat at the end of a night full of unfulfilled comebacks. Golden State fell behind by 20 points in the first quarter after failing to score in the game's first five minutes, and Curry's 30 points (on 8-of-20 shooting) weren't enough to truly push the Cavaliers down the stretch.
Instead, James was superb, posting 41 points (on 16-of-27 shooting), eight rebounds and 11 assists while directing Cleveland's attack as if he was a choreographer. Many of his passes were exquisite, as he threaded the ball through tight spaces and hit trailers right on the money at full speed.
"LeBron being LeBron," Lue said. "He's one of the greatest of all time."
But none of James's offensive highlights produced the same joyous, guttural reaction from the Quicken Loans Arena crowd as his block on Curry, shortly before the latter's ejection. Curry drove down the lane, faked and attempted a lefty layup that James swallowed whole.
As the ball bounced out of bounds, James underscored the play with a little woofing. Here again he delivered the same message that he sent with his dead ball block on Curry in Game 3: No easy ones, you better come stronger than that.
Following his second straight 41-point performance, James looked giddy, as if overcome by endorphins, even though he'll need to conjure up one more gem on the road to deliver the Cavaliers' first title.
"Two of the greatest words in the world, and that's "Game 7," he said. "I'll play it anywhere."
"Anywhere" will be Oracle Arena, where the Warriors were invincible until April. After starting the season 36–0 at home, Golden State lost two of its last five regular season home games before losing Game 1 of the West finals to Oklahoma City and Game 5 of the Finals to Cleveland.
See the 10 teams who have come back from a 3–1 playoff deficit
NBA Playoff 3-1 Comebacks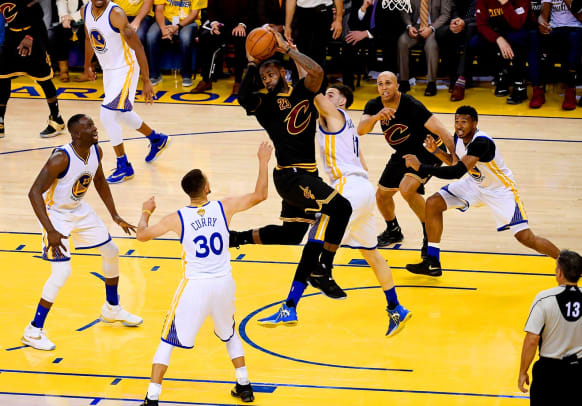 ​
Although Golden State won Game 7 against the Thunder at home, there will be a different level of nerves in the building on Sunday. The Warriors entered Game 7 of the West finals riding a two-game winning streak while they'll enter Monday on a two-game losing streak, without Bogut, and presumably with an ailing Iguodala, who played through pain during the second half.
"Things haven't gone our way despite how the regular season went," Curry said. "The playoffs haven't been easy, haven't been a breeze, haven't been anything perfect about it. So, yeah, it's frustrating, but the work we've put in and the opportunity we've given ourselves with a Game 7 to win the Finals at home, you've got to be excited about [that]."
His spin was pitch-perfect, but it won't be enough to hold off James, to slow down Irving, to keep Tristan Thompson in check. Words alone, even carefully-chosen ones, can't save the Warriors from an unprecedented unraveling, a bitterly disappointing ending that would surely be remembered by history for far longer than their 2015 triumph.
Golden State's only option now is a return to glorious, gritty play, one last encore of arcing threes and squeezing stops, one final pressure-packed, just-in-the-nick-of-time victory. Or else.