LeBron's brilliance, Kyrie's emergence spoil Warriors' party
LeBron James and Kyrie Irving made history in the Cleveland Cavaliers' NBA Finals-saving Game 5 win at the Golden State Warriors.
​Your teams. Your favorite writers. Wherever you want them. Personalize SI with our new App. Install on iOS or Android.​
OAKLAND, Calif. — The boos, baby bottles and lingering bitterness were no match for LeBron James, who, one loss from another maddening Finals failure and in the middle of a firestorm, turned in one of the most sensational postseason performances of his career. There was, it turned out, only one adequate match for James's brilliance: Kyrie Irving.
Together, the two All-Stars relished their roles as party-crashers and parade-postponers on Monday, leading the Cavaliers to a 112–97 Game 5 victory over the Warriors that extends the series to a Game 6 in Cleveland on Thursday.
Seizing on the hope generated by the NBA's suspension of Draymond Green, this odd couple—the 31-year-old pass-first forward and the 24-year-old shoot-first point guard—took turns torching the Warriors in unprecedented fashion. By night's end, James and Irving had scored 41 points each, becoming the first pair of teammates to top 40 points in the same game in Finals history.
•​ MORE NBA:Cavs overwhelm shorthanded Warriors | Game 5 highlights
This wasn't a case of brute force offense, but rather of two elite scorers simultaneously finding a sweet, unstoppable groove. With Kevin Love lost in space and Cleveland's second-unit struggling to contribute again, James and Irving kept pouring it on and pouring it on, finding a seamlessness that has been elusive during their two seasons together.
James, who scored 25 points in the first half, finished with 16 rebounds, seven assists, three blocks and three steals, giving him a stat line that hasn't been matched since at least 1984. He levitated for powerful chasedown blocks, powered through Golden State's shorthanded defense and even coaxed some dependability out of his on-again, off-again jumper just one game after it deserted him in crunch time.
James played with exceptional focus and purpose after three days of bad blood with the Warriors over Green's low blow, his public criticism of Green's play and in-game profanity and Klay Thompson's suggestion that James had his "feelings hurt." Green's absence was a gamechanger and James knew it, as he repeatedly attacked the heart of Golden State's small lineups and played as if he had a mute button for the endless boos from hecklers who condemned him for his alleged whining after Game 4.
"When you're done with the game of basketball, big moments like tonight and moments throughout your career you [will] wish you could get [them] back," James said. "No matter how loud you turn the stereo system up in your house, you'll never be able to get it back. You just don't take these moments for granted."
#http://www.120sports.com/video/v183840678/cavaliers-take-game-5
Considering the stakes and the statistical output, James's Game 5 deserves a spot alongside his best playoff moments: 2013 Finals Game 7, 2012 East finals Game 6, 2008 East semis Game 7, 2007 East finals Game 5 and his one-man army games from last year's Finals. What was different this time, though, was that he legitimately shared top billing.
"It's probably one of the greatest performances I've ever seen live," James said, in reference to Irving's play, not his own.
Irving, whose Game 4 also ended in shaky fashion, was lava in response. He finished 17-of-24 from the field, finding points from everywhere and smashed his previous postseason-high of 34 points (set one game earlier.) He, like James, took advantage of Green's absence and of a knee sprain that sidelined Andrew Bogut in the second half to put on a clinic, finding a new confidence and freedom as he went downhill against Golden State.
​"Just trusting the game, trusting the game plan, trusting my teammates," Irving said, projecting a level-headed approach with Cleveland still two wins away from a title. "The spacing out there tonight allowed me to get to certain spots on the floor where I could be effective."
The 2011 No. 1 pick spent virtually the entire second half in the zone, finishing contorting layups, draining pull-up jumpers with a hand in his face, hitting step-back turnarounds in the paint, and knocking down catch-and-shoot threes. Irving only picked up steam as the game went deeper and deeper, scoring 12 points in the fourth quarter. He outshot and outplayed Stephen Curry so badly that the home crowd began flooding out of Oracle Arena with more than two minutes remaining in the game.
"[He was] just calm for 48 minutes," James said. "Timely bucket after bucket that led our team. The fourth quarter, he hit timely shot after shot after shot when those guys were trying to get back into the game."
See the 100 greatest photos in NBA Finals history
100 Best NBA Finals Photos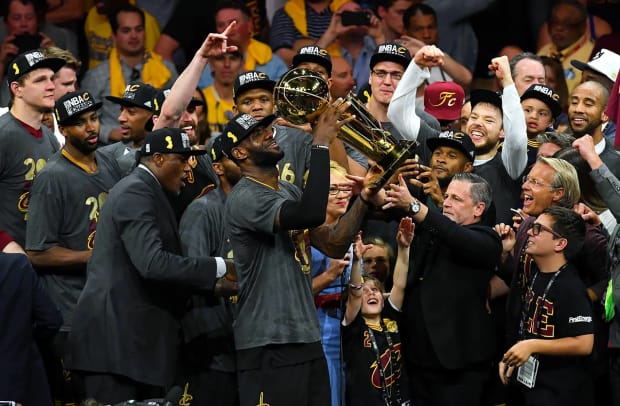 The Warriors took their lumps like the champions they are, refusing to use Green's absence as an excuse. Curry, who scored 25 points, offered a "tip of the hat" to his Cleveland counterparts, while Thompson, who led Golden State with 37 points, said Irving was "great tonight and had my number." The Splash Brothers, of course, know better than anyone how difficult it is to overcome not one but two scoring outbursts. They also know Green will be back in Game 6, restoring order, structure and effective communication to Golden State's defense.
"We're in the same place we were last year, up 3–2 heading back to Cleveland," Warriors coach Steve Kerr said. "If you told me this before the series, I would have taken it. So we're in a good spot."
Golden State is in the same spot in the series, yes, but Monday made it clear that there's one obvious difference for Cleveland this time around: James finally has help, fearless help, A-list help, help that shows up when elimination is on the horizon.