The beautiful chaos of the NBA Finals
This is how the NBA season is supposed to end. Drama, storylines and the best two players alive squaring off in a Game 7. 
Your teams. Your favorite writers. Wherever you want them. Personalize SI with our new App. Install on iOS or Android.​
CLEVELAND — Fans did not leave after the final buzzer sounded in Game 6. LeBron James had just put together one of the greatest games of his career, the Warriors looked more mortal Thursday night than they'd looked all year, and almost the entire stadium stuck around to savor it. The euphoria eventually gave way to "CAVS IN 7" chants from the entire building, before the Jumbotron ran a scene from Major League: "I guess there's only one thing left to do. Win the whole f---ing thing."
I have no idea how we got here, and anyone who pretends this makes sense is lying. But enjoy it. The NBA Finals got weird the second Draymond Green was suspended, and ever since, this series has been better than anyone could've imagined.
This is how every season should end. These teams have made it clear that they don't like each other—questioning manhood,taking cheap shots, literally stepping over each other—and now there's one game left that'll settle everything.
As for Thursday, it officially ended when Steph Curry was ejected for the first time in his career. Afterward, his wife accused the NBA of rigging the Finals, while his coach called the officiating "absolutely ridiculous." It was all the chaos that's become normal for the past week.
• Stephen Curry, Warriors unravel as LeBron, Cavs force decisive Game 7
​​
The same way Game 4 ended with a heated confrontation between LeBron and Draymond and a shirtless Trump protester storming the court, Game 6 closed with a full–scale Curry meltdown and the son of a Cavs minority owner getting caught in the crossfire with a mouthpiece.
Somewhere in the middle of all this, I remembered that six months ago the Warriors came into Cleveland and were so dominant that it cost David Blatt his job. Curry had 35 points in 27 minutes that night, and the Cavs were overwhelmed on every front. It was a 40-point game by the end of the third quarter. The Cavs couldn't score, and they couldn't match up with anyone. No amount of LeBron James could solve these problems. And that's pretty much how it went in Game 1 of this series.
That's how this series was supposed to go—there would be maybe one or two flukes thanks to Cavs pride and/or Warriors boredom, but otherwise, Golden State had too many weapons that Cleveland couldn't answer. It was true right up until Monday, when Draymond was suspended. That gave the Cavs life, and everything stopped making sense.
"I'm just kind of shocked some guys take it so personal," Klay Thompson said of LeBron's response to Draymond Green in Game 4. "It's like, I mean, you know, it's a man's league and I've heard a lot of bad things on that court, but at the end of the day it stays on the court."
• LeBron delivers classic performance | Watch best highlights from Game 6
"I don't know how the man feels," Thompson continued, "but obviously people have feelings and people's feelings get hurt even if they're called a bad word. I guess his feelings just got hurt. I mean, we've all been called plenty of bad words on the basketball court before. Some guys just react to it differently."
Please note: LeBron has officially reacted. After 41 points, 16 rebounds, and 7 assists in Game 5, he had 41, 8, and 11 in Game 6. Thursday night he was somehow even better than the numbers suggest, and it was so good that we have to take a quick digression to discuss it.
Game 6 began with a slow Warriors start and a wild Cleveland crowd that helped turn the night into a blowout. It was surprising, but if the Cavs were going to win, this scenario made sense. Golden State would fold, conserve energy, and we'd do this all again Sunday.
But the Warriors came back. A 24-point lead had been cut to single digits early in the fourth quarter. Kyrie Irving's scoring had fallen off and LeBron started ti drag after playing the entire second half. Klay Thompson had gotten hot, and Curry was hitting, too. There was plenty of room for the Warriors to keep the run going and turn this into a historic collapse that would've fit in nicely with everything else that's ever happened to Cleveland sports teams. It didn't happen though, because LeBron wouldn't let it.
The takeover started when Kyrie Irving missed a three, and LeBron grabbed a rebound surrounded by Warriors and put back a layup. On the next possession, the Warriors came back with a three to cut it to seven, and LeBron answered with a 20-foot jumper. From there, it was another LeBron rebound, and another layup to push the lead back to 11. Then he found J.R. Smith for a three, and a minute later, he hit another jumpshot. Then, he threaded two perfect passes to Tristan Thompson for two more buckets, and when Curry tried to pump-fake his way into a lay-up on the next possession, LeBron destroyed the shot and laughed at him.
• Lee Jenkins on the game that saved the Warriors' season | Finals schedule
And I had to write all that down because as I watching it, I couldn't believe it was happening. LeBron left the game up 21 with two minutes left, finishing the fourth quarter with 17 points and four assists, after playing 43 of a possible 46 minutes.
This was LeBron as Godzilla, and the Warriors were the buildings. One day in the future, when people are remembering him as one of the greatest players ever, everything they'll describe was there in the fourth quarter.
Now there's Game 7.
The Cavs can win. LeBron is really and truly doing historic things right now, and Golden State is strangely vulnerable. Andre Iguodala is the only Warrior who's been able to stop LeBron, and he's breaking down physically. Draymond Green wasn't as dominant Thursday as he had been in the first four games. Harrison Barnes is in the middle of a shooting slump that would make Kevin Love blush. Steph Curry might not be completely healthy, and Andrew Bogut's hurt.
As lethal as Warriors small–ball lineups have been, that advantage diminishes if they have to play entire game battling Tristan Thompson, who's been fantastic for the past few games. Kyrie Irving has played Curry to a draw, which is the biggest surprise of the Finals. All of these are strategic advantages for the Cavs that didn't exist when anyone handicapped this series two weeks ago.
Gallery: Ten NBA teams that have come back from a 3–1 playoff deficit

NBA Playoff 3-1 Comebacks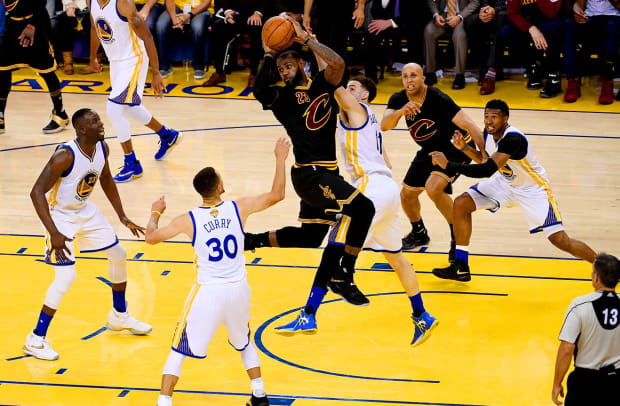 ​
Of course, the Warriors haven't lost three straight games since Steve Kerr took over as coach. We've watched them come through over and over again all year long. Cheating death is as much a Warriors trademark as the death lineup itself.
Curry and Thompson were almost good enough to steal Game 6 in the second half, and they should be much better in Game 7. Draymond Green should be better at home, and if Iguodala can eke out one more game, most of the matchups that were supposed to make this series are still there for Golden State. So is an Oracle home crowd that has been a massive advantage for two years now. Likewise, the refs hurt the Warriors in Game 6, but with some loud prodding from Steve Kerr afterward, the officiating dynamic should even out in Game 7.
That last point isn't meant as a conspiracy, but it's just one more factor that will be analyzed and re-analyzed 100 different times before Sunday. It's what we've been doing for two weeks now. It's been part of the madness.
The Finals puts basketball under a microscope, and with the NBA's two biggest superstars at the center of this series, the arguments in this series have been louder and crazier than any year I can remember. There has been nationwide second-guessing of superstars, legacy referendums halfway through the series, fans on both sides lashing out at the NBA, granular breakdowns of every matchup, and plot twists that change the stories overnight. There are so many reporters covering the same games, and so much time between games, it's inevitable that everything goes off the rails. Imagine the Super Bowl, but after every quarter there are three days to argue about everyone's place in history.
But what's great about these Finals now is that all of the arguments are plainly irrelevant until Sunday night settles them all. Analysis doesn't matter, either. Anyone who's been paying close attention to this series—anyone who's lived through this two–week echo chamber of lineup breakdowns and violent momentum swings—can only conclude that nobody has any idea how this ends. Logic goes out the window when LeBron is playing like this, and Steph and Klay could change the story all over again.
After all the noise in this series, all that really matters is the game. For both sides, there's only one thing left to do.