NBA draft team grades: Celtics resist temptation, Bucks blow it and more
Still catching your breath from NBA draft night? SI.com hands out grades to the best and worst teams from an action-packed night at the Barclays Center.
Your teams. Your favorite writers. Wherever you want them. Personalize SI with our new App. Install on iOS or Android.​
Everyone knew this draft would get weird, and it delivered. In the span of about three hours Thursday night, we saw a blockbuster trade, several blockbusters that almost happened, wildly unpredictable lottery picks, and Caris Levert's jacket. Do you need oxygen? I feel like I need oxygen.
For now, here are 15 notable grades from an action–packed night in Brooklyn.
• SI.com's NBA draft tracker | Trade roundup | Pick-by-pick analysis
Boston Celtics: B
The Celtics were always the most interesting team in this draft, so let's start with Team Trade Rumors. There are two ways to look at how this broke for Boston.
On the one hand, they selected Jaylen Brown a few spots higher than most experts had predicted. Couple Brown's underwhelming year at Cal with Boston's failure to make a trade for a star after six months of rumors, and this whole feels like a failure. All this gets even more depressing when you throw in two draft-and-stash Euro prospects later in the round, and then look at the recent history of Boston first–round picks: MarShon Brooks, Jared Sullinger, Fab Melo, Kelly Olynyk, Marcus Smart, James Young, Terry Rozier, R.J. Hunter.
Also, Jae Crowder finished the first round retweeting fans who wanted him traded. Bad night. Likewise, after spending the last two years hearing Boston fans prattle on about assets, all of this is hilarious for everyone else around the league.
However ... I really don't think this was that disastrous for the Celtics. Thursday may not have featured any brilliant moves, but it wasn't stupid, either. Stupid would've been gutting the core of the roster to chase Jimmy Butler, a player who's struggled with injuries and may not be good enough to make a suddenly depleted Celtics nucleus that much better than they were this year. Stupid would've been Ainge and Co. talking themselves into Nerlens Noel or Jahlil Okafor as the stars they needed, or flipping the No. 3 for Serge Ibaka.
• SI's 2016 NBA draft tracker: Complete results from both rounds
The Celtics bet on Jaylen Brown, who has the best chance of anyone outside of Brandon Ingram of turning into a two-way star on the wing. That pick is debatable—I predicted it Thursday, but I don't necessarily love it—but it also doesn't really matter. There were no clear stars outside the top two. Brown at least has the potential to turn into a killer two–way player. If he pans out in three years, it's a bonus.
If not, the future still depends on signing or trading for guys who can make the Celtics real contenders—DeMarcus Cousins, Al Horford, Kevin Durant, Paul George. They didn't make that deal tonight, but if I were a Celtics fan, I'd be more excited that they didn't cave into pressure and make the wrong deal. The goal is to turn all this potential into a title contender, not Nerlens Noel and Robert Covington.
Sacramento Kings: D
Thank you to the Kings for reminding the world that this draft features a player named Georgios Papagiannis. Thank you to the Kings for giving me an excuse to tell the world that Georgios Papagiannis's father is a Twitter user who's spent the last six months harassing random sportswriters about Dragan Bender. I can't even believe this. Free Boogie.
The Kings are so Kings in 2016, nobody can even prepare for how Kings they're going to be. Papagiannis could absolutely pan out and make all these reactions look stupid—including Boogie's—but given some of the other rumors circling Sacramento this week, it's hard to give the Kings the benefit of the doubt. They did grab Malachi Richardson at No. 22, and while I'm not a fan of Richardson and Skal Labissiere is a few years away at best, the upside of each was a smart risk that late in the draft.
• NBA draft grades: Pick-by-pick analysis of the first round
Anyway, my head tells me to feel bad for Sacramento fans after all this. But my heart is just really, really excited to see where Boogie Cousins ends up in the next eight months. Also, I hope Papa Papagiannis ends up working in the front office by the end of the summer.
​
Oklahoma City Thunder: B
Orlando Magic: C–
The biggest non-draft news of the night was this bombshell:
For the Magic, Ibaka will pair nicely with Nikola Vucevic, but they also just gave away their best player in Victor Oladipo, and are now betting everything on Aaron Gordon developing a jumper. Just as perplexing: if Vucevic is so hard to build around that you have to trade your best player for a rim protector, maybe just draft Sabonis and trade Vucevic? The Magic continue to make no sense.
But all of that's secondary, of course. This is about OKC. First reaction: This lineup looks FUN.
PG: Russell Westbrook
SG: Victor Oladipo
SF: Kevin Durant
PF: Enes Kanter
​C: Steven Adams
Second reaction: If you remove Kevin Durant from that lineup, that looks a lot less fun.
• Trade grades: Thunder send Ibaka to Magic in draft's biggest move
So what does this mean? Durant could leave, and that might be part of the calculus here. Maybe Sam Presti and the management have resigned themselves to Durant's departure and are now looking to build for the future. If they think they're keeping KD, then keeping Ibaka—who struggled against the Spurs but was generally great against the Warriors—and contending for a title would seem like the priority, right? Of course, the other explanation is that Durant signed off on the deal himself before OKC did any of this, and OKC already knows they're keeping him.
I'm really not sure there's much middle ground between those two answers. And we can all spend the next few weeks waiting to find out which one is true.
​
Philadelphia 76ers: B+
Danny Ainge saved the Sixers from themselves.
The Sixers couldn't have had a better night. They still have Okafor and Noel, yes, but they also have Ben Simmons. I've preferred Ingram to Simmons for the past few months, but even so, Simmons immediately makes this team more exciting than it has been in three years.
More importantly, the Sixers didn't mortgage half their team to trade for a point guard (Kris Dunn) whose skills would have been a bad fit next to Simmons. Philly's interest in Dunn never made sense, and it gave the impression that the Colangelos really don't understand what they have in Simmons, or how they'll have to build around him for the next few years. But all that's irrelevant now, because Danny Ainge turned them down, and the alternative was so much better.
Philly landed Timothe Luwawu at 24, a major steal, and grabbed Furkan Korkmaz, an 18–year-old guard who may be the best draft-and-stash option in the first round. There are more holes to fill and more trades to make as the summer unfolds, but for now, this night could not have gone better for the 76ers. (Another bright spot: Philly has the Kings unprotected first–round pick in 2019. HINKIE LIVES.)
Gallery: NBA draft fashion: Best and worst from 2016

NBA Draft Fashion 2016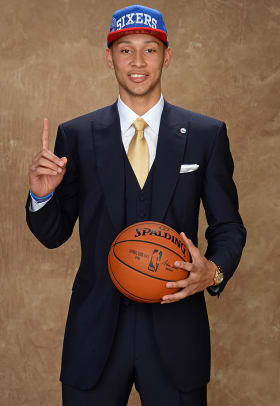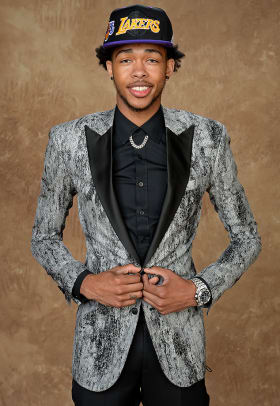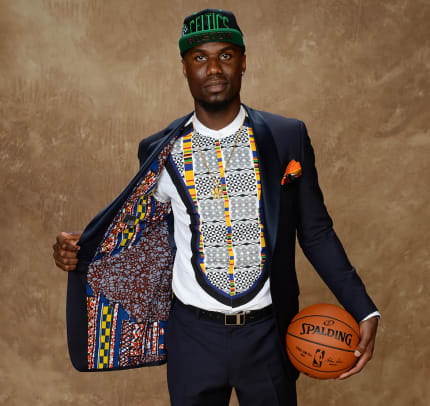 Chicago Bulls: B
Minnesota Timberwolves: B
It's unclear which side ultimately rejected the Jimmy Butler–Kris Dunn trade talks that were swirling around Twitter for about two hours Thursday night. First it sounded like Thibs got cold feet, but then Chicago appeared to shut things down later in the first round. What's most important is that Thibs spent all night on the phone with Gar Forman and John Paxson, because sometimes the universe is great.
And patience makes sense for both sides here. Kris Dunn is solid, and so is Denzel Valentine. The blockbuster can wait.
The Bulls will have plenty of chances to trade Butler over the next few years. Meanwhile, Dunn has probably become a little overrated over the past week, thanks in large part to the Celtics doing everything they can to pump up the value of the third pick. Waiting to see how he looks in Minnesota is a good idea before Chicago gives away the franchise player for a rookie point guard and Zach LaVine.
Meanwhile, it may be true Thibs and the Wolves could've stolen a superstar, but they should really take a year to see where things stand. If this team makes a playoff run and looks like they're a piece away from contending, then you trade young guys for one more star. Adding Butler now would be an all–in bet on a player who's NBA timeline doesn't necessarily line up with Andrew Wiggins and Karl-Anthony Towns. "Wait and see" is not as exciting, but it's smart.
Phoenix Suns: B+
Dragan Bender AND MarqueseChriss. Brandon Knight AND Eric Bledsoe AND Devin Booker. Tyson Chanlder AND Alex Len. The Suns are a mess in the best way possible.
They may have not any clear plan or direction, but they have options, and that's more than you can say for most bad teams. They came into this draft looking for a stretch four, and they'll leave with the two best stretch four options on the board, and all it took was giving up a role player to the Kings. Chriss isn't a sure thing and Bender's upside is questionable, but this is a huge win.
There are still too many similar players on Phoenix's roster. But given how chaotic that equation sounds, the long-term Suns outlook is remarkably positive. Chriss and Bender are insurance policies for each other, but they could also fit well side-by-side, too. And provided one or both pans out, Phoenix will have a killer pick-and-roll partner for Devin Booker when it's time to start really competing in the West in a few years.
​
Los Angeles Lakers: A
Here's what I wrote about Ingram in my final mock: "Ingram's my favorite player in the draft. He looks like he weighs 150 pounds, but he plays bigger, and he was fearless for Duke last year. All the typical draft buzzwords apply to his place in the top two—he's got a freakish wingspan (7'3), three-point range, the ability to play multiple positions and tons of upside—but I like Ingram for his intangibles as much as anything. He played his tail off against bigger players all year long, he got better as the season unfolded, and by the end he was clearly the best player on Duke's team at 18 years old. The Lakers are apparently settled on Ingram, and L.A. fans should be thrilled."
The Lakers will get plenty of attention as next year approaches, but the night got so chaotic that you may have missed L.A. getting a new franchise player who pairs perfectly with D'Angelo Russell, fits exactly where the NBA is headed and should thrive in Luke Walton's offense. There are bigger stories Thursday, but when we look back on this draft, Ingram may loom larger than almost any of them.
​
Milwaukee Bucks: F
As inexplicable as the Papagiannis pick was, the Thon Maker pick was worse. The Kings are always going to be the Kings as long as Vlade and Vivek are in charge, but the Bucks could actually be good. You can't just throw away top–10 picks like they're nothing.
There's a way to see Maker as a case of the Bucks doubling down on the weirdness of their roster and putting together the most science–fiction lineup possible, and maybe that's how it'll play out, but I don't see it. Maker should have been a second rounder, not a top 10 pick. He has raw tools, but not many skills, and this week there were allegations that he's three years older than he claims. These are not good signs. Really, almost every move Milwaukee's made since drafting Giannis and Jabari—trading for MCW, signing Greg Monroe, trading for Grievis Vasquez, inexplicably drafting Rashad Vaughn—has been a failure. Worse, most of these moves were clearly bad ideas at the time.
Mostly, it bums me out because Giannis is absolutely for real, and Milwaukee should be one of the most entertaining teams in the league. But whoever is running things is screwing this up.
Atlanta Hawks: A
I have nothing to say about the Hawks that we haven't been saying for the past three years. They grabbed Taurean Prince and DeAndre' Bembry in the first round, two of my favorite players in the draft, and two guys who should be fantastic fits for all the Hawks-y things that Atlanta likes to do on both ends of the floor. There will be bigger questions to answer through the rest of the Atlanta's offseason, but it's reassuring to know that whatever happens, the Hawks will be as annoyingly shrewd as ever.
​
Denver Nuggets: B+
Meanwhile, the Nuggets continue to build the goofiest, most unorthodox roster in the league. Jamal Murray's slow-motion game will be so much fun next to Emmanuel Mudiay going 150 miles per hour, and it may actually be a smart combination for them both. Meanwhile, Juan Hernangomez was one of the best Europeans available, and he can likely play at either forward spot next to Jusuf Nurkic and Nikola Jokic. He's like a less athletic version of Kenneth Faried who plays just as hard, and can hit a jumper.
Finally, there's Malik Beasley, a 6'5" sleeper who's explosive and can shoot. The Nuggets don't need him—with Mudiay, Gary Harris, Murray, and Will Barton, the backcourt is already plenty full—but as a gamble with their first–round pick, there's a chance that he turns into a major steal a few years from now. The Nuggets haven't been as successful as the Hawks, but they're just as creative and ambitious, and I love them for it.
San Antonio Spurs: B+
The Hawks and Nuggets may be great at using the draft, but the Spurs invented this. Dejounte Murray was one of my least favorite prospects in the first round, because he seemed like the second coming of Tony Wroten. But can you imagine if Tony Wroten had spent his first four years on the Spurs? This is a testament to the power of San Antonio. Had Murray gone anywhere in the top 20, there would have been eye rolls. At No. 29 to the Spurs... Lock him in a gym with Chip Engelland for the next two years, and there's a good chance that this looks like the biggest steal in a bad draft.
Golden State Warriors: C
Wow. First they lose the NBA Finals, then...
Awful week.
Brooklyn Nets: A
CARIS LEVERT, WELCOME TO NEW YORK.