LeBron James's record deal eases Cavs' stress and fuels 'Super Team' dreams
Fresh off the Cavaliers' first NBA title, superstar LeBron James has another superlative he can add to his name: the NBA's highest-paid player.
The NBA is set to crown a new salary king, and it's none other than Cavaliers forward LeBron James.
James has reportedly agreed to a three-year contract worth $100 million, according to ESPN.com. The deal reportedly has a player option for the 2018–19 season. The 31-year-old four-time MVP was an unrestricted free agent this summer, but announced in June that he planned to stay in Cleveland after leading the Cavaliers to their first title in franchise history.
With a starting salary of $30.9 million in 2016–17, James will become the NBA's highest-paid player for the first time in his career. Last year, James ($23M) was second behind Lakers guard Kobe Bryant ($25M). What's more, James's reported 2017–18 salary of $33.3 million and his 2018–19 option worth an estimated $35.6 million will surpass Michael Jordan's $33.1 million salary in 1998 as the largest in league history. Jordan (1997, 1998), Bryant (2014) and James (2017, 2018, 2019) are the only three players in NBA history to earn $30-plus million in a season.
• The Ghost from Chicago: LeBron James gives chase to Michael Jordan
"I'm re-signing back with the Cleveland Cavaliers, my hometown team, and I can't be more excited at this opportunity once again," James said on Thursday in a video for "Uninterrupted."
"To defend our crown, to defend our title. We all know last year was magical, inspiring, all the words you can come up with. It was an unbelievable season. I just can't wait to get the group back together. … I can't wait to get back out there in Wine and Gold. Just get the band back together."
Joining James in the excitement are three parties: 1) Cleveland's front office, 2) Cleveland's fans and 3) conspiracy theorists everywhere.
From Cleveland's perspective, the terms of this contract amount to a long-awaited sigh of relief. It goes without saying that James's value to the Cavaliers, both on the court and at the register, far surpasses the NBA's maximum salary cap limit. He's worth every penny owner Dan Gilbert and GM David Griffin can pay him. That's true even though Cleveland had the NBA's highest payroll and luxury tax bill, by far, in 2016.
The win here, then, comes in the deal's length. When James left Miami to return to Cleveland in 2014, he signed a two-year contract with an option to opt out in 2015. James then exercised that opt out and signed a new two-year contract with an option to opt out this summer, which he exercised. If you want to go back even further, James entered the 2009–10 season with the ability to opt out, meaning his last three full seasons in Cleveland played out with him possessing the ability to bail out in the summer, leaving ruins in his path. The short-term contract structure that James adopted during his second Cleveland tenure maximized his leverage and influence; Cleveland had to keep him happy—whether that meant roster moves, coaching changes or anything else—lest he contemplate making a third Decision as a free agent.
By agreeing to take a three-year deal with an option rather than a two-year deal with an option, James has given Cleveland certainty: he will be in town for at least two seasons, no matter what. Gilbert and Griffin spent madly and orchestrated a series of trades to build a champion roster around James over the last two years. While their "all-in" commitment will surely continue going forward, they can breathe a little easier knowing that James isn't a flight risk.
• The five worst $100 million contracts in NBA history ... what's No. 1?
Even better, Cleveland has a strong core group composed of James, Kyrie Irving, Kevin Love, Tristan Thompson, Channing Frye, Iman Shumpert and Richard Jefferson all locked in for at least the next two seasons. If Cleveland can work things out, J.R. Smith could join that group by making a multi-year commitment this summer too. And don't forget: new coach Tyronn Lue inked a stabilizing five-year contract extension worth $35 million this summer. After some choppy midseason waters last year, the Cavaliers evolved into a jovial, likeable team during the postseason, thanks to riffs like Jefferson's Snapchat and Frye's good-natured humor. The Cleveland fan base not only has a title team for the first time in 52 years, it also gets to ride the wave with an appealing, professional group that it has come to know. Let the good times keep rolling.
From James's standpoint, a little extra certainly makes sense too. He's never looked more satisfied during his career than he did after winning this year's title, and the battle lines are pretty clearly drawn at the top of the standings. Cleveland and Golden State look to be the prohibitive favorites in their respective conferences for the foreseeable future, leaving James in a position where he is home, in the best spot to win, and in an organization that has proven it can operate at the highest level around him.
What's more, there's a good chance that James, virtually indestructible to this point in his career, will move into the NBA's all-time top 20 in regular season minutes and into the No. 1 spot in postseason minutes by the time he makes his next free agency decision in July 2018. Although he reminded everyone just two months ago that he remains the best overall talent in the game, James has reached the point where guaranteeing himself a massive, max-salary number for his age-34 season is a wise business decision in the event of post-30 decline and/or injury. Taking three years of guaranteed money also reduces his exposure to any dramatic changes to the Collective Bargaining Agreement, which is up for renegotiation next summer, however unlikely such dramatic changes might be for a max-level player.
LeBron James SI Covers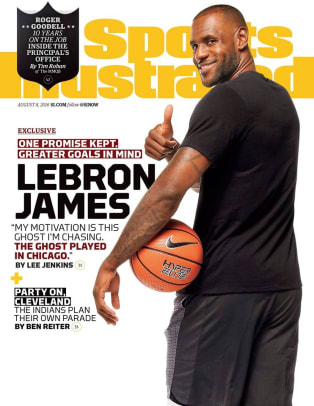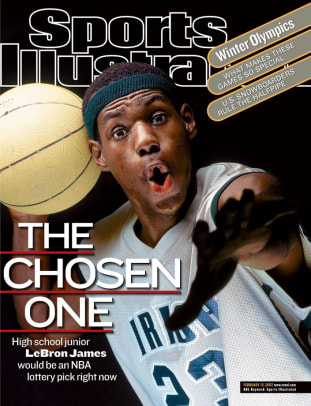 As for the conspirators in our midst, the timing of James's opt out is simply golden. Come July 2018, James and his three best buddies—Dwyane Wade, Chris Paul and Carmelo Anthony—will all have the ability to become unrestricted free agents. Last month, Wade, 34, signed a two-year, $47 million contract with the Bulls. Paul, 31, is entering the fourth year of a $107 million contract with the Clippers that runs through the 2017–18 season (with an option next summer). Anthony, 32, is about to enter the third year of a five-year, $124 million contract with the Knicks that runs through 2018–19 but has a 2018 option.
Put simply, the groundwork has been laid and the timing has been set for a "Super Friends" team up two summers from now. Here's what needs to happen from a contractual standpoint for the four All-Stars to form like Voltron: Wade and Paul cash their current checks for two more years while James and Anthony exercise their options in 2018. All four would be unrestricted free agents, free to rally to the contender of their choosing.
Would they do it? Well, Wade would be in position to expect a steep pay cut in 2018 given his age, while Anthony and Paul might be amenable to a financial hit if they continue to endure postseason frustrations with their current teams. Should they do it? It would be really, really tempting, especially if Golden State, armed with MVPs Stephen Curry and Kevin Durant, delivers on its "Dynasty" chatter.
Of course, the 2018 scenarios are just dream talk for now. The 2016 reality is much simpler: James is finally the NBA's highest-paid player, as he should be.
Grade: A++