Then And Now: The Evolution Of LeBron James
LeBron James has managed to evolve over the course of his 14-year NBA career without ever surrendering the mantle as basketball's best during an all-time maturation.
It is a standing testament to LeBron James that he has now aged through his own stylistic arc without ever surrendering the mantle of basketball's finest. The LeBron of nearly a decade ago was at the height of his physical powers and operated to the full extent of that privilege. His every move was overwhelming. The LeBron of today draws on that same raw, aged power, honing its dulled edges with acute basketball intelligence.
It is the coincidence of a lifetime that one of the game's most naturally athletic players also turned out to be one of its brightest minds. James always saw the game differently from his peers; he solved puzzles in his own way and set priorities on his own terms. This has held true through every stage of an all-time evolution, and it's as evident in LeBron's golden present as it was when he sprinted even faster and leapt even higher.
Crowning The King: LeBron James is Sports Illustrated's 2016 Sportsperson of the Year
LeBron was unstoppable then because the only players quick enough to stay in front of him were made completely irrelevant by his size. That dynamic hasn't died so much as shifted, along with its implicit threats. Opponents were pushed back by LeBron's every jab step in those days because that basic movement could launch drives so fast and so powerful that it would leave the defense helpless.
There was just no accounting for this:
Tom Thibodeau and the 2007–08 Celtics are responsible for the most revolutionary shifts in defensive scheme in modern NBA history. The subtext of Thibodeau's system—which brings more bodies to the strong side of the floor while zoning up the weak side—was stopping James. A Celtics assistant at the time, Thibodeau realized it could not be done with normal help principles or typical defensive structures. A new way of thinking about defense was necessary to even reckon with the fact that James could isolate and destroy single coverage while firing off passes to the open man when guarded with a crowd.
LeBron James SI Covers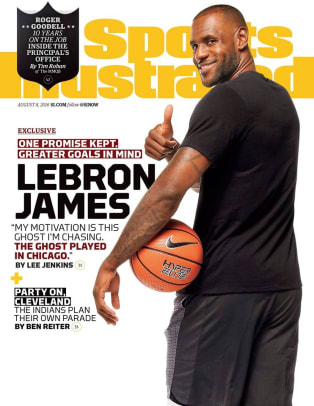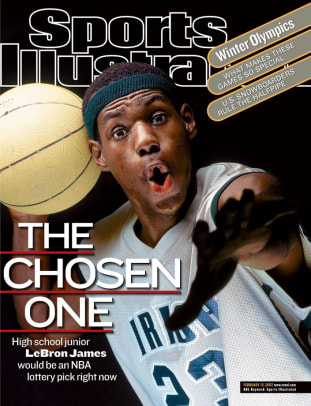 Even that wasn't enough. James got smarter, year after year, in reading the baited traps of an overloaded defense. LeBron has always wanted to pass. Sometimes beating a sharp, well-planned defense would demand quieting that instinct. At others, it would merely require a different, consistent sort of patience. Those teams that finally caught up to James did so because of Cleveland's limits—not LeBron's. The returns on making the right play are tethered to who finishes those plays, which in turn informed how James was positioned to operate from possession to possession.
James leaned even harder on his pull-up jumper in those days, when he would lift off even higher and kick up his feet underneath him as he rose:
Attempting so many jumpers was a matter of subsistence. Cleveland only stood as a contender when LeBron's scoring and creation propped it up as such. So he worked more bluntly as his context demanded and operated from the top of the floor more often so that he could remain in control for as long as possible. He held the ball. He bided his time. Sustaining the entire scoring economy of a team meant driving hard as a means of carrying the offense, whether looking to score himself by slicing through layers upon layers of defense:
Or work to set up his teammates through dynamic, full-force playmaking:
An isolated opponent, a basic pick-and-roll, a switch—just about any straightforward front was an invitation for James's onslaught. Opponents had to do so much pre-planning and adjustment for the prospect of LeBron hurling himself around a screen that he became the most deadly screen rejector in the league:
Defenses never seemed to rotate fast enough. LeBron tallied 96 and-one finishes in his 2008–09 season, which might be his best, most complete performance on record. No player has finished a season with more and-ones since. James would go on to refine his game in all sorts of ways, but there was something to be said for how completely irrepressible his game was in the final years of his first Cleveland tour. Everything was predicated on a perfect blend: A forward too quick to stop, too strong to thwart, and too smart to trap. When all else failed, LeBron could always fall back on the fact that he jumped higher than whoever guarded him and would hang in the air after even NBA athletes caved to gravity:
James still seems to linger in the air through contact today, even after bulldozing his way into that contact in the first place. The LeBron of today is somehow both more physical and more cerebral. Opponents are shrugged off not by force of momentum, necessarily, but through cagey pivots, timely nudges, and untouchable body control. There's a high gear that James has lost and will never get back. It just doesn't matter; by finding ways to drive at varying speeds, LeBron has augmented the pure bursts in his game with a meandering sort of physical manipulation.
That he developed an even greater comfort with his back to the basket also opens up the faux post—a protective back-down in the middle of his drive that allows for easy changes in direction and drives defenses batty:
LeBron drives to his left even more often now than he did then, but the scouting report does little good when James has seen every type of counter and coverage. Anything a defense dreams up presents a counter that James can identify and access easily. LeBron has long been dominant but never had a greater command for the game than he does now. So many of the plays he used to work hard for he can now accomplish while relatively stationary:
The sequences that previously required him to drive at breakneck speeds, leap into the air, attract an entire team of defenders, and throw back some crazy, cross-court pass have given way to James playing a more exploratory style. There are pick-and-rolls where LeBron will barrel around the screen and toward the rim just as he used to. But more often, James rounds the corner with his eyes doing all the work—tracking the movements and patterns of nine different players as he wills his teammates open. There is none better when it comes to patiently waiting out a possession's development:
Nor is anyone else in the league quite so capable of peering through a crowd and finding an angle only his teammate can access:
There is still a ton of speed in LeBron's game. It's just applied more selectively. More than a decade of reading NBA-level defenses has honed his sense of when he needs to lunge in off the dribble and when he can carry the weight all the same by hanging back. There's an accompanying physical development, too, in the precision and power behind LeBron's passing. Seeing and making high-level reads was never a problem. Yet there's a different kind of heat behind LeBron's one-handed, cross-body rocket passes to the weak side corner today than there was the last time he was a Cavalier. That zip alone can make the difference between a teammate firing off a clean jumper or being forced to put the ball on the floor to seek out alternatives.
LeBron James chases the ghost from Chicago and basketball immortality
All of this illustrates a qualitatively different LeBron—one whose game activates on different bits of nuance than it used to. There is growth in that, even as there is inevitable concession. There is cunning to adjust to evident changes in circumstance and in athletic range. His years in the league demanded he change. James responded by taking his supernatural talents and intelligent approach and making it all the more artful, finding enduring ends in evolving means.