Kyrie, LeBron overwhelm shorthanded Warriors to force Game 6 of Finals
With Draymond Green out, Kyrie Irving and LeBron James picked the Warriors apart to force a Game 6 of the NBA Finals. 
​Your teams. Your favorite writers. Wherever you want them. Personalize SI with our new App. Install on iOS or Android.​
Sensational play is all the better with company. Cleveland has thrived in games this season behind the best of LeBron James and the best of Kyrie Irving, but rarely in the same night. The reality of playing multiple ball-dominant stars is that one will sometimes go underutilized relative to their maximum ability. To operate as a team is to make such sacrifices. Game 5, with Cleveland's season at risk, proved exceptional. James took and took and took as Golden State's defense ceded him open jumpers. Irving lit up the Warriors from inside and out. By night's end, LeBron had put up a line (41 points, 16 rebounds, seven assists) no player in the Finals has ever matched, Irving became the first player to ever score 40+ (41 on 17-of-24 shooting) in tandem with his teammate during a game in the championship series, and the Cavs claimed a 112–97 win to push the series to a Game 6.
This was James at his most terrifying. Defenses of all kinds are structured around the concessions they can make to survive. Golden State, rightly given the percentages and alternatives, surmised that long LeBron jumpers were shots it could live with in the Finals. James approached those opportunities with an eagerness unseen in this series—confident enough to take the shot if also patient enough to seek out other means of scoring. Through those openings James shot 4-of-10 on mid-range jumpers and 4-of-8 on threes, totaling 24 points on just 18 shots. If that is the relatively inefficient portion of James's output, one can surmise how damaging his scoring was overall. Cleveland did an excellent job of angling its screens to get LeBron driving downhill whenever possible and attacking the most hapless switches put in front of him. Andre Iguodala did what he could and wound up buried beneath the very shots the defense was designed to give up.
• MORE NBA:LeBron's brilliance, Irving's emergence spoil Warriors' party

O'Neal) have ever scored 40+ points in a Finals game on fewer than 25 shot attempts. Both required 14 free throw attempts to get there. Irving, thanks to some unprecedented shot-making, managed to hit those marks while shooting just two free throws.
Considering just how brilliant James and Irving were individually, it would be unfair to attribute the difference in this game to Green's absence. At the same time, the proceedings were altered on a fundamental level—from matchups to screen exchanges to defensive rebounding to offensive facilitation to rim protection—that it would be impossible to discount his potential impact. Cleveland couldn't build its lead beyond single digits until deep in the fourth quarter. Green at the very least closes that gap, perhaps to the point of challenging the game's result. No matter; Green didn't play due to his own poor judgment and the Warriors paid the price for his continued indiscretions. The inconvenience of his absence, too, was compounded by a stroke of bad luck.
• Sports Illustrated's 100 best Finals photos over the years

100 Best NBA Finals Photos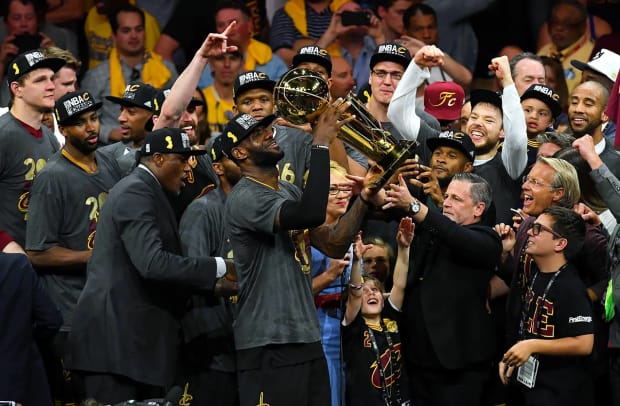 ​
Not two minutes had passed in the third quarter before Golden State's rotation twisted further. Andrew Bogut, after leaping to swat away a J.R. Smith runner, came down awkwardly in the same space as Smith. Bogut's left knee buckled with the contact. He never made it up the floor on the ensuing Warriors possession, nor was he able to get back to his feet when the Cavs returned looking to score. Bogut, who is no stranger to serious injury, writhed instead on the baseline, clutching his left knee. Bogut exited with what was later diagnosed as a left knee sprain and did not return—forcing Golden State to make do without its two best defensive bigs. Losing Draymond Green for the night sapped the Warriors of their flexibility. Losing Bogut, too, denied them their best conventional option as well.
Warriors coach Steve Kerr responded by having his team go even smaller than usual, employing a lineup of Stephen Curry, Klay Thompson, Shaun Livingston, Andre Iguodala, and Harrison Barnes for critical stretches. That group suffered defensively, as one might expect, but also never found a particularly dangerous rhythm to its offense. There's something to be said for the way that Green balances the offensive operations of the Warriors' best lineups that can't be easily replicated. He's not the best shooter nor the quickest off the dribble, and yet Green fills space and roles in such a way that even a versatile guard like Livingston can't quite imitate his function.
• MORE NBA:Watch complete highlights from Cavaliers' Game 5 win
#http://www.120sports.com/video/v183840678/cavaliers-take-game-5
Those lineups, too, tussled the Warriors' matchups by Kerr's own choice. Rather than dedicate Iguodala to James, Golden State opted to have him guard Kevin Love in order to protect the thinner Livingston. That arrangement did little but to marginalize what Iguodala does best and position Livingston for a different kind of vulnerability. With neither Green nor Bogut available to provide needed help, the Warriors couldn't rally behind and around their least favorable matchups.
Golden State needed tremendous efforts from a handful of players—Curry, Iguodala, Thompson, and Barnes, most notably—to finish the series in Green's absence. The Warriors lost because they failed to get them. Sometimes basketball is as simple as that, and as straightforward as to be determined by stellar achievement in the absence of specific, counterbalancing personnel.