Warriors' enviable joy made Kevin Durant pitch efforts that much easier
In picking the Warriors, Kevin Durant chose to invent the wheel rather than chase it. 
Your teams. Your favorite writers. Wherever you want them. Personalize SI with our new App. Install on iOS or Android.​
Whatever good fortune the Golden State Warriors redeemed on Monday when they landed Kevin Durant was accrued over the course of two very intentional seasons. Collectively, the Warriors brain trust—centered by general manager Bob Myers and head coach Steve Kerr—went about shaping a healthier work environment. The factional politics that had emerged under previous regimes fell away. Players, coaches, and front office personnel at all levels were allowed their input. Golden State not only became the avatar for the virtues of the three-pointer and a turn in the small-ball revolution, but also for the little joys one can find in a collegial workplace.
And so when Kevin Durant took his meeting with the Warriors over the weekend, a critical part of Golden State's pitch never needed to be articulated. Myers sold Durant on the championships he could win. Andre Iguodala, who was Durant's teammate in the 2010 FIBA World Championships, spoke to his fit. Yet anyone who watched the Warriors in either their 2015 title run or their historic follow-up could already see that they had found the gifts of the grind. Within the physical and emotional demands of contention, Golden State had made high-stakes basketball into a game again. The Warriors were as much an anomaly for their 73 regular season wins as they were for their certain, enviable ease.
Durant made a habit of writing "have fun" and "smile" on his playoff sneakers for games against these very Warriors. He won't need those reminders anymore.
• Draymond Green exclusive: How the Warriors star recruited Kevin Durant
​The pitch to bring Durant to the bay began there. All of the anxiety projected from the outside-in as to how Golden State would establish its pecking order seemed to misunderstand what made the Warriors so unique in the first place. Stephen Curry, Draymond Green, Klay Thompson, Iguodala, and those role players that remain will all need to accommodate Durant in their own way. Any team, though, that shares responsibility as the Warriors do should have little problem affording Durant and Curry their own forms of superstardom while Green and Thompson fill in the gaps. This group was sold long ago on the value of ball and player movement. Through it they'll rally around Durant just as they did Curry, leveraging talent and system to ridiculous new extremes.
Making Durant's signing a logistical possibility did not come without its compromises. Golden State moved quickly to withdraw its qualifying offers to Festus Ezeli and Harrison Barnes soon after Durant's announcement became official, setting the stage for their departure as unrestricted free agents. Andrew Bogut will reportedly be traded into the Mavericks' cap space—effectively leaving the Warriors without much in the way of a traditional center rotation. Green seems likely to become the new starting center by default, though with his arrival Durant may have officially become a full frontcourt hybrid; Golden State has too curious a staff to not at least try out Durant at center when Green rests or sits out games, particularly after seeing firsthand in the playoffs how terrifying a rim protector Durant can be.
All of the same principles that make Green an outstanding center would only be exaggerated with Durant in his stead. The thought of both playing together, then, splits the burden of playing up a position into a more manageable workload. The 'Death Lineup' was undone by the arms race; with Durant stepping in for Barnes, Golden State now trades in something altogether more terrifying than 'death.'
• Golden Decision: Kevin Durant shakes up basketball world, joins Warriors
Still the Warriors will need some supplement to their center rotation, likely with the veteran minimum or room exception. No center available is good enough to displace Green there and push Iguodala out of a starting spot. It makes too much sense for Golden State to begin every game with its five best players on the floor and manage their minutes from that point of collective strength. Build a big enough lead at the outset—the business model of the early 2015–16 Warriors—and whoever backs up Green on a regular basis is less of an issue. All that's really needed is an able body. Quality players will have to leave more money on the table than ever before in order to tag along with a contender like the Warriors, though one of the remaining veterans on the market (perhaps Zaza Pachulia, Miles Plumlee, Brandon Bass, Jordan Hill, or Dewayne Dedmon) might find the enterprise worthwhile. It's not often that history comes to court fourth-tier free agent bigs. Some will almost certainly answer the call.
Adding Durant, too, also creates a more profound depth throughout the Warriors' rotation. Remember that depth is less a function of the number of quality contributors than the number of quality minutes. Even if the Golden State might be one or two contributors short of where they were last season, Durant fills 30–40 minutes a night with elevating, MVP-level play. Stretches without Curry on the floor become much less dangerous. Thompson can rest and still give the Warriors an all-world shooter to pair with Curry. Durant can work as a Draymond variant within a switching defensive scheme or take over for Iguodala to smother some opponent on the perimeter. His presence effectively helps to cover for all the Warriors that matter, meaning that Golden State's bench should get by just fine with Shaun Livingston as its top player.
NBA Playoff 3-1 Comebacks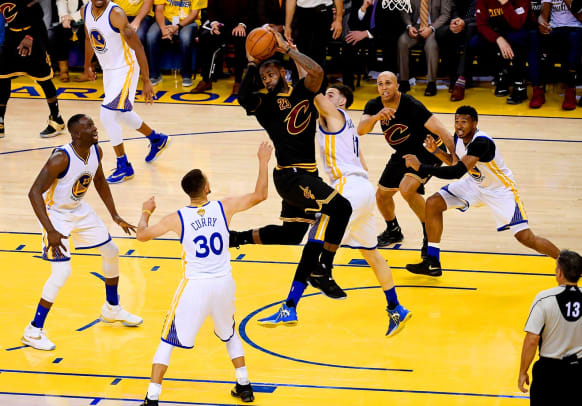 This influence of this kind of move runs so much deeper than replacing Barnes with a prolific scorer, superior shooter, and more versatile defender. Just by putting Durant on the floor, Thompson becomes essentially unguardable. No team in the league has enough defensive manpower to feel comfortable checking Durant, Curry, and Thompson all at once. The latter will naturally draw the lesser defender of the three, putting some hapless opponent (who would likely be hidden in any other matchup) through the ringer of chasing an explosive, game-changing shooter. As it was, a healthy Golden State team was able to stress an entire defense to the point of opening up the lane for drives. The defensive geometry becomes all the more untenable with Durant in the frame and on most every page of the scouting report. Most every Warrior will benefit from having the cleanest, easiest shots of their basketball lives.
And to think: this move was likely only possible because the Thunder and then the Warriors each blew their own 3–1 series leads in the late stages of the 2016 playoffs. There may be no figure more pivotal in signing Durant than Thompson, as his Game 6 explosion in the Western Conference finals allowed for the Thunder's eventual elimination. Yet it was Golden State's performance in the NBA Finals that may have convinced Durant he had something to offer this title-worthy team that it didn't have already, while also emboldening the Warriors with a greater urgency in their pursuit. So much of the motivation for the biggest, most decadent free agent move in NBA history came by two great teams snatching defeat from the jaws of victory. Durant was given a choice by their mirrored circumstances. After painful deliberation, he chose the team whose contention always seemed unburdened and uncomplicated—no matter the noise.