Hushing Loud City: Kevin Durant says goodbye to city he helped shape
The Thunder did everything they could to convince Kevin Durant he should stay in Oklahoma City, but it wasn't enough. Durant's departure leaves a heartbroken city and fan base in its wake.
Your teams. Your favorite writers. Wherever you want them. Personalize SI with our new App. Install on iOS or Android.
When the departed return, in new colors and fresh warmups, the sellout crowd rises as the public-address announcer bellows: "Welcome back to Oklahoma City…!" and the locals roar, whether the name that follows is Thabo Sefolosha or Kendrick Perkins or Cole Aldrich. It doesn't matter if the honoree never averaged more than 2.2 points per game for the home team, as with Aldrich, because he too was part of the cause.
"Things happen in Oklahoma City," Kevin Ollie once said, after playing for 13 NBA franchises, "that don't happen anywhere else." The memorial tours. The hill runs. The cooking classes. The preseason picnics on the farm. The way Kevin Durant used to work out alongside staffers, then gather them at the end and jab his right hand in the air, as they strained to reach his elbow. "Family!" he shouted. "Family," they panted back.
Golden Decision: Kevin Durant shakes up the NBA with move to the Warriors
Maybe it was square, but it was sweet. In a league where all the arenas can feel the same, you know when you are in Loud City, everybody in those oversized blue shirts standing from the invocation to the first bucket. Basketball is a city sport and the Thunder blossomed into a down-home force, proving that a small market can win 50 games and produce worldwide celebrities without more than a single skyscraper in sight.
Durant held his free agent meetings in the Hamptons, at peak season, and maybe that should have been a warning sign. The guy who used to brag about flying Southwest Airlines out of Will Rogers Airport and buying chicken wings in bulk—"You can get 100 here for less than 100 bucks!" he crowed—holed up in a summer playground far from Bricktown. Pat Riley rolled through with his jewels, Danny Ainge with his Nikes, Tom Brady with his unbuttoned shirt. About half the Warriors visited. The Logo called. Silicon Valley beckoned. Friends of Durant, who indicated more than a year ago Golden State caught his eye, suggested he was coming full circle.
The Thunder started to ponder—for the first time since they decamped from Seattle in 2008 and moved into the converted roller rink next to the dog food factory—a life without Durant. He went to three different high schools. He had three different agents. He did not fear change. Privately, they insisted they wouldn't feel angry or betrayed. Just terribly, achingly sad.
•​ GALLERY: SI's best photos of Kevin Durant
SI's Best Photos of Kevin Durant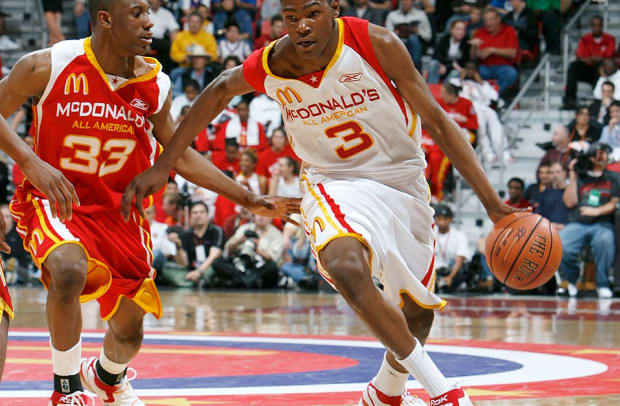 ​
They can take solace knowing they did virtually everything possible, short of paying James Harden. They reached four conference finals in the past six years. They flanked Durant with promising young players. They kept their cap sheet clean for future additions. These were not the 2010 Cavaliers. They had a foundation and a plan. But only the Warriors could offer a guarantee.
Six weeks ago, Durant sat in the lobby at the Four Seasons in San Francisco during the Western Conference finals, reminiscing about Oklahoma City. He didn't glance longingly out the adjacent window at the sunbathers in Yerba Buena Gardens. "Our world revolves around championships," he said. "Who won the championship? Who will win the championship? If you're not the champion, you're a loser. If you're not first, you're last. Don't get me wrong, I want to win a championship more than anybody, but if you go through the journey we've gone through, you can also appreciate other things."
Draymond Green opens up on Durant: How he recruited KD and more
He waxed about Oklahoma City's downtown growth and speculated about his role in it: a new hotel, a new arcade, the bar by his townhouse where he sits around the fire pit nursing a beer. He sounded ready to re-up. But Durant is a 27-year-old megastar in the Ringz era, and even if he disdains the pressure to collect titles, that burden is real. In Oklahoma City, a banner was presumed. In Golden State, it's assured.
OKC is heartbroken, but the NBA has lost something as well, a contender that held an endearing and important place in the league's landscape. In 2011, after a 161-day lockout, the NBA and its players agreed on a new Collective Bargaining Agreement that would theoretically buoy small markets and encourage parity. The CBA featured more punitive luxury taxes for organizations exceeding the salary cap, as well as mechanisms for clubs to offer their own free agents richer contracts than other suitors.
• GOLLIVER: Grades: Warriors outdo themselves with Durant blockbuster
The 2010 Heat, most believe, were the impetus for those changes. Five years later, Golden State has assembled a Big Four that makes Miami's trio look quaint. "A team wins 73 games and then adds the best free agent since LeBron?" one general manager mused. "How is that even a league anymore?" Warriors owner Joe Lacob, who irked rival executives this spring when he claimed the Dubs were "light years" ahead of the competition, has been proven prophetic. Courtside seats in Oakland—and, soon, San Francisco—may require an IPO.
Warriors' enviable joy made Kevin Durant pitch efforts that much easier
The Thunder, meanwhile, are left to stew over a handful of cruel bounces that went against them. If they had just beaten the Warriors in Game 6 of the Western Conference finals, when Durant and Russell Westbrook lost their minds in the fourth quarter … if the Warriors had just beaten the Cavs in Game 7 of the Finals, when Steph Curry and Klay Thompson couldn't hit a shot in the final minutes … and if the salary cap had not spiked this precise summer, giving Golden State the opportunity to absorb another max slot….
Well, close any one of those sliding doors and Durant is probably at his fire pit right now. Instead, the Thunder must decide how to proceed with Westbrook, a free agent next summer. NBA general managers say it can take nearly a decade to fully recover from the loss of a superstar. Oklahoma City has now bid goodbye to two, with Durant and Harden gone, and Westbrook on the clock. OKC still employs one of the most resourceful GMs in pro sports and Sam Presti won't let the Thunder fade into oblivion. But Loud City may be hushed for a while.
Then, sometime next season, Durant will return, a jilted populace will rise, and the PA guy will clear his throat: "Welcome back to Oklahoma City…" ​