The messiest breakups in NBA history
Detached and celebrated as they may seem, things can get personal fast for NBA players, coaches and owners when it comes down to business.
The mass roster upheaval we've come to expect around the NBA was especially jarring this summer, with franchise players unapologetically changing area codes and aggressive teams filling out their cap sheets.
But as much as this has been an off-season full of huge dollars and new, exciting destinations, the league discourse has also been rife with unsent text messages, hurt feelings and shattered hearts.
See, we're here to talk about breakups. Human beings are a mysterious species with mysterious emotions. Detached and celebrated as they may seem, basketball players and coaches and owners and front-office individuals share these traits, and when important decisions are on the table, they manifest in strange, occasionally uncomfortable ways. Impulsive decisions, passive-aggressive silence, angry things we wish we could take back.
As many of these cases feel immediate—nobody's gotten used to the idea of Kevin Durant and Dwyane Wade in different jerseys—the truth is that high-profile splits are a critical part of the NBA fabric, going back decades. As we contextualize the present and try to move forward, we must first consider the past.
Pour the wine and cue the music. Here's a look at the messiest breakups in NBA history.
​
Wilt Chamberlain trade
It was 1965, a year of great change and upheaval in America, when Wilt Chamberlain was traded from the San Francisco Warriors to the Philadelphia 76ers during theAll-Star break. I won't pretend to know anything real about the '60s, but here's an especially telling quote from Roland Lazenby'sLakers history, The Show, that reminds us of the fleeting nature of affection.
From Warriors owner Franklin Mieuli: "Chamberlain is not an easy man to love [and] the fans in San Francisco never learned to love him. Wilt is easy to hate … people came to see him lose."
• Warriors stars can co-exist with Durant | Cupping craze reaches Oklahoma City
Now, this is an exceedingly petty thing to say about someone else, especially when that person carried your team on multiple playoff runs, singlehandedly filled the gym and did magical things in the process. And the Warriors still traded Wilt during the All-Star break.
Actually, on second thought this probably didn't sting that badly, because he was Wilt Chamberlain, and it was the All-Star break.
LeBron James chases the ghost from Chicago and basketball immortality
Julius Erving and the merger
Dr. J's move to the Sixers in 1976 (coincidence?) was born from the collective spite between celestial entities known to mankind only as the Knicks and Nets. Erving was the face of the latter during the ABA-NBA merger. The Knickerbockers were salty about the New York Nets encroaching on their territory, and demanded a hefty fee. The Nets hit financial skids, and ownership just couldn't find a way to pay the good Doctor. And the NBA enforced a $4.8 million penalty, which is a little less than what entire teams were going for back then.
So, the Nets couldn't muster the cash and Erving held out. Have you ever wondered where the mostly fictional Knicks-Nets rivalry came from? No? Well, the Nets even offered their star player to the Knicks as a means of waiving the fee. The Knicks, obviously, said no. And so it came to pass that the Knicks became one of the worst teams in the league, the Nets were also instant flaming garbage, both team's fans were alienated and this shady business helped no one.
Except for the man himself, of course, who went to Philly and eventually won a title there. Erving switched to jersey No. 6, which he has said was because of Bill Russell, but it was also the amount ($6 million total) the Sixers paid to acquire him from the Nets. And if that was why he really picked it, Julius Erving might as well have spitefully dated Tom Hiddleston.
​
Bill Walton's​ biggest regret
The fact that this whole ordeal took place is actually pretty sad, because it's 2016 and we all pretty much unanimously love Bill Walton. The short of it: Walton led Portland to a title and won Finals MVP in '77, won league MVP the next season, and then couldn't stay healthy. He was hurt when the Sonics knocked the Blazers out of the '78 playoffs, and then he went public with his anger about the team's handling of his and others player's injuries, demanded a trade, didn't get one and decided to sit out the entire next season. He was never really the same as a player, and the Blazers have yet to win another title.
• SI Vault: Examining Bill Walton's strange and sudden exit from the Blazers
Walton tearfully apologized to everyone in 2009, because Bill Walton is the best. "The love they gave me was something I could not return," Walton said about Blazers fans. "And that's something that will forever be a stain, a stigma, on my soul. I can't wash it off."
And that is one of the saddest sentences I have ever read.
​
Can't beat The Kid
Alright, so we're just gonna fast-forward through the '​80s because Larry Bird and Magic Johnson never changed teams and have lived somewhat happily ever after, all things considered. In 1996, Marbury and Garnett led the Wolves to the first playoff berth in the franchise'​s eight-year existence, then did it again the next year. And then, as always, money ruined everything.
Garnett's record-breaking $126 million contract extension shattered the market and spurred a lockout, which produced a new labor deal which stipulated that. … Marbury couldn't make nearly as much money as Garnett. That drove a wedge between a jealous Marbury and the Timberwolves, even though there was never one logical argument that he should have made as much money as Garnett at any point in their shared existence. Had Starbury known the best years of his life would be played in China, maybe he'd have seen the big picture. But hindsight and foresight alike can wreak havoc on the best relationships, and the best relationship, this was not.
Howard Beck's meticulous and all-encompassing oral history of Garnett tells the story well. This quote from the late Flip Saunders encompasses it best.
Flip: "I knew we were in trouble, the year we [acquired] Marbury. I said something to Stephon about, 'You guys can be like Stockton and Malone.' And he said, 'Well I don't want to be John Stockton.' We were trying to convince him that it's the two guys together, the greatness that they could have. He didn't want that."
He didn't want that. Because who wants to be John Stockton? Who wants to be the NBA's all-time assist leader and win 50 games each season while playing with one of the NBA's all-time leading scorers?
Not future three-time Chinese Basketball Association champion Stephon Marbury.
The Greatest: Gone
It's not a secret, but no less impressive, that the Bulls pulled off two three-peats despite the fact that pretty much none of their key figures liked general manager Jerry Krause. That party included Michael Jordan, Scottie Pippen and Phil Jackson. For Jordan, it really didn't end all that well in Chicago, despite, you know, the six rings. The rift between the players and the front office over personnel decisions and other team issues were well-documented.
It was known that the heavy-handed Krause had wanted a chance to build a team without Jordan, and when MJ retired again, there was some speculation that spite was involved.
"He didn't quite force Jordan out, as no one tells Jordan where and when to go," the great Bulls writer Sam Smith wrote later, upon Krause's departure from the team after a mangled rebuild. "But Jordan was tired of him and everything else and just left...It only gets tougher and harder to deal with everyone."
Look, we've just boiled another insanely complicated situation down into a few paragraphs! The point is, nothing is ever easy. Jordan finished his legendary career as a Wizard. Winning isn't always a magical problem-fixer. The truth tends to be more fickle, no matter who's involved.
Mark Cuban's misfire
To be upfront here, this one is pretty much a thinly-veiled excuse to dig that photo up.
After the 2003–04 season, Nash was contractually low-balled by Mark Cuban, then went to Phoenix and won two MVP awards. Dirk got on alright without his BFF, but it was still 100% sad for everyone that we never got to see these two play together again. It's like watching your two friends who are perfect for each other split needlessly apart by circumstances mostly out of their control. Most importantly, it was the last time a soon-to-be forlorn Mark Cuban would ever low-ball any player ever again.
L.A. drama
Ah, Kobe and Shaq, the quintessential 21st century NBA divorce. They're sort of like the basketball Brad Pitt and Jennifer Aniston, except these guys were mutually and unflinchingly cheating on one another with their shot selection, and they actually seem to have made nice. Someday, when your kids watch film of Shaq and Kobe as teammates for the first time, they're going ask why those two funny men on television stopped playing basketball together. Explaining that is going to be difficult.
Maybe this marriage was way too good to be true from the start, what with Kobe riding in on a Vlade Divac-shaped wave and Shaq washing up on the shores of Venice Beach, emerging from the seashell a fully-formed demigod. Maybe that was the issue—Shaq was too good when he made it to L.A., with too much knowingly at stake and too much of a reputation to uphold, while Kobe was an intensely competitive teenager finding his way, and nobody knew how good he would be. The truth is, neither was ever mature enough to understand how to give an inch to the other.
But then they won! And they won together! And Shaq still thought Kobe was selfish, and Kobe kept thriving off that hatred, and they still won titles, three times. And then they both ran out of patience in such exasperating, public fashion that not even love guru Phil Jackson could solve it. And, finally, Shaq was traded to Miami in 2004.
So when your present and/or future children ask about Kobe and Shaq, there's only one historical text you will ever need to show them. There's only one thing that matters anymore when we talk about their failed symbiosis. It is this.
[youtube:https://www.youtube.com/watch?v=hGFHh8BK15g]
Who's the bad guy?
Imagine hating your slightly over-controlling boss who means well but doesn't quite relate to you on a personal level. Imagine going to your boss's boss and venting about it, and maybe going a little too far, but maybe not remembering exactly what you said. Then imagine walking into the lunch room and hearing your boss talking about how you want him fired, then having to answer everyone else's questions about it and denying everything, while your boss stands next to you aggressively sipping a Diet Coke.
This happened to Dwight Howard, and he never recovered.
"When I walked over to Stan that day, people say that I knew what Stan was saying," Dwight told ESPN's Jackie MacMullan in a recent interview. "I had no clue. I remember it like it happened yesterday. I felt my life changed that day. People decided that day I was some kind of bad guy. I don't think people realized what happened."
There's definitely a Sliding Doors universe where Dwight Howard never walks in on this press conference. But then again, there's not one where the front office doesn't choose sides, and frustrated Dwight doesn't get Stan canned. We pray that one day we see this beautiful reunion.
The letter that never dies
Dan Gilbert would like to make this letter go away, but it is never, ever going away.
As we now know, LeBron went on to win full custody of Cleveland and every single one of its denizens. Never end anything publicly, because the internet never forgets. Don't make it Facebook official until you get married, because changing your relationship status back to single is probably the most awkward feeling you can get while using a social media platform—unless, of course, you are Draymond Green.
This situation worked out for everyone in the end. There is no negative action that doesn't generate at least some positive reaction. Dan Gilbert at least did us a favor and murdered Comic Sans for good.
LeBron James SI Covers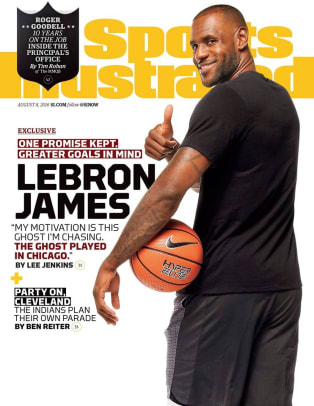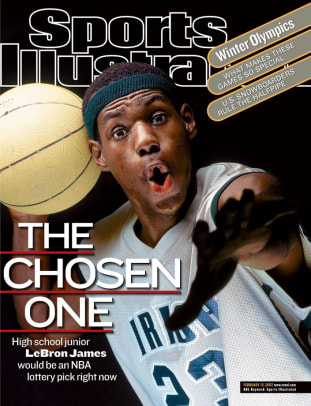 Celtics pride
In a sentence, Ray Allen walked out on the Celtics after five years and a title to go play with LeBron James in Miami. Kevin Garnett, maybe one of the five worst people to piss off in the history of basketball, was pissed off. So stuff like this happened.
That's still a great, brutal video. To this day, we have no evidence that the two have spoken.
Playing with fire
So, we've arrived at the present. In our current timeline, Dwyane Wade actually left the Heat, and Pat Riley made no extra attempt to communicate with him during the process, and no one has thrown any type of public fit, because that's the way Pat Riley has always done business. This is how you break up with somebody you love very much. You chalk it up to business. Aside from Riley's weird Donald Trump-esque text message to Dan LeBatard, there are few red flags here.
Pat Riley continues to toe the thin line between winning and misery
Were there ulterior motives here? Did Riley push a declining Wade out as sneakily as possible? Probably. And the subtext here is the Derrick Rose/Bulls split that paved the way for D-Wade in Chicago (which was surprisingly docile and is more likely than not to be mutually beneficial). Perhaps history will shed a more sinister light on this whole situation, but come on. Pat Riley's bodies stay buried, guys.
Durant'​s next chapter
Hang whatever hat you want on this. Believe whatever. The NBA's latest great what-if scenario ultimately comes down to a long-standing relationship between two people, one of whom decided he would be best carrying on without the other. I think we can safely say that KD genuinely loved growing up—effectively—in Oklahoma City. We've seen superstars get fed up, fight and bicker, demand trades and walk away. We've seen teams and teammates drive each other out. So it's undeniably weird that Kevin Durant left Russell Westbrook behind after eight years, after neither guy ever said one bad thing about the other, at least publicly. They were close friends. They did not call or text each other during the process. They may only ever play together again at All-Star Weekend. They have not talked about it since.
In his farewell essay, Durant wrote about "potential for growth," his "evolution as a man" and comfort zones. He did not write the word "championship" once. He invoked the need to win games not one, not two, not three. … but zero times. Maybe this is some editorial oversight, maybe this is reading too far into things, but this is not the tone of a mercenary. It's not self-absorbed. It's the sound of someone moving on for reasons that he deeply believes are the right ones, and someone who wanted public opinion to understand that. Durant had to have foreseen some backlash — he's not that naive.
The unlikely assist that helped deliver Kevin Durant to the Warriors
What can we draw from that? Maybe the silence is worth volumes. Perhaps it was nothing personal. Maybe all the playoff exits and crushing losses and late–game mistakes added up. But read between the lines, and it becomes less about how you win and more about how you're winning. Sure, the Thunder nearly beat the Warriors, but KD had to remind himself to "smile" and "have fun" by writing it on his sneakers. He flirted with a new approach and left with Stockholm Syndrome. And now he's ditching Westbrook's particular grinding brand of destructive force to play with the most fun NBA team in more than a decade, maybe longer.
Of course, it speaks equally loud that Westbrook stayed. He committed when Durant would not, with the added clarity of knowing he'd fly solo. He was resolute in his public belief that the Thunder can win a title, anyway. Having been in superstar-trade situations before, Sam Presti would surely have pulled the trigger had Russ asked. He didn't do that. We can joke about his scorn and spite, but ultimately Russell Westbrook believed in something. Where Durant bet on change and the positive influence of a new environment, Westbrook bet on his own capacity to make a seismic impact on his old one.
We won't really know what's good until we see them together again. And given all the talent and tensions involved, that's impossibly fun to think about. Circle the first Thunder-Warriors game (Nov. 3!) on the schedule, wait it out, and hope something even better comes out of this.
We'll get over this thing together. And we'll always have the memories.