Warriors complete Game 7 comeback over Thunder to reach NBA Finals
What a series! Stephen Curry and the Warriors beat the Thunder to become the 10th team to come back from a 3–1 playoff deficit. The NBA Finals are next. Will they repeat as champs?
Your teams on the go or at home. Personalize SI with our new App. Install on iOS or Android.
Those on the losing side of Golden State's 85 wins this season are familiar with the same crooked reality. The basic odds of basketball never seem to apply to the Warriors in the same way they do everyone else. Others are doomed when they stop moving the ball and force up difficult, contested shots. Stephen Curry and Klay Thompson are so skilled shooting that in many cases they're rewarded for it. Risky passes inevitably get most NBA teams into trouble, yet Golden State manages to redeem many of its near-turnovers for back-breaking points. No matter how the Warriors might struggle, there isn't a run, advantage, or series deficit they cannot erase. Where any other basketball team would regress to the mean, the defending champs seem only to rise to the occasion.
Case in point: Game 7 of the Western Conference finals, in which the Warriors claimed a decisive 96–88 win over both the Thunder and any reasonable sense of probability.
Oklahoma City was made to face that truth in the most excruciating way possible. After taking a 3–1 series lead, each of the Thunder's three straight losses to end their season were increasingly painful. A course-correcting Game 5 for the Warriors was competitive but somewhat expected. A tense, haunting letdown in Game 6 surrendered the opportunity for Oklahoma City to finish the series at home. Monday's Game 7 then featured the Warriors at their most painfully inevitable, complete with Curry (36 points, 7-of-12 three-pointers, eight assists) bombing his way into the lead on jumpers that most in the league wouldn't dare attempt. The Thunder—a wonderful, spirited team playing the best basketball of its season—were buried alive.
• MORE NBA:Curry sends Warriors to Finals | Full NBA Finals schedule
The shame in that cannot be lost in the fanfare of Golden State's comeback nor the inevitable rush to document Oklahoma City's failings. Mistakes were made. Old habits resurfaced at inopportune times. Yet this was only a series at all because the Thunder summoned a defensive focus and intensity well beyond their regular season best. This series remains a collection of some the best coverage ever played against the Warriors, no matter the result. Kevin Durant, Andre Roberson and Steven Adams were exceptional. Serge Ibaka and Dion Waiters acquitted themselves well, even to situations well out of their comfort zones. Russell Westbrook has never been quite so effective in coverage overall, even as his defense grew looser and the series unfolded.
Photos of the 10 teams to come back from a 3–1 playoff deficit in NBA history
NBA Playoff 3-1 Comebacks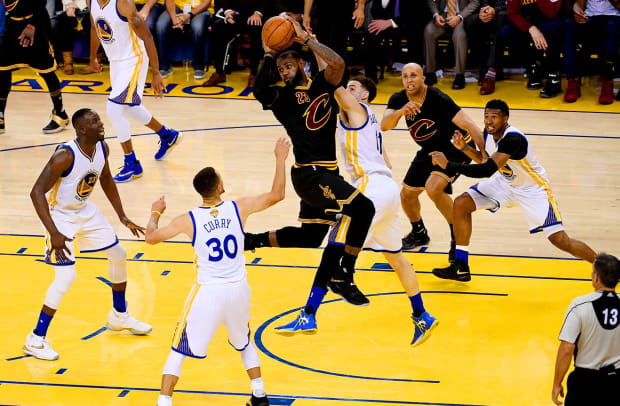 Some better breaks or better decisions in Games 6 and 7 could have changed the series. Yet even running back those counterfactuals shortchanges the Warriors' apparent relationship with destiny. It feels as if any play that Oklahoma City could have saved would only have been balanced out by Golden State in kind. Something profound was in play. Classify it however you'd like, but the distinction between these two teams in terms of shot-making, defensive poise and overall presence was practically slim and completely unmistakable. That Durant (27 points on 19 shots, seven rebounds) willed through enough baskets to cut the deficit to four points in the final two minutes was a detail lost in the deluge.
#http://www.120sports.com/video/v181183904/warriors-top-thunder-in-game-7
It didn't matter that Durant pulled the Thunder within striking distance despite Andre Iguodala's frustrating defense, just as it didn't matter that Oklahoma City had dominated the offensive glass or generally maintained a healthy offense. That futility came from Curry hitting the crazy, step-back threes he had missed (or refused to attempt) all series and Thompson again shooting over the top of quality contests. The shots went in, and as is so often the case with this team, accepted basketball logic didn't have a thing to do with it.