Warriors must find ways to replace the irreplaceable Draymond Green
The Warriors must replace Draymond Green, an irreplaceable piece for one of the best teams in NBA history. 
Your teams. Your favorite writers. Wherever you want them. Personalize SI with our new App. Install on iOS or Android.​
Much of what separates the Warriors from the Cavs is bound in the game of Draymond Green. The considerable skill of Cleveland's frontcourt is partitioned to the point of inconvenience: Kevin Love is a scorer who doesn't guard well in space; Tristan Thompson energizes the back line but doesn't protect the rim all that well nor pose any offensive threat away from the basket; Channing Frye spaces the floor but lacks for lateral mobility and gives up rebounding chances. Improbably, Green has synthesized many of those positive qualities while mitigating the negatives. So much of Golden State's success is owed to that unique balance.
It's for that reason that Green was touted by many throughout the season as the most important Warrior—a powerful statement considering that Green's teammate became the first unanimous MVP in league history. Game 5 will bring that very idea to a reckoning. Due to Green's own repeated transgressions (and most recently, his upward swing at LeBron James after being pointedly stepped over), Golden State will have to do without its most critical all-around big in Game 5. Importance cuts both ways. All that Green does to transform the Warriors in his minutes on the floor now becomes a complication in absence.
Draymond Green suspended for Game 5: What's next for Warriors, Cavs?
An early finish to the series would demand a complete deviation from what we've seen thus far. As was noted by Zach Lowe of ESPN.com, the Warriors are +53 in this series overall in Green's minutes at center and –24 on the balance of all their other lineups. Simply having Green on the floor with other good players hasn't been enough; Golden State's advantage over Cleveland has been rooted in Green's highest-leverage role and the implications that come with it. Only certain Cavs can be on the floor when the Warriors go small. Others can no longer work in tandem, given the weirdness of the matchups. It's through playing Green at center that the Warriors find the style, space, and speed that defines them.
Without Green, Golden State will have to find new ways to create separation. His one-game suspension leaves some 38 minutes to fill for a role that none could. There are no other players anywhere in the league quite like Green, much less lying in wait on the Warriors' bench. The shape of their lineups and rotations will have to change—starting smaller with either Andre Iguodala, Shaun Livingston, or Brandon Rush filling in and surviving by stretching the minutes of their traditional centers to their reasonable maximum.
Festus Ezeli is both the most logical candidate to step into a larger role and, in some ways, the least likely. Warriors coach Steve Kerr has gone out of his way over the last two games to keep Ezeli sidelined, preferring instead to call on of Anderson Varejao and James Michael McAdoo. The statement of Ezeli's esteem with his coaching staff could not be any clearer. There seems to be a basic distrust when it comes to Ezeli executing in the way Kerr intends, so much so that he favors deep reserves over one of the team's better centers on paper.
The Most High-Profile Suspensions in American Sports History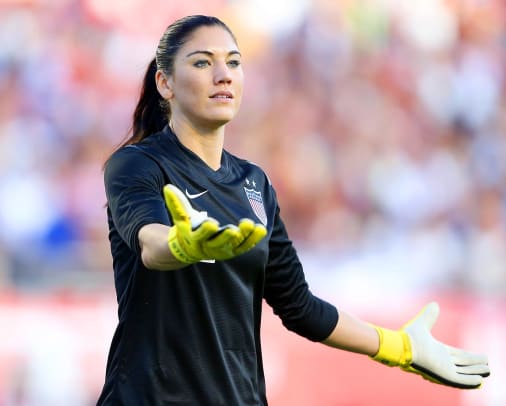 The matchup is also partly to blame, but Kerr will likely need to get something out of Ezeli now that his best option at the position has been nixed by the league office. Golden State needs some means to protect the basket and won't find it with McAdoo, Varejao, or Marreese Speights. Andrew Bogut can offer good minutes at home, but only so many; nothing in the labored way Bogut moves suggests he's capable of taking on much more playing time. Ezeli could be a reasonable facsimile, provided Golden State doesn't let loose completely to try to outscore the Cavs outright.
To be fair: that's not a bad strategy, considering. Cleveland's defense comes and goes, though finds its easiest work whenever Golden State sticks with traditional lineups. Going incredibly small (say, by using Iguodala or Harrison Barnes as a functional center) would present a more stressful counter for the Cavs and Warriors alike. Kerr would fret over every rebound surrendered. Cavs coach Tyronn Lue would have to find places for his bigs to hide and some way to stall the transition game before it gets out of control. Playing Speights big minutes accomplishes a similar goal in somewhat tempered fashion—less extreme risks for less extreme rewards.
• MORE NBA: Warriors show what sets them apart | Warriors' death lineup
Going all-offense could backfire, too, now that an instrumental player in containing James is absent. Green isn't only a good option to switch on to Kyrie Irving in a pinch and the primary reason even playing Kevin Love is so difficult for the Cavs—he's an elite back-line defender who has given Iguodala exceptional help in support. LeBron is shooting nearly 10% worse on shots within five feet of the rim while Green is on the floor in these Finals, per NBA.com. The dynamics of this series change entirely if Iguodala isn't able to play frustrating, well-positioned defense on James and if Green isn't able to back him up at just the right times. Golden State will have to manage that shift for a single game and, in the process, see if Green's absence against a team this potent is survivable. An affirmative verdict would end the series on the spot.
To make that happen would require more of most every Warrior. Iguodala will likely need to wade into the mid–40s in minutes for the first time in this series while getting less help defensively and facilitating even more offense than before. Stephen Curry will have to clean up his defensive mistakes and create more shots in isolation, given that the team is down one secondary playmaker. Bogut will need to play as well as he generally does at home, and then some. Barnes, who was quietly brilliant in Game 4, could end up filling so many gaps that he plays damn near the whole game. So it goes on down the line, from scorers to defenders to rebounders, who must somehow replace the irreplaceable.
There is no substitute for Draymond Green. But there is, in some altered form, a version of the Warriors that bends and stretches to finish this series in five.