Buddy Hield Q&A: Pelicans rookie embraces life as professional shooter
Buddy Hield is embracing life as a professional shooter with the New Orleans Pelicans. 
Your teams on the go or at home. Personalize SI with our new App. Install on iOS or Android.
Buddy Hield is the rare four-year college player whose game seems to align perfectly with the style of the league at the time of his drafting. An extended stay in Norman, OKla., helped Hield craft a distinctly modern game; his 13.8 three-point attempts per 100 possessions, many hunted against defenses wise to his long-range inclinations, bore resemblance to the work of top professional shooters. There has never been a better moment for Hield to take the NBA leap, in large part because the league has never had a greater appreciation for his most considerable skill.
That registered Hield on the radar of even NBA snobs. Efficient, unapologetic gunners like Hield are figures of interest in the professional ranks—as evidenced by his going No. 6 overall to the New Orleans Pelicans in last month's draft. The Las Vegas Summer League now amounts to his career's soft open. Early reviews, though, have been mixed. We caught up with Hield to talk about the frustrations that have come from his shaky play, life after the draft, and the real value of getting buckets.
• Silver on super teams, Hack-a-Shaq | Unlocking mind of Ben Simmons
​Rob Mahoney: From talking to other people about you and your game, the thing I hear about most—even more than your shooting and scoring—is how hard you work. What do you take pride in, in terms of what you've built for yourself as a basketball player?
Buddy Hield: Putting the ball in the hole. That's what I do: put the ball in the hole. No matter how I get it, just find a way to put it in the hole.
RM: Why is that? Why is that the priority for you?
BH: Number one: It'll make you a lot of money. And then it's just something I love doing. I'm just having fun doing that. It's a blessing, you know what I mean? Most people can't say they put the ball in at a high rate each and every night. So that's my number one goal: putting the ball in, doing it a high rate, and doing it efficiently.
RM: What do you like about playing basketball?
BH: The momentum it brings every day. It's like, every game you never know how a defender is going to play you. You have to be mentally focused. The game is different. So picking your poison in order to get your shots. The college atmosphere was so fun because you know how to get up and down and you have crowds that are so loud, so energetic. I just like the atmosphere.
RM: In terms of the defense trying to figure you out, like you were saying, is there anything that you anticipate seeing in the NBA that maybe you wouldn't have seen in college?
BH: I think I'll just be slowing down and getting to my spots. Try to let the game come to me. It's not like college, but you'll get the ball. You can go get it. You can figure out the spacing and just play. I just have to be smarter.
RM: When I watch you play, it looks like you're talking to yourself a lot on the floor. What is that monologue like? What are you telling yourself?
BH: Motivation. Motivation to be the best I can be, each and every night.
RM: So what motivates you in that way?
BH: I'm broke. I play the game because I love it, but obviously you know you can make money off it. You motivate [yourself] to play well with the higher value things. Nobody's playing for free.
NBA Draft Fashion 2016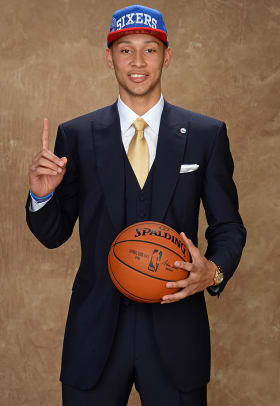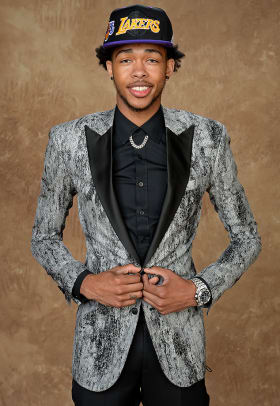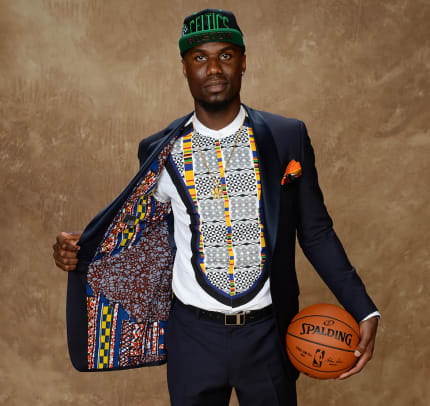 ​
RM: I've read that you had to overhaul your shooting form a little bit. It sounded like, from the time you started college, things had to be moved around a little bit. Could you walk me through what that process was like?
BH: I just changed my form. Sticking with something that I feel comfortable with. It's just having fun. I'm always gonna shoot. Changing my form was never a big problem with trying to put the ball in the hole. It's just changing my form—nothing crazy.
RM: Did someone have to convince you to undertake something like that? Or was it something you sought out?
BH: Somebody saw it. Just trying to get the ball off quicker—find a different technique where I can get the ball off quicker and shoot it more professional-like.
RM: When you look forward, three or four years into your career, how do you think you'll be a different player than you are now?
BH: I feel I'll be a better facilitator, passing the ball. You see in summer league—I mean, there's not a lot of assists but I'm making plays for my teammates because I know the type of player that I am. Picking my poison, using my scoring threat, and making plays for my teammates. That's gonna be a big key for me. It's gonna be fun.
​​RM: How much stock do you really put into your play out here? It's not quite a normal NBA situation; you scrap together a group of guys who've never played together. How much stock do you put into how you're playing, those ebbs and flows?
BH: I hate it. I just hate playing bad. I hate not playing the way I'm comfortable playing at. It just leaves a bad taste in your mouth. You're playing at a place you're not used to. And it's frustrating. I haven't played like this in like a year or so. Playing like this makes you mad, but it makes it more motivated because you know you're still not the best that you want to be.
If I'd have come out here and life had been easier out here for me, I might've been okay with it. I'm glad I did not play the best I've played because now I can go back and work on stuff I need to work on and say, 'Buddy, you need to fix this and fix that and you need to do better at this.' [Anthony Davis] is gonna open the floor for everybody, but I still need to find ways to put the ball in the hole. It's a fun challenge, though. As a competitor, you like challenges like that because that makes you who you is.
RM: What has that feedback been like? Whether it's from you gauging your own game or from the coaching staff, what are the things you're looking forward to getting back in the gym to work on to improve?
BH: Everything. I'm not shooting the ball how I want to so I'm gonna be putting up tons of shots. Just doing me. Just doing what I do best that gets me there.
Best NBA First-Round Picks by Draft Slot
RM: I know a lot of guys when they come into the NBA, you start hearing from everybody you've ever known—congratulations, people looking for things, offering advice. Has anybody given you any bad advice since coming into the NBA? Any weird investment opportunities?
BH: Nah, nobody gives me bad advice. Everybody's been in congratulation mode. You know what I mean? But I know my work is not done.
RM: What does the rest of the off-season look like for you?
BH: I want to take some time off but I'm pissed off so I can't take no time off. I don't know—just grinding. I'll probably go to the Bahamas and have one of the coaches come down there and work with me. That's probably it.
RM: If you did have that time off, what would you do? Where would you go?
BH: I like to travel. You can travel, but you're trying to get better. Take off two weeks and you can get out of shape. It's a rookie season so you wanna have that first impression. I'm gonna have that first impression like, okay, I belong in this league. I'm just gonna grind it out, man. Everybody say I need rest but I haven't made it yet. Yeah, I've got a rookie contract or whatever, but I haven't made it yet. I need to lock in on the things I need to fix and whenever I get time, whenever I feel comfortable with my game, then I can take a break. But for now, there's no days off.
RM: When do you think that break will come? When will you start to feel comfortable?
BH: Whenever I figure it out.
RM: I know things can go pretty fast from the draft to summer league, then you're getting into the gym to work a little bit and all of a sudden its training camp. Has the pacing of all of this surprised you at all?
BH: It's been fast-paced. Everything has been fast. Life is just...crazy. You know what I mean? Back and forth. You're just living the life you thought you'd never live but every day you've gotta do something. Somebody's calling you, and if you don't answer your phone, somebody's trying to get to you. It's annoying but it's the life you choose. You've gotta live with it.
​​
RM: What are your impressions of New Orleans so far?
BH: It's cool. It's hot. But it's a good city—reminds me of back home. Next to the ocean, people are nice, they've embraced me well. Can't go wrong with that.
RM: Have you found a place to live already? What is that process like? You're just kind of dropped into a new place and have to figure things out. Does the team help you with that? How do you settle in?
BH: It's just like me going and moving from the Bahamas to Wichita, Wichita to Oklahoma. It's just life. You've gotta adjust. You've just gotta adjust through it. Everything's been all fast-paced where you're in a rhythm and you're not comfortable. When I get comfortable, when I settle my place, when I'm not traveling back and forth—where I can stay in one place for like a month or two, I'll be fine.
RM: What was it like to live in Oklahoma?
BH: It's different. The weather, the environment, the culture. It's different but it's something you'll adapt to. Oklahoma my first year was fast—obviously you're in college, you're a freshman, having fun. But in my second year you get locked in. You feel comfortable. It's an all-the-time adjustment. When you go somewhere you're not gonna adjust right away the way you want to. Just like everybody say [they want to go to] California because the weather's nice, but they're not gonna adjust right away because they don't know the lifestyle yet. It's just an adjustment to the lifestyle and everything.
• Fredette still holding onto NBA dream | Onuaku brings 'granny shot' to NBA
RM: How would you describe the lifestyle there?
BH: Oklahoma? It's laid-back. Country. They do country things. Go out, go to the bars—it's a bar state. Everybody go to the bars. College town. It's cool.
RM: I know you mentioned playing with AD and how that opens things up for a lot of the guys. In terms of the rest of the team, is there anybody in particular you're looking forward to seeing how your game will play off of?
BH: Jrue [Holiday]. You've got guys like Langston [Galloway]. He's a worker. He came from nothing. You know what I mean? He had to work his way up to get signed, two-year deal. He came from nothing and also I'm looking to compete against those guys and I'll feed off my energy and find whatever I can do just to get better, man.
RM: What are your impressions of Jrue's game?
BH: I haven't watched much film on him but I know he's quick. I know he's a guard who can make plays for the team. I'm just trying to pick his brain, watch more film on him, and see where I can get my shots. When I start playing with guys like him and AD and all those guys, I feel like I'll be okay.