Three Strikes: Chicago takes center stage; Andrew McCutchen's trifecta
Tuesday night in baseball saw the Chicago teams take center stage, Stanton get the best of Kershaw and a long-awaited night from Andrew McCutchen.
Get all of Kenny Ducey's columns as soon as they're published. Download the new Sports Illustrated app (iOS or Android) and personalize your experience by following your favorite teams and SI writers.
Chicago is unseasonably hot
A Cubs-White Sox World Series? One can only dream.
With a 4–3 win over the Brewers on Tuesday night, the Cubs, the favorite to win this year's Fall Classic, got out out to their best 20-game start since 1907 and hold the best record in baseball at 15–5. They've dominated both sides of the ball, sitting third in the major leagues in ERA, and second in runs scored. Surprise signee Dexter Fowler is reaching base one out of every two times he steps to the dish, Anthony Rizzo already has eight home runs and Jake Arrieta is so damn good that fellow players have questioned whether or not he's cheating.
Noah Syndergaard is either a physical freak—or a threat to himself
Much is expected from Joe Maddon's bunch of uber-talented youngsters and established arms in 2016, and so far everything has been ho-hum on the north side of Chicago. The same start wasn't exactly projected for the Cubs' south-side rival.
As shocking as this month's Guns N' Roses reunion was, the White Sox's American League-best 15–6 start may be the biggest surprise of April. With a commanding 10–1 win over the Blue Jays, they've now allowed an average of 2.5 runs per game and own the second-best ERA in the bigs at 2.41. Chris Sale has been at the head of an incredibly dominant core of starters, and handily defeated one of the best lineups in baseball with eight innings of four-hit, one-run ball in Toronto.
While this wasn't exactly anticipated, it's hard to say this came out of nowhere. Though he didn't put together a sturdy rookie campaign, much is expected of 23-year-old Carlos Rodon in the coming years. While he crashed and burned with the Marlins, Angels and Dodgers in 2015, Mat Latos, 28, was once one of the most consistent arms in baseball. And even though his numbers don't exactly spring to life and leave a lasting impression on you, Jose Quintana has put together a career ERA of 3.41 over four nearly-identical seasons.
• JAFFE: Collins's rude outfield gesture puts him in poor company
These four have the potential to drive this club to a wild-card berth in the AL, but it's easy to see them imploding. Without the highly-volatile Latos and Rodon, this team suddenly becomes rather meek-looking. So far, though, the White Sox have proven they can pitch, and their bats have made just enough scattered appearances.
#http://www.120sports.com/video/v174689634/white-sox-rout-the-blue-jays
Sorcery in L.A.
All right, Clayton Kershaw is not a cyborg. The 28-year-old had breezed through four starts—two against the San Francisco Giants—and seemed poised to improve his 2–0 record and 1.50 ERA against the struggling Miami Marlins. That was until Giancarlo Stanton, a career .324 hitter against the Dodgers, said his piece.
Kershaw was rolling, getting through five frames while facing just 16 hitters. He even put the finishing touches on the fourth with a strikeout of Stanton on a nasty 1–2 curveball.
Then, the wheels fell off. Kershaw surrendered a towering three-run shot to Stanton on a 1–0 fastball down the chute, and left the sixth charged with five runs. It was the first three-run shot Kershaw had allowed in 844 innings. It's not very often that one of baseball's brightest stars meets his match, but Tuesday night was one of those rare occasions. The Marlins took the second of two games in Los Angeles, and they did it against a ferocious beast.
GALLERY: Most Recent No-Hitters, By Team​
Most Recent No-Hitters, By Team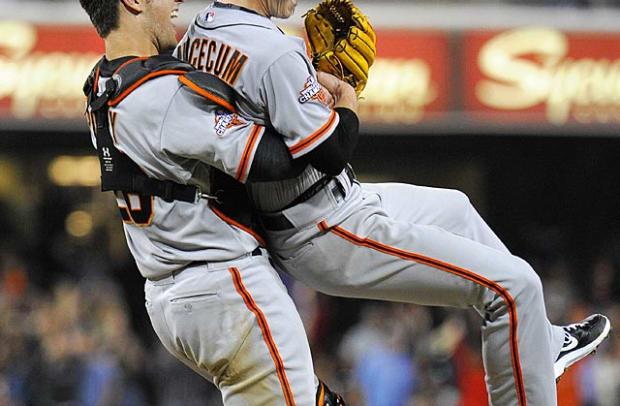 McCutchen's big night
The 12–9 Pirates will need to dig deep this season if they want to earn a playoff berth in a contentious National League. It appears the best team in the majors, the Cubs, will block them from a division title, and the Cardinals, Mets, Nationals and Giants should all be difficult to jump in the wild-card standings.
Power outage: Punchless Braves see no end to homerless streak
That's why many in Pittsburgh had been on edge as Andrew McCutchen, the team's lifeblood, started out the season hitting just .213 with two homers and five RBIs in 19 games. McCutchen has hovered around the .300 mark for his entire career, and posted an average OPS+ a good 60 points higher than his mark of 83 entering Tuesday. Sure, it doesn't seem as if April baseball is all that meaningful, but wins come at a premium when locked in a battle with the aforementioned clubs. Put bluntly, the Pirates couldn't afford to wait too long for McCutchen to wake from his early-season slumber.
The 29-year-old not only put together a good performance Tuesday, he hit three home runs. McCutchen drove in five in a 9–4 win over the Rockies, lifting Pittsburgh to its 12th win of the season. The longballs may have come at the hitter-friendly Coors Field, but they could go a long way toward re-adjusting McCutchen's mental approach at the plate.