Mike Trout is better than ever. So why aren't enough people paying attention?
Baseball's best player is trending toward being an all-time great, but he has not resonated with the general public the way the previous generation's superstars have.
Angels centerfielder Mike Trout has no peers in baseball today. He is, by one measure, the best young hitter born in almost the last 100 years. As impressive as that fact is, it's not as meaningful as these: He keeps getting better, rarely misses a game, plays with abiding joy and hustle and is one of the most accommodating and gracious superstar players with fans.
Yet relative to other elite athletes, Trout has a ridiculously small cultural footprint. As Ben McGrath asked in The New Yorker, "When was the last time baseball's reigning king was a cultural nonentity?" That question came two years ago, and it remains pertinent.
This is not Trout's problem. It is not baseball's "marketing" problem. It is our problem. We now live in a world in which we conflate infamy and fame, in which the word "notoriety" has lost its centuries-old implication of disrepute. The "disgraced" swimmer Ryan Lochte will probably be pitching cough drops and dancing on a television screen near you sometime soon. Failed NFL quarterback Tim Tebow announces he will hold a baseball workout and the sports media goes into spasms of glee. Our attention is guided by an internal decibel meter; those who self-promote the loudest win our gaze.
When it comes to national appeal, Trout was born at the wrong time. He is a great baseball player and a solid citizen at a time when those attributes don't get you retweets or discussed on talk radio.
The low profile of a generational great will be an issue again in the coming month. Trout is the best player having the best season in the American League. But he is unlikely to win the Most Valuable Player award because his team is dreadful and he doesn't have the narratives associated with guys like Astros second baseman Jose Altuve (5'6"!), Red Sox centerfielder Mookie Betts (a fresh face in a big market!) and Blue Jays third baseman Josh Donaldson (he could win back-to-back MVPs!), all of whom have the advantage of playing on teams in the pennant race. Whatever Trout does in September will get little notice.
In the next month you will hear so much more about Robert Griffin III, the Browns quarterback with a career record of 14–21 who has thrown 40 touchdowns in four years, than you will about the best young hitter since Ted Williams.
So it's time to make time for Trout, before we miss his greatness. As odd as it would be in other eras, I'm compelled to point out the wonder of the best player in baseball.
Trout is better than the next best player by a margin greater than that of any other athlete in any major sport. Every so often, like the tides, stories will wash up about a player on a hot streak who is "in the conversation" about best player in baseball. Nationals outfielder Bryce Harper, Dodgers pitcher Clayton Kershaw, Orioles third baseman Manny Machado and others all have received this forced treatment from the media, eager as we are to wear the halo of having picked the next great stock. But one thing never changes: Trout is the gold standard.
The other day I was talking to Angels manager Mike Scioscia about his 25-year-old superstar. I told Scioscia I never had seen Trout take a game or an at-bat off, but I also recognized that Scioscia has seen all of Trout's 731 games and all 3,427 of his plate appearances, so I deferred to his opinion.
"Never seen him take a pitch off," Scioscia said. "Never. Not one. Mike is so driven. No matter what the score is, no matter what the standings are, he will always give you his best at-bat. He wants the best out of himself on every pitch, and he wants to run down everything in centerfield."
Los Angeles has had a winning record for exactly one game this year—back when it improved to 5–4 by beating the A's on April 12. It is an awful team made worse by injuries and a thin farm system. You could not know any of that by watching Trout play on any night.
I asked bench coach Dino Ebel, another veteran Angels staffer, when was the last time he saw Trout frustrated?
"Never," he said.
"Okay, wait. He's had games where he's struck out three times. Everybody gets frustrated."
"Maybe he does, but I can tell you I've never seen it. Actually, it's the opposite. If he strikes out the third time he'll come back [to the dugout], give that little smile and go, 'Okay. I've got it. Wait 'til I see him next time.' I can't tell you how many times it's happened, where a pitcher gets Mike, he'll go back in [the clubhouse] and look at the video and go, 'I've got him.' And you know what? Usually he does. He plays with such confidence every single day."
Scioscia has been in professional baseball for 40 years. I asked him if he'd ever seen anybody this good.
"He was mostly in the other league so I didn't get a chance to see him all the time, but Ken Griffey Jr. comes to mind," said Scioscia, who was playing and working for the Dodgers when Griffey was in his prime with the Mariners in the 1990s. "He could do it all, like Mike."
Ken Griffey Jr. prepares for his proper baseball sendoff as the Hall awaits
Griffey was elected to the Hall of Fame this year with 99.3% of the vote, the highest percentage in the history of the balloting. And yet at the same point in their careers, Trout is better than Griffey, and it's not that close:
| | | |
| --- | --- | --- |
| Category | Griffey | Trout |
| Home Runs | 154 | 164 |
| RBIs | 498 | 481 |
| Average | .305 | .306 |
| On-base percentage | .378 | .403 |
| Slugging percentage | .536 | .558 |
| OPS | .914 | .961 |
| Stolen Bases | 80 | 134 |
| Runs | 473 | 577 |
| OPS+ | 147 | 170 |
We have to go even further back in history to find anybody who was this good this young. The best and fastest method to do so is to use OPS+, or adjusted on-base plus slugging percentage, which adjusts for a player's league and park. Here are the best hitters through their age-24 season, according to baseball-reference.com:
1. Ted Williams: 190
2. Ty Cobb: 176
3. Lou Gehrig: 171
4. Mike Trout: 170
5. Stan Musial: 169
Trout is in the company of some of the greatest ghosts in Cooperstown—guys who were born in 1918, 1886, 1903 and 1920, respectively. Among that group, only Cobb is in Trout's class when defense and base running are factored in.
Rare Photos of Ted Williams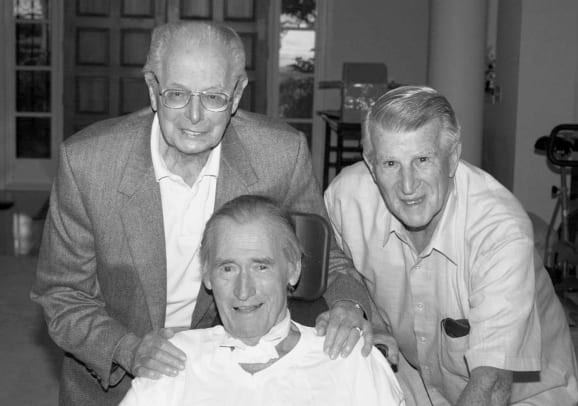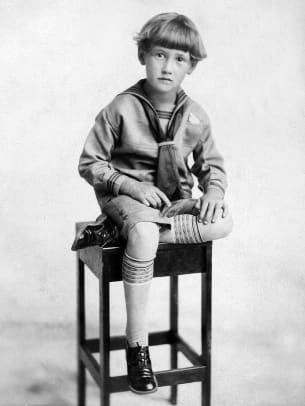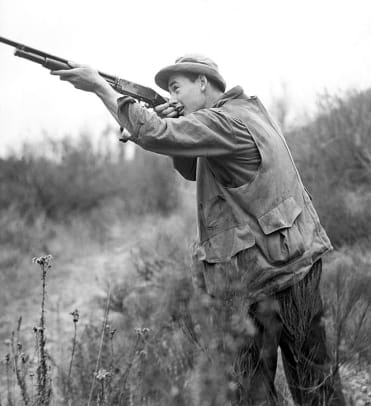 Impressively, the best keeps getting better. Here are six ways Trout keeps improving:
1. He has become more aggressive on first pitches.
In the minor leagues Trout would not swing until he had a strike. He wanted to see what the pitcher was throwing, and he wanted to force himself to be disciplined. He rarely swung at first pitches in the majors, leading to pitchers pounding the zone with a free first pitch to put him in an 0-and-1 hole. He told me that if he fouled off the next pitch, he was 0-and-2 before he knew it too often.
Finally this year, he stopped giving pitchers free strikes. He has almost doubled his swings on first pitches, from 10% last year to 18% this year. Take a look at the stunning results.
| | | |
| --- | --- | --- |
| Year | Hits | average |
| 2012 | 13 | .419 |
| 2013 | 11 | .314 |
| 2014 | 7 | .292 |
| 2015 | 5 | .192 |
| 2016 | 16 | .593 |
2. He has become even better at hitting the ball to the opposite field.
| | | |
| --- | --- | --- |
| Year | Hits | Average |
| 2012 | 24 | .273 |
| 2013 | 33 | .317 |
| 2014 | 13 | .176 |
| 2015 | 35 | .318 |
| 2016 | 34 | .442 |
3. He is the best low-ball hitter in baseball.
Pitchers are taught to limit damage by keeping their pitches below the knees. On such pitches within the width of the plate, Trout is hitting .329 (26 for 79).
4. He has closed the hole in his swing on high pitches.
Pitchers used to have a safe zone against Trout by pounding the top of the strike zone and above. No more: On pitches there this year, Trout is hitting .290 (20 for 69).
5. He has improved his throwing.
One knock on Trout when he first came up was that he had a below-average arm. So he worked regularly in spring training over the past few years to improve his arm strength. With just seven career assists entering last year, Trout has had seven assists in each of the past two years.
6. He remains the best base runner in baseball.
He has advanced from first to third on a single more often than anybody in baseball (23 times), and he is tied with the Tigers' Ian Kinsler for the most times scoring from second on a single (17). With 21 steals in 25 attempts, Trout also has his most stolen bases in three years.
I get the usual knocks on why Trout isn't more of a cultural icon. He plays for a bad team (that has little hope of being good any time soon), and he has been to the postseason just once, when the Angels were swept in the 2014 ALDS by Kansas City.
Griffey never played in a World Series. Like Trout, by the time he was 25 he had also been to the postseason just once: 1995, when Seattle beat the Yankees in the ALDS before getting bounced by the Indians in the ALCS. By then, however, Griffey had a much bigger cultural imprint than Trout does at the same age. By '95, Griffey already boasted the first of his four branded video games, had acted in a major TV sitcom (Fresh Prince of Bel Air) and a major motion picture (Little Big League), been featured in a primetime animated comedy (The Simpsons) and was about to become the first baseball player in history with his own shoe (courtesy of Nike).
The case for trading Trout: Why Angels might want to deal their superstar
Griffey wasn't so popular because of his team's success or market size or because he was notorious. He was culturally relevant for very reason that Trout isn't today: He was simply a great baseball player without attendant controversy. What happened in between? Sure, baseball became more of a regional sport than a national one, but there's also a little thing called the Internet that came along and changed the volume and tone of public discourse. The term "hot takes" didn't exist when Griffey was running down fly balls and swatting majestic home runs in his 20s.
There was a great video from before the Angels played the Tigers at Comerica Park on Sunday, showing the excited and then tearful reaction of a young boy, who was wearing a Trout jersey, after Trout signed a baseball for him. While the scene was extraordinary and moving—yes, baseball players, this is how much you can mean to children—the action of Trout accommodating fans was entirely ordinary. He does it every day with a smile. He might be the most gracious superstar in public since Cal Ripken Jr.
Last night, while you probably weren't watching, Trout banged out three more hits, including a home run, and scored two more runs in the Angels' 9–2 in over the Reds in Anaheim. He leads the league in Wins Above Replacement, on-base percentage, walks, times on base and OPS+, and he is second in OPS, third in runs and fourth in stolen bases. With his home run last night, Trout just did something that's never been done before in baseball history: five seasons with 25 homers and 100 runs through his age-24 season. To be this good this young ... well, we have a 100-year player in our midst. Is anybody paying attention?