Cleveland magic: Indians roll to MLB's longest winning streak of year
Thanks to young stars like pitcher Trevor Bauer and shortstop Francisco Lindor, the Cleveland Indians have the longest winning streak in the major leagues this season, and it has given them the best odds of any American League team to reach the postseason. 
Maybe this is Cleveland's year, after all. In the wake of LeBron James and the Cavaliers winning the NBA title, the Indians have become the hottest team in baseball, reeling off a nine-game winning streak—the majors' longest this season—that has opened up a five-game lead in the AL Central. On Sunday in Detroit, they clobbered Justin Verlander for four home runs in the fifth inning alone, leading to a game-breaking six-run inning and 9–3 win that secured a series sweep.
The game was tied 2–2 when Juan Uribe punished Verlander's first pitch of the fifth inning, a hanging curveball in the dead center of the strike zone, for his fifth homer in seven games since returning from (brace yourself) a testicular contusion. Two pitches later, Tyler Naquin crushed a changeup that caught too much of the plate for his sixth homer in 19 games since being recalled from Triple A. Verlander retired the next two batters before yielding a single to Francisco Lindor and hanging a slider that Mike Napoli smashed for a two-run shot, his 16th home run of the year. After a single by Jose Ramirez, Lonnie Chisenhall got into the act when Verlander continued his clinic in Where Not to Leave a Pitch via a center-cut changeup. It was just Chisenhall's third homer of the season but his second in three days, a drive that barely eluded rightfielder Mike Aviles' glove. Here's the supercut of the four dingers:
The victory pushed Cleveland's record to 44–30, the furthest over .500 it has been since the end of its 2013 AL wild-card season. The Indians are now 9–0 against the Tigers, and their record within the AL Central is 24–10; no other team is further above .500 within its own division. The three-game sweep of Detroit follows those of the White Sox and Rays, a welcome rebound for Cleveland from its own three-game slide against the Royals from June 13 to 15 in Kansas City, a sweep that briefly moved the defending World Series champions into a tie atop the Central.
• The rare highs and frequent lows of the Indians' 67-year title drought
The Indians now have an MLB-best 18–6 record this month, with five of those wins coming via walkoffs. Indeed, this surge is a result of just about everything going right at the same time despite the loss of Marlon Byrd to a PED suspension and the absence of outfielder Michael Brantley, who has played just 11 games this season due to continued inflammation in his surgically repaired right shoulder. The offense has scored 5.13 runs per game in June, hitting .266/.324/.480 with 39 homers. For the month, the 25-year-old rookie Naquin (.327/.417/.808 with six homers) and the 22-year-old prodigy Lindor (.322/.374/.609) have led the attack, with four other players (Chisenhall, Rajai Davis, Jason Kipnis and Carlos Santana) posting an OPS of .800 or better that is solidly above his season rate.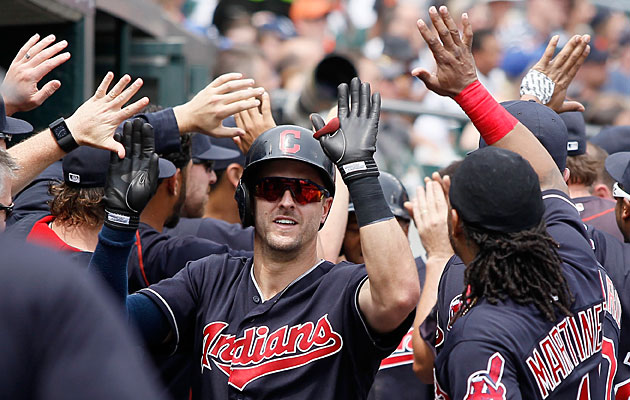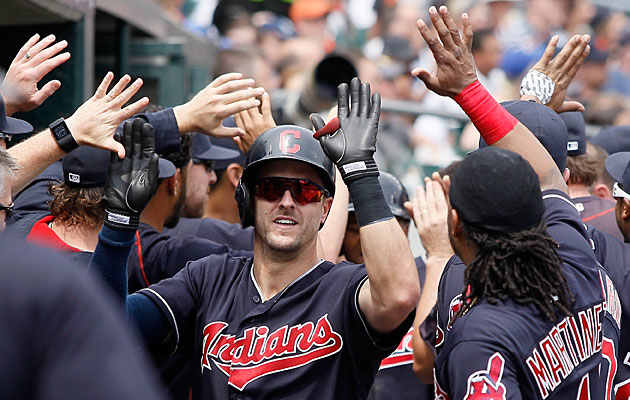 Cleveland has been even more impressive on the run prevention side this month, yielding just 2.83 runs per game, with all five starters—Trevor Bauer, Carlos Carrasco, Corey Kluber, Danny Salazar and Josh Tomlin—posting ERAs between 1.86 (Bauer) and 2.95 (Carrasco).
That rotation has been the foundation of the team's success this season. The unit's overall 3.63 ERA is 0.01 behind the Rangers for the league's best, its 8.1 strikeouts per nine is third and its 2.4 walks per nine is in a virtual tie for first. The 26-year-old Salazar has broken out to post a 2.40 ERA (second in the league) with 10.3 strikeouts per nine (third) and 3.5 WAR (eighth). Kluber, the 2014 AL Cy Young winner, has been erratic this year, never stringing together more than three quality starts in a row, but with a 2.17 ERA this month including two complete-game three-hitters, he's down to a 3.59 ERA with a 2.84 FIP. Carrasco has a 3.26 ERA in nine starts sandwiched around a five-week absence due to a left hamstring strain. Tomlin owns a 3.32 ERA that has papered over ridiculous peripherals (1.8 homers, 0.8 walks and 5.6 strikeouts per nine).
• Subscribe to get the best of Sports Illustrated delivered right to your inbox
But perhaps the most crucial performance has come from the 25-year-old Bauer, the third pick of the 2011 draft, and an enigma through parts of his four previous seasons, with his unorthodox training methods causing numerous clashes with his teams. Between his off-season mechanical work and a season-opening exile to the bullpen, he appears to have turned a corner, overhauling his repertoire to throw fewer four-seam fastballs (from 43% in 2015 to 21% in 2016, according to Brooks Baseball and more two-seamers (from 12% to 31%), with his slider junked in favor of a cut fastball.
Thanks to that repertoire change, Bauer's groundball rate has shot from 39% to 49%, with his home run rate cut in half, from 1.2 per nine to 0.6, and his walk rate has been shaved from 4.0 per nine to 2.9 while his strikeout rate remained more or less unchanged (from 8.7 to 8.4 per nine). Notably, he's throwing more strikes when behind in the count. Since rejoining the rotation in place of Carrasco in late April, Bauer has posted a 2.96 ERA in 11 starts, with a 2.22 mark over his last six turns dating back to May 27; in 44 2/3 innings in that span, he's yielded just one homer and 11 walks while whiffing 42. Overall, his 3.20 ERA is eighth in the AL, and his 2.5 WAR ranks 10th.
• The 30: Indians jump into top five of MLB Power Rankings
The real question about the Indians right now is whether they can sustain an offense that is third in the league in scoring (4.88 runs per game) despite Lindor (118 OPS+) being the only regular who has provided significantly above-average production all season. Naquin (146 OPS+ in 127 PA) and Chisenhall (107 OPS+ in 180 PA) have picked up the slack in the absences of Byrd and Brantley, but those are smaller-sample performances, and neither they nor super utilityman Jose Ramirez (101 OPS+ in 280 PA while playing primarily leftfield and third base) have long track records of major league success. Meanwhile, Napoli (98 OPS+), Santana (103 OPS+) and Kipnis (96 OPS+) have improved lately, but they're still underperforming relative to the backs of their baseball cards, albeit to a lesser extent than Uribe (71 OPS+) or catcher Yan Gomes (49 OPS+).
All of which is to say that general manager Mike Chernoff will need to fortify the lineup—and an unspectacular bullpen that ranks fifth in ERA (3.28) despite mediocre peripherals—as the July 31 trade deadline approaches. Plus, with Brantley receiving a cortisone shot to alleviate biceps tendinitis, Cleveland can hardly count on him being a centerpiece this year. It's a testament to the Indians' depth and to manager Terry Francona's ability to mix and match that they're in such a strong position as the end of June approaches, with the highest playoff odds (95.9% according to Baseball Prospectus) of any AL team. Just to be safe, maybe Cleveland should get a few at-bats from LeBron down the stretch.