Hitting report: Colby Rasmus's strong start is no fluke
This week's hitting report explores Colby Rasmus's breakout start to the season and which players you should keep an eye on.
Get all of Michael Beller's columns as soon as they're published. Download the new Sports Illustrated app (iOS or Android) and personalize your experience by following your favorite teams and SI writers.
Houston's 6–14 start is one of the bigger surprises, and disappointments, about the first three weeks of the 2016 season. The Astros' -20 run differential is seventh worst in the majors. They've allowed more runs than any other American League team, and have looked generally bad doing it.
Having said all that, this team is going to be fine. If this 6–14 stretch happened over a 20-game sample in the middle of July, we'd hardly notice. It's just that this particular sample represents 100% of their season to date, so it makes it appear that all is not right in Houston. While that may be true, there's still a whole lot more right than wrong with this team. Some of those, like the fact that Jose Altuve, George Springer and Carlos Correa have combined for a .298/.375/.532 slash line, were expected. Others, like the late-20s, post-post-post hype breakout of Colby Rasmus, were not.
Power binge: Examining why Jose Altuve is hitting harder than ever
To be fair, Rasmus had a fine 2015 campaign, his first with the Astros. He belted 25 homers and slugged .475, though he had a lackluster .238 batting average and .314 OBP. Everything has come together for Rasmus thus far in 2016. Not only does he have seven bombs and a .661 slugging percentage, he's hitting .274 and getting on base at a 41.8% clip. With this Rasmus hitting fourth behind Altuve, Springer and Correa, the Astros have one of the best quartets at the top of the order in the league.
Rasmus isn't the only player who's going to have a hot 20-game stretch this season, and we should expect some regression in the batting average and OBP departments. There are, however, signs that Rasmus has made substantive adjustments that have led to his dramatic turnaround, and that he's not simply exploiting the small-sample-size fairy. Most notable among these are Rasmus's strikeout and walk rates. The 29-year-old entered this season with career numbers of 26.1% and 8.8%, respectively, in those two metrics. This season, his strikeout rate is down to 24.1%, while his walk rate has surged to 20.3%. Rasmus has already drawn 16 walks this season, which puts him on a 162-game pace for 129. His career high is 63, set with the Cardinals back in 2010.
Hitting report: High HR rate has big impact on fantasy leagues
As you would expect after seeing those rates, Rasmus has been more selective and disciplined at the plate than ever. His o-swing percentage, the rate at which a hitter swings at a pitch out of the strike zone, is 23.9%. He set a career-best in the stat last year when he offered at 29% of pitches that were balls. He's also swinging at fewer pitches in the zone than at any other point in his career. As a result, Rasmus is seeing more pitches and forcing pitchers to attack him in the zone. His 4.39 pitches per plate appearance ranks 15th in the league, and he's hitting exactly .500 (14 for 28) when putting pitches in the strike zone in play.
This all actually began in the second half of last season. Rasmus hit .240/.323/.490 after the All-Star break, and .237/.305/.460 before it. His strikeout and walk rates in the first half were 34.1% and 8.8%, respectively. Both trended in the right direction in the second half, settling at 29.2% and 10.6%.
Rasmus made a noticeable change in his setup at the plate halfway through last season that could help us explain the seemingly new hitter we've seen this year. Let's examine that change with the help of a few GIFs. The first one is from May 8, 2015, and the second one is from September 4 of the same season.
Notice the difference. In the May at-bat, Rasmus is almost fully upright with his hands out in front of him slightly below his shoulders. His feet are square and he simply picks up and then puts down his front foot in the same spot. The first movement of his hands is down and back toward his armpit.
Now take another look at the September at-bat. Rasmus has more of a bend in his knees and the bat is behind his head with his hands at shoulder height. His stance is slightly open, and he takes a big leg kick as the pitcher releases the ball. Rather than his hands going down and toward his body, they go straight back in a more natural, textbook backwards-c load motion. We didn't show the result, but we didn't have to, did we? The trajectory of the ball off his bat should have told you that this one ended up in the seats.
Here's what Rasmus looks like in 2016.
His stance is nearly the same as it was in the second half of last season, though he's a bit more open. Other than that, it's identical to the stance that helped him turn things around after the All-Star break last year. Forget about history and focus on what Rasmus has shown us over the last four months of game action. The breakout is for real.
#http://www.120sports.com/video/v174622196/time-to-quit-on-byron-buxton
Hitters to watch this week
Starling Marte, OF, Pirates
Marte is off to a great start this year, hitting .329/.375/.512 with a pair of homers and a league-leading nine doubles. It is he, and not Andrew McCutchen, who is carrying the Pittsburgh offense, along with Gregory Polanco. Marte and the Pirates opened a four-game series with the Rockies in Colorado on Monday, and then return home to take on the Reds this weekend. After four days in the thin air of Colorado, he'll get treated to the pitching staff with the worst xFIP in the majors.
Pitching report: Padres' Pomeranz reveling in second chance
​Odubel Herrera, OF, Phillies
We've already discussed how the Phillies are going to have to find silver linings this season with respect to the hot starts of Vince Velasquez and Jerad Eickhoff. Herrera is in that group, as well. Through 19 games, Herrera has a .286/.432/.429 slash line, walking 17 times and racking up 18 hits. He has mostly hit third for this team, but as they amass bats for the future, he could eventually work his way to the top of the lineup, especially if his newfound plate discipline remains in his skill set. He also has four steals, and has turned himself into an intriguing fantasy player in all formats, despite the fact that he plays the deepest position in the fantasy game.
Joey Votto, 1B, Reds
The inscrutable, obstinate, irrational Votto haters of the world are likely having a field day with his start to the 2016 season. Votto can't get anything going at the plate, hitting .208/.293/.306 in his first 20 games. He has just three extra-base hits and has struck out twice as many times as he was walked (16 to eight). These are unprecedented struggles for Votto, who has never had a batting average worse than .297, OBP lower than .368, or slugging percentage beneath .491 in a season in which he played at least 100 games. It's entirely likely that he turns it around sooner rather than later, but that may not be much consolation to his owners for the time being. After facing Noah Syndergaard on Monday, the Reds still have dates with Matt Harvey, Francisco Liriano and Gerrit Cole this week.
• BELLER: Owners should sell Trevor Story, invest in David Peralta
Welington Castillo, C, Diamondbacks
No catcher other than Buster Posey is Buster Posey. That's obviously true in a biological sense, but in this context we mean that he's the only true all-around offensive threat behind the dish in the majors today. If you can't have him, you're likely better off finding a specialist, someone who is very good at one or two things. That description fits Castillo, who quietly turned into one of the best power-hitting catchers last year. The former Cub took advantage of the everyday job granted him in Arizona after being shipped to the desert, hitting 17 homers in 303 plate appearances with the Diamondbacks. This season, he has left the yard six times in 70 trips to the plate, five of which came last week. We know that Castillo is going to hit for power and play almost every day, slotting in the middle of Arizona's potent lineup. That alone makes him a good bet to be a top-10 catcher.
Miguel Cabrera, 1B, Tigers
Votto isn't the only superstar first baseman off to a rough start in 2016. Cabrera got a day off over the weekend after scuffling to a .206/.296/.302 slash line in his first 17 games. Cabrera had just four extra-base hits, only one of which was a home run, and 13 strikeouts against eight walks. As is the case with Votto, there's no real reason to worry about Cabrera, and he showed that on Monday. Cabrera went 4 for 4 with a pair of homers, the first sign that he's starting to shake off the early-season doldrums. No one sells players like Cabrera or Votto low, so there isn't really any action to take regarding them, unless a fool in your league owns one or both of them. Cabrera and the Tigers have three more games with Oakland this week before heading to Minnesota for a weekend set with the Twins.
GALLERY: Most Recent No-Hitters, By Team
Most Recent No-Hitters, By Team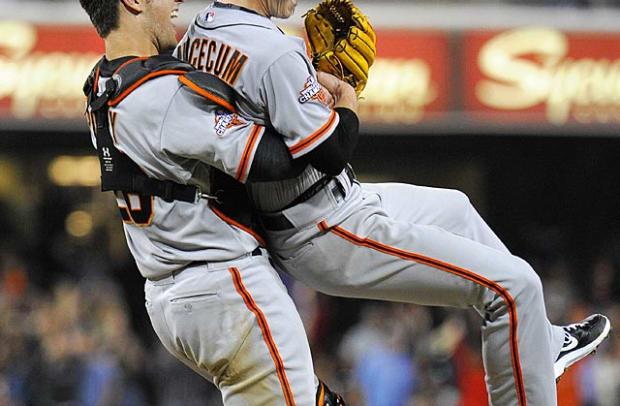 Prospect watch
Hunter Renfroe, OF, Padres
The Padres, a team everyone expected to be bad, has been as advertised. They're 7–12 in the first 19 games and have been outscored by 29 runs this season. Their run differential is third worst in the majors, and they're in the bottom-third of the league in basically every meaningful offensive stat. In other words, they're not going to have any justification for keeping Renfroe in the minors for too much longer. Renfroe entered the season as the organization's No. 3 prospect behind outfielder Manny Margot and shortstop (not the pitcher) Javy Guerra, though neither of them are within striking distance of the majors just yet. Renfroe will certainly be up at some point this season, especially if he continues to rake the way he has to start the year. The 24-year-old is hitting .339/.381/.661 with four homers, seven doubles and 10 RBI in 63 plate appearances with Triple-A El Paso thus far. He spent most of 2015 at the Double-A level but exploded upon joining El Paso, slashing .333/.358/.633 in 21 games. Renfroe's power will play immediately upon arrival in the majors. The question is whether or not he makes enough contact to take advantage of all that pop. He already has 15 strikeouts in his 63 trips to the plate, and posted a 23.7% strikeout rate in 2015. While that bears monitoring and limits his projected ceiling, the Mississippi State product will be a fantasy factor once he gets the call to join the big league club.
• BELLER: Fantasy Waiver Wire: Jon Gray is showing signs of potential
GIF of the Week
Maikel Franco may have hit three homers last week, but we'd rather GIF this smooth play he made on a Ryan Braun grounder.