Pat Summitt, champion for women & winningest D-I hoops coach, has died
Pat Summitt was a peerless coach, but her most enduring legacy is as a cultural icon who empowered women to believe that any obstacle could be overcome 
Imagine the indignity: You play 40 minutes to a standstill and, in the sacred compact of sports, now face overtime—yet because your game is a prelim to a men's game, you're forced to play OT with a running clock lest the tip-off to the main event be delayed. That's what happened to Pat Summitt's Tennessee Lady Vols at LSU in 1979. It was only one of countless affronts that Summitt, who has died at 64 of early-onset dementia, Alzheimer's type, endured over a career in which she nonetheless won eight NCAA titles and a record 1,098 games and changed the way Americans regard women's sports. Wash the uniforms. Drive the van. Make do. Make history.
It may be unworthy to evaluate Summitt by using a man as a point of reference, after all she did to stiffen the spine of women's sports so they might stand on their own. But as a cultural figure and coach without peer, she was to Tennessee what Bear Bryant was to Alabama: feared, revered, iconic. No disrespect intended—and Summitt herself never skimped on propriety, even as she put a padded shoulder to closed doors as if it were a battering ram—but consider for a moment the chorus line of men who served alongside her in Knoxville over 38 years: In football, Bill Battle, Johnny Majors, Phillip Fulmer, Lane Kiffin and Derek Dooley; In men's basketball, Ray Mears, Don DeVoe, Wade Houston, Kevin O'Neill, Jerry Green, Buzz Peterson, Bruce Pearl and Cuonzo Martin. Some are remembered as promoters, others for their integrity, while a few collected a brace of winning seasons and one even a national title. But none, if honest with himself, would claim to have reliably delivered on all counts, certainly not at the standard she did. How's this for a deal? Come play four years for me, and you'll get your degree and reach at least one Final Four.
• VAULT: When Summitt stares you down, her intensity is palpable
Summitt subverted female stereotypes. She rarely teared up, and by the end of each season she had flattened the gold rings adorning her right hand from all the whacks on the floor. Friends traced her drive to a lifelong crusade to prove herself to an emotionally distant father. But she came to credit her success to an ability to recognize players as complex wholes. She encouraged them to call her Pat, not Coach. And in 2007 she pulled on a cheerleader's outfit and sang "Rocky Top" at a men's game. As her son, Tyler, put it, "It's not so much going out and changing the minds of men. It's empowering women to do whatever they want to do."
Tyler told me that late in 2011, in the aftermath of her diagnosis, as SI prepared to recognize Summitt and Duke men's coach Mike Krzyzewski as Sportspersons of the Year. One of the people most profoundly affected by her illness was Mickey Dearstone, the Lady Vols' radioman. Dearstone recounted for me the karmic returns from Summitt's promotion of the greater women's game—how she got a recruiting leg up with Candace Parker, one of the former Lady Vols who rushed back to Knoxville last week to be at her side, when Parker was a little girl in Chicago and Summitt took time to sign her hat at a DePaul game. But nothing stuck with Dearstone more than something he witnessed during a road trip in '08, years after that team van had given way to charter jets.
Classic SI Photos of Pat Summitt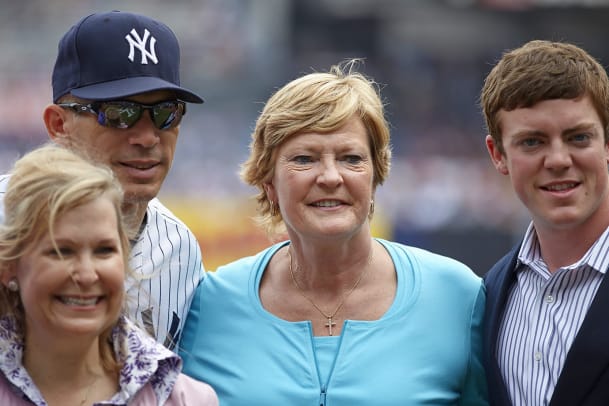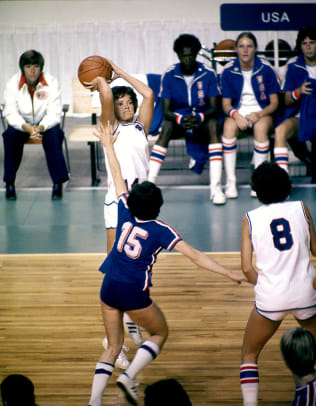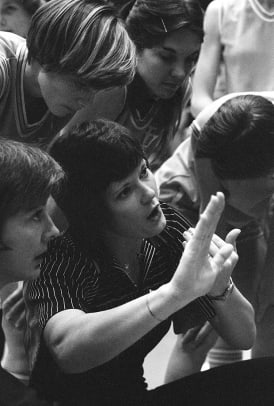 As Summitt settled into her seat in the first row, waiting for takeoff, the flight attendant in the jump seat opposite her began to sob. "What is it?" Summitt asked. "Tell me, what's the matter?"
It turned out that years ago, upon leaving the floor after a game at Louisiana Tech, Summitt had spotted a girl in a wheelchair at the mouth of the tunnel. She walked over, dropped to one knee, and said, "Don't let the way you are now define who you will be. You can overcome anything if you work at it."
That little girl grew up to be the woman who would soon be getting out of that jump seat to work that flight, and for the moment she was overcome with emotion at having the chance to thank this woman who foretold how she could control her fate.
Pat Summitt's team got cheated out of time in Baton Rouge those many years ago. And dementia shortened Summitt's earthly lease. But the impact of the original Lady Vol isn't measured best by the long run, staggering as her record was. It's best assessed in isolated moments—when someone, usually female, blessed by the attention of that fierce gaze, was made to feel that no one in the world mattered more than she.